The Pre-Purchase Inspection by Peter Zimmermann

03-05-2005, 01:49 PM
Super Moderator

Technical Specialist
Rennlist
Lifetime Member

Join Date: May 2001
Location: CT
Posts: 5,846

The Pre-Purchase Inspection by Peter Zimmermann
---
Peter Zimmermann was has written an article for Rennlist on the pre-purchase inspection process. While we get it moved to a permanent home, likely on tech.rennlist.com, I thought, in the meantime, I'd post it here.

Thank you Peter!

------------------------------------------------------------------------------------------

THE PPI (Pre-Purchase Inspection)

Re posted - Bob

By: Peter Zimmermann

DISCLAIMER: This article is for information only and makes no guarantee that a problem/problems wonít be missed during a PPI. Some 911 models will not require the full spectrum of checks on this list, and some models may require checks that arenít listed (pre í76 cars must be checked more closely for rust, while 3.2 liter Carreras will need to have their foot-well heater blowers checked). The list below is primarily intended for use on í89 and older 911s, but its general layout can also be effective on newer models. The sequence, listed below, of an inspection has been established during the hundreds of PPIs that I have performed. Itís a given that notes should be kept regarding issues found during any of the following numbered checks.

The purchase of a Porsche automobile, for most of us, is an important moment, sometimes one that satisfies a lifelong dream. Unfortunately, because of that, considerable emotion is usually part of the deal. Emotion is your enemy. A pre-purchase inspection is your friend.

With that in mind be warned that there are shops that will spend ten minutes looking at your dream and pronounce it ďgood-to-go.Ē Nobody out there is that good. Busy Porsche shops usually do PPIs by appointment, and dedicate the appropriate amount of time for the job, whether itís two hours (a pristine, rust-free í71 T), or four to five hours (an í83 SC Cabriolet that needs extensive work but is salvageable). Some shops claim that theyíre Porsche experts, but if their garage is loaded with BMWs and Mercedes, without a 911 in sight, that must be considered. Carefully choose the Porsche shop that will do your PPI, and if the seller is in the auto business, have someone else do the PPI. Note, especially on older Porsches, that an independent Porsche shop may be your best PPI choice.

Some shops charge a flat fee to perform a PPI, some charge by the hour. Either way is fine, and almost without exception the buyer pays. I call a PPI an insurance policy.

OK, youíve found your dream; the sexiest, blackest, shiniest SC coupe that youíve ever seen. Ah, ha! Emotion has already clouded your objectivity. The car is not as described as above, for now itís just a car. Letís assume that you are the type of person who hasnít begun to study Porscheís, you know nothing about them, other than you want one. You can contract a professional to do a walk-around inspection of that black car, or have him do a full-blown PPI. Freedom of choice is a great thing, but I believe that you would be foolish to do anything but the latter.

Letís say that youíre the type of person that does his homework, youíve read everything about 911s that you can get your hands on (but youíve never been a hands-on person when it comes to fixing things). You also have a choice; a walk-around inspection, a put it up on a hoist and have a look inspection, or a full-blown PPI. You would be foolish to choose any option other than the full-blown PPI, because knowing how much horsepower that black car has wonít help you determine if itís had an accident.

Now we get to the motorheads among you. Youíre the unknown. There is no way to guess at the knowledge and talent that you might possess. You probably already know that most manufacturers recommends that tires be replaced after five years, regardless of remaining tread. You probably know that tires have a born-on date code on their sidewall, and know how to read it. You probably know how to replace spark plugs, and that those plugs need to be gapped. What you probably donít know is how to locate the damaged rear frame rail on that black car, which could tell you that the car has been rear-ended and had not been repaired properly. Regardless of how much you know about Hemi-Cudas or pre í68 VW Beetles, you probably donít know enough about 911s to avoid a full-blown PPI. Remember, the lawyer that defends himself has a fool for a client. No matter how skilled you are, your Porsche technician is probably better. Try to ascertain his skill and experience, then hire him. I believe that a full-blown PPI is the only PPI, all else is nothing more than casual conversation.

The PPI method outlined below is a logical approach that works for me; itís not intended to be the final word on the subject. Also, never try to get your PPI technician to offer information regarding what he thinks the car to be checked is worth. The guy is probably not in sales; heís a mechanic. Heís there to tell you whatís wrong with the car that you brought to him; what you pay for that car is your decision.

1. Place the car to be inspected on a lift.
2. Walk around the car one time; look at seams & paint texture.
3. Open the engine lid to assist cool down. If the engine is near/at full temperature, place a fan on it.
4. Raise the car to access undercarriage.
5. Check the front tie rods/tie rod ends, their rubber boot condition and play in each ball joint. If car is fitted with original, non-Turbo type tie rods verify that their inboard mounting yoke is set at the correct angle.
6. Test the lower ball joints for rubber boot deterioration and play in the ball & socket of the joint.
7. Check the body panel that surrounds the gasoline tank for signs that the chassis has been pushed one way or the other, or collapsed.
8. Check the forward mounting points of the control arms for rust, battery corrosion, etc.
9. Spin the front wheels and listen for bearing noise, then check for excessive bearing play.
10. Check brake pad wear and the production date of brake hoses (all four).
11. At the rear of the car inspect for oil leaks and their possible cause.
12. Check the clutch cable; both installation position and adjustment. Adjust the clutch (if the cable is correct the clutch and shifting of the transmission are easier to evaluate during the test drive).
13. Check the rubber seal for the engine bay: Is it intact? Installed correctly? Is the engine sitting square in the engine bay?
14. Check heater boxes, hoses and cables, sway bar mounts, wire harness at starter, CV joint boots/bolts, and rear shocks (leakage).
15. Spin the rear wheels by hand, listen for noise; check for bearing play.
16. Walk around the entire underside of the car; look for cracks at suspension mounting points, underbelly work, existing damage, etc.
17. Lower the lift about half way, examine the bottoms of the doors, front cooler lines, front cooler/mounts, horns, wiring at lights, oil reservoir, etc.
18. Lower the car to a convenient working height, open the trunk lid, check the battery for boil-over, verify presence of spare, jack, tool kit and compressor. Check the VIN (Vehicle Identification Number) stamping and compare it to the VIN plate on the ďAĒ pillar, and the VIN decal on the left door jamb. Check beneath the power brake booster (if equipped) for the presence of brake fluid.
19. Open both doors, with a flashlight check under seats and floor carpet sections for evidence of water damage. Check the floor near pedals for the presence of brake fluid on early cars without power brakes. Close both doors (1st latch only) and evaluate door check straps.
20. Open the left door, turn on the ignition, and check turn signals, 4-way flashers, brake lights, and all other lights including interior, engine compartment and trunk. Check wiper/washer system and headlight washers.
21. Check operation of power mirrors, power windows, sunroof and horn.

NOTE: The PPI technician should not be asked to, or be held responsible for, the function of Cabriolet or Targa tops. Damage during handling is possible; the carís seller should demonstrate top function to the buyerís satisfaction.

22. Extend both front safety belts and check them for fraying, damage and proper retraction.
23. If the engine is sufficiently cool, visually check for all required pollution control devices, the presence of Carrera tensioners when they would be an update, the condition of air hoses, spark plug wires, belts, fuel hoses, etc. Check for the presence of an engine number.

NOTE: Decision time. Unless a pre-agreement has been made now is the time to consult the buyer, approximate the dollar amount of repairs needed, and decide whether to continue. Cylinder head stud inspection is next.

24. Remove the valve covers and check for the presence of all 24 head nuts. (On magnesium case engines torque the nuts to 23.5 lb/ft, cold engines only, as a way to check for ďpulledĒ studs).
25. If no broken studs/pulled studs are found proceed with a leak down test. (Although some disagree, I feel that a compression check on a 911 is often useless, while a leak down test is invaluable. A knowledgable mechanic can use the leak down test to assess the condition of several important engine components, like valves and rings.)
26. Assemble/install removed components, and add three quarts of oil to the car.
27. Check for full throttle.
28. Start the car and listen to it for a minute or two; look for fuel leakage, uncontrolled sparks at ignition distributor/spark plug connectors. Check charging system using a VOM (Volt-Ohm Meter) at the battery. Check function of heater, including blowers.
29. Inflate tires to correct factory pressures for the year/model and put the car on the floor.
30. During the test drive evaluate the A/C using a thermometer placed in a dashboard vent. Evaluate shifting, clutch, acceleration, alignment and brake qualities/deficiencies. If the condition of valve guides is suspect, after the engine is warm hold the engine at about 4,000 rpm for the distance of a city block. Then decelerate, with engine braking only, and watch for tell-tale smoke from the exhaust using the outside mirror.
31. Following the drive, both in traffic and on the freeway/highway/interstate, allow the car to idle until the front oil cooler is hot to the touch, or the temp gauge nears the half way point. Top up the oil, verify gauge function, and provide the buyer a written, on the record, report.

The text and format, or one similar, of this article may appear in future issues of the authorís book The Used 911 Story. No part of this article may be reproduced without the written permission of the author.

03-13-2005, 12:06 AM
Addict
Rennlist Member
Join Date: May 2004
Location: Arapahoe County, Colorado, USA
Posts: 11

04-13-2005, 04:15 AM
Rennlister Extraordinaire
Rennlist Member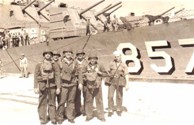 Join Date: May 2001
Location: Solana Beach, CA
Posts: 7,772

Big Howdy...they say that in Bakersfield!
---
Hello Pete,
Martin here...one of your customers from the good old days (1989) in Santa Monica. Some snot nosed kid, Mike Schatz was my mechanic who worked on my car 1980 Weissach Coupe...installed a Russ Dickerson oil cooler and a clutch too. That Mike, what a guy, what a wrench!
And you Pete were the one that sent me over the slippery slope. After I finished up at your shop, you sent me over to Steve Alarcon...and the rest is history!
And you Pete, think of all the folks you have saved from major grief with The Used 911 Story!

Thanks,
Martin

04-18-2005, 07:25 PM

---
Hi Pete...I'm a 356 guy but I'm buying a 911 as my daily driver from May to November (hot and rainy in Miami)...your book became my companion since I bought it two weeks ago...I'll be buying my 911 in May and by now the 1989 Carrera Targa is the chosen one! thanks for sharing your expertise through the book...

04-21-2005, 04:04 PM

---
I bought mine at Amazon.com and the book covers 964s and 993s as well...I bought the seventh edition!
996?? What is this? The "de luxe" interior, Japanese look alike, water cooled, Porsche wannabe they made just after Ferry passed away? Just kidding...I'm pretty sure they have a lot of fans...allow me to have fun...after all, this is the "air cooled" section of the forum...right? : )

04-22-2005, 01:47 PM

---
The two best sources for the book are Amazon.com, or direct from the publisher, RPM Auto Books in Stillwater, MN (888) 237-4359. Thanks for the interest everyone! Enough requests have come in that the 8th edition, still at least 6 months out if all goes well, will include info regarding the 996, an expanded version of this PPI, an expanded Glossary, and...
Keep the shiny side up!
Pete

05-03-2005, 01:05 AM

---
Peter:
You are my hero. I brought your book (seventh edition) from Amazon.com last month for $18.66 and read it from cover to cover, twice. I was so absorbed by your experience and talent, and admire your professionalism. You pay so much attention and respect especially when servicing these precision engines. Porsche is the car of passion and should be handled with respect.

11-02-2005, 01:15 PM

Buy this book NOW!
---
You MUST buy this book if you are even THINKING about purchasing a Porsche. This is a to the point, no nonsense read. The few dollars you spend on this book will save you thousands, maybe tens of thousands of dollars and heartache/frustration on your dream car.

AMAZON.com is your next web site visit.. go there NOW!

rob hicks

04-24-2006, 05:46 PM
Addict
Rennlist Member
Join Date: Apr 2006
Location: Cary, NC
Posts: 69

---
All,

I am about to purchase my first 911 ('98 993 Cab). I have had a PPI completed and the only open question for me is whether I should have a cylander leak test completed. The cost is $380 so it isnt a trial cost.

One other thing, the guy doing the PPI told me a compression test wasnt necassary in his opinion. Do you agree?

Any thoughts or advice are appreciated.

Thanks
Carl