How loyal are you to your nearest Porsche dealer?

09-09-2018, 01:44 AM

---
Originally Posted by
737Drvr
My good friend takes Euro Delivery of his LG WP 3RS at the end of the month. Bought from CP as well. We both have been trying to make them our "local dealer." He ended up with the 3RS with an ADM and I've been visiting quite a bit in hopes of an addtional GT3 allocation. That is 99% not going to happen. But they are nice people just not enough allocation.

His RS will not be delivered with the WP carbon hood, so he gets to keep the painted one. Will be cool wall art from his Euro driving. He's been trying to get me to step up to an 3RS but at that price point I'm more compelled to order a 600LT. We'll see what happens when the next round of 3RS allocations are released. Congrats in your MB 3RS! Maybe we'll see you around the Chandler/Gilbert area.
737, CP told me last week that the got another 3RS position. So if interested, hit them up. They are out of GT3 positions as of now. I was trying to get a touring model from them recently. My first choice was LG, but your friend and another local were already getting that color. So I went with MB hoping to not see 10of them in town! I know of 1 in Scottsdale com8ng but that's it. See you soon.
I assume you you are a pilot as well?! I fly as well (not professionally though)

09-09-2018, 07:08 AM
User
Join Date: Jan 2015
Posts: 674

---
To me, the satisfaction of owning a desirable car includes getting the car at a satisfactory price. IOW, it's not enough to simply own the car, the satisfaction of beating the accepted market price has to be, for me, part of the ownership package. Naturally, I cast a wide net in my searches.

When I find that deal, I offer something close to it to my local dealer. When they've declined my offer, they've been courteous and expressed an appreciation for the chance to make a counter offer.

09-09-2018, 10:34 AM

---
Loyal to Rusnak Pasadena. They sold me a 15 GT3 at MSRP. In appreciation, I've bought a '14 Cayenne GTS, a '18 Macan since and steered them at least one sale to boot. I'll continue to buy from them due to their being good to me from day one. I know they have whales buying tons that will have priority over me and that's fine, that's reality and besides, I don't need a new GT every face lift. The next time I'm ready for a new GT, I'll ask if they can get me one at MSRP and, will wait and see.

Dan (thanks Jason, Fred and Mark)

09-09-2018, 10:52 AM

---
I have only patronized my local dealer and, within the limits of my modest disposable income, have purchased what I consider to be quite a few cars from them. I would say I am fairly well acquainted with the principal having raced with him here and there. I have asked about 991.2 GT cars and he tells me there will be an adjustment. Know what, it doesn't bother me at all! I don't have to own one and I would rather have a car I can race, anyway. Race cars are much harder to sell and their purchase prices tend to be negotiable.

09-09-2018, 11:06 AM

09-09-2018, 11:26 AM

---
Loyalty got me nowhere except empty promises and even a taken deposit for an RS in 2015 returned when I got the "oh by the way there will be a $75k adm on the car". Yes. That actually happened. I also spent a boatload with these guys in the previous 2 years on cars and parts for our race team. I won't even utter their name or step foot in that place today. I know many folks that ejected their relationship with these guys after being treated similarly. Thing is. They don't care and sell every GT car they get with an adm. Be loyal to yourself!

09-09-2018, 11:43 AM

---
Maybe fair say to that "loyalty" between a customer and car dealers is contingent on each continuing to take care of each other in the business relationship, based on what's reasonable and fair considering supply and demand. My loyalty to my family runs much deeper and involves bonds which are very difficult to break.

09-09-2018, 11:43 AM
Super User
Join Date: Mar 2015
Location: Kentucky finally made it out of Peoples Republik of Kalifornia
Posts: 2,588

---
I am not loyal at all to the one nearest me however the second closest one I am very loyal. I shouldn't go to any that our close to me because just being a loyal service customer doesn't mean crap to any of my local dealers. Too much money around these parts and unless you are buying several cars a year, you get nothing.

Having said that my service manager at the dealer I go to is absolutely amazing. Unfortunately he doesn't have pull to get me the cars I want. That's ok though, his service, rates, customer service and community support is second to none. I give him all my business as well as I have referred him about 20 other people in our PCA group that now use him. Yep all that support and I still can get a GT3 for $30k over

For all my new/used car needs I will give Fresno of Porsche all my business, they are just too far away for service.

09-09-2018, 01:31 PM
GT3 player par excellence
Lifetime Rennlist
Member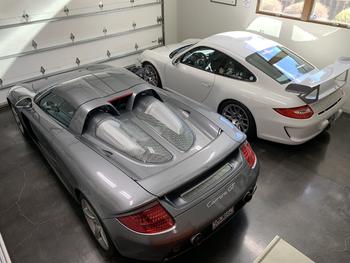 ---
do I know you?
I do the same.
one time they ordered a box of Krispy Kreme when I told the I'll be there to wait for the oil service and do some work there.

09-09-2018, 02:02 PM

---

09-09-2018, 03:35 PM

---
Originally Posted by ipse dixit
My loyalty is directly correlated to the quality of their espresso machine and selection of their pastries and snacks. Mine has fresh baked chocolate chip cookies regularly.
But do they have ice cold milk?

09-09-2018, 04:04 PM

---
My local dealer is 3.5 hours away and they suck on service and not very friendly. Definitely an us vs them deal. I go to another dealer 5.5 hours away and not only are they very accomodating, they do great work.

09-10-2018, 02:52 AM

---
This is what I will probably be doing the next time. Its interesting to hear different perspectives from around the country. Here in California, in the Bay and Los Angeles areas, there seems to be a 'race to the bottom' as far as customer service. Just business I guess with no shortage of buyers....
J