NEW GT3T Available with/without ADM, Touring only thread

05-19-2019, 03:15 PM
Addict
Rennlist Member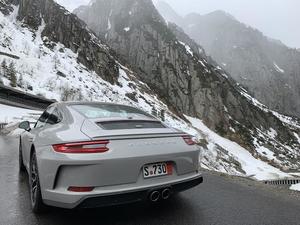 Join Date: Dec 2012
Location: OKC
Posts: 446
Likes: 0
Received 0 Likes on 0 Posts

---
Originally Posted by
bli8
I insulted the back of the Touring with sound deadening Kilmats and it transforms the car to a real GT - not only is the unwanted noises gone, car even feels more solid with most of the vibration and harshness gone. It only took about 2 hours to do so if you are in the camp of Louder Is Not Always better, give this a try.
Any pics or details on the install process? Glad to hear that it works well!

05-20-2019, 02:17 AM
Addict
Rennlist Member
Join Date: Apr 2004
Posts: 272
Likes: 0

---
Jump to 4:42 to see how easy it is to pull out the rear deck cover on any 991.
Once the cover is out, then go to town with the mats.
I didn't take any pictures when I did my Touring, but here are 2 pictures I took when I did the Carrera T.
I started with the first mat in the middle of the rear deck. Then add from there...
Completed about 2 hours later with all the tools I used - razor blade and scissors to trim the mats and a roller to flatten out the mat to achieve the best contact possible.
I only did the rear deck area on the T as I felt that's all is needed.
However on the RS and the Touring, I did the rear deck and the seat base and back, plus Noico foam on top of the Kilmats to cut down the noise further. Goal is to kill as much drone and noise as possible, so that I can go side muffler delete or rear delete or BOTH w/o going deaf in the RS.
Noice Foam :

https://www.amazon.com/Noico-Waterproof-Insulation-Self-Adhesive-Deadening/dp/B07CZ2DHV3/ref=sr_1_2_sspa?keywords=noico+foam&qid=1558328899&s=automotive&sr=1-2-spons&psc=1
Kilmat:

https://www.amazon.com/gp/product/B07CBK48XN/ref=ppx_yo_dt_b_search_asin_title?ie=UTF8&psc=1
The Touring is so quiet now that I'm considering a center muffler delete. Nah, I should leave it alone as the way it is now is just about the MOST PERFECT CAR I'VE EVER OWNED.
---
Last edited by bli8; 05-20-2019 at

11:42 AM

.

05-20-2019, 02:22 AM
Addict
Rennlist Member
Join Date: Oct 2013
Location: LA
Posts: 3,244
Received 0 Likes on 0 Posts

---
Way to go!

I'm very interested in doing something like this for my winged .2 GT3. I'd love to get rid of more of the general road noise, while keeping the good stuff, the engine noise.

05-20-2019, 08:21 PM
Addict
Rennlist Member
Join Date: Apr 2004
Posts: 272
Likes: 0

05-20-2019, 09:25 PM
User
Join Date: Dec 2016
Location: SF Bay Area
Posts: 146
Likes: 0

05-20-2019, 09:32 PM
User
Join Date: May 2019
Posts: 16
Likes: 0
Received 0 Likes on 0 Posts

05-20-2019, 09:34 PM
User
Join Date: Dec 2016
Location: SF Bay Area
Posts: 146
Likes: 0

05-20-2019, 09:51 PM
Addict
Rennlist Member
Join Date: Aug 2018
Location: New York, NY
Posts: 606
Received 0 Likes on 0 Posts

05-20-2019, 10:13 PM
Super User
Join Date: Apr 2012
Posts: 3,918
Likes: 0

---

05-21-2019, 12:26 AM
User
Join Date: May 2019
Posts: 16
Likes: 0
Received 0 Likes on 0 Posts

---