968 Turbo RS version 2 factory adjustable rear wing product development

11-03-2008, 08:46 AM
Banned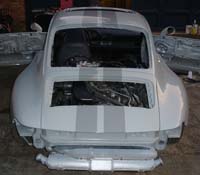 Join Date: Apr 2005
Location: Cheshire, England & Trosa, Sweden
Posts: 1,838
Likes: 0
Received 0 Likes on 0 Posts

968 Turbo RS version 2 factory adjustable rear wing product development
---
Hi guy's
I'm just putting the feelers out on this one

We currently have two 968 TRS replica rear wings which we are not happy with regarding both fit and poor based OEM design authenticity.
As we have all seen there are about 8 companies worldwide which I am aware of that re-manufacture replica TRS wings but none of them are perfectly correct mainly based upon the adjustable bracket design.
I'm sure everybody is aware of the Number 2 yellow factory 968 TRS. This car had a
factory re-designed central wing section
which was wider and featured a more pronounced upwards curved rear edge to produce additional downforce over the first versions central section – See the picture below which I have lifted from the great
http://968turbo.homestead.com/
website:
This is exactly what we want to re-create using proper black anodized CNC machined aluminum adjuster plates.
We want to provide our version as a three piece unit to perfectly fit with the OEM 968 side and under bridge spoiler unit – Hence this will reduce costs as we will not remake those parts out of FRP unless 944 owners would like these at a later date.
Additionally we want to go one step further an extend backwards the lower central section to match that of the adjustable top wing from the version 2 design.
There are 3 reasons we want to do this:
No1:
To produce additional downforce even though this will be minimal
No2:
Aesthetical improvements
No3:
As you may be aware from the 951 board we are manufacturing a vented race/track rear hatch screen currently still under testing – We are worried about exhaust fumes being vacuumed back into the vents holes (see development pictures below of exactly how our new rear Lexan vented hatch screen will look – Moulds for vacuum forming are nearly finished). Buy extending the lower panel under the bridge spoiler I can play with the airflow if a problem arises:
Best regards,
Mark
P.S. Lastly a picture of a damaged 968 TRS racing in Sweden back in the day:
They still look great even damaged


11-03-2008, 09:16 AM
Banned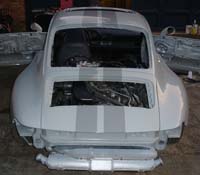 Join Date: Apr 2005
Location: Cheshire, England & Trosa, Sweden
Posts: 1,838
Likes: 0
Received 0 Likes on 0 Posts

---
Hi Rod can you send me a closeup picture of the adjustable brackets mate so I can have a closer look please.
Also it would be good if you can provide me with the width of the center section (end-to-end).
Cheers,
Mark


11-03-2008, 01:32 PM

---
I would be interested in a complete TRS wing if the quality is on par with the OEM TS wing I have.
The central lower section is flush with the lines of the two outer sections and I'm afraid that extending it further back might weaken its fixing points further ... But then I'm looking forward to seeing what you can come up with

---
Last edited by Thom; 11-03-2008 at

02:09 PM

. Reason: spullin' & gramma'

11-03-2008, 02:12 PM
Captain Planet
Rennlist Member
Join Date: Jun 2004
Location: San Francisco bay area
Posts: 10,984
Likes: 0
Received 0 Likes on 0 Posts

---
With that vented hatch, will there be structural issues not being able to put a metal support strip in the middle? I don't know that much about lexan but I've seen people put metal strips on their lexan hatches.

11-03-2008, 05:32 PM
Banned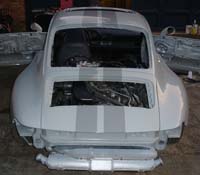 Join Date: Apr 2005
Location: Cheshire, England & Trosa, Sweden
Posts: 1,838
Likes: 0
Received 0 Likes on 0 Posts

---
Hi Arash, thanks for the comments

The metal (twin) straps that you have seen on other Lexan screen are simply there to prevent rear window blowout and are sanctioned for certain race scrutinizing.
The vents we have designed do three things:
No1:
Prevent back pressure on the rear hatch stopping any potential blowout (we will test to have the hatch sanctioned before release). This will also reduce a little drag – all be it minimal and dramatically reduce baffle vibration and noise.
No2:
Provides better airflow through the cabin aiding ultimate cabin cooling heat extraction.
No3:
Increase strength.
Under most sanctioned race regulations including FIA lexan (Which is actually a brand name) screens need to be a minimum 4mm thick. The current Lexan screen that we produce are the very best on the market in terms of durability and approval. Our development partner manufactures for the likes of Aston Martin plus many other top brand names. He also manufactured the Porsche GT1 Lexan screens.
Lexan also known as "Macrolon" (a form of Polycarbonate =
http://en.wikipedia.org/wiki/Polycarbonate
) is extremely rigid – As an example your CD and DVD's are made from the same material – Have you ever tried to snap and bend one of those buggers? At 4mm thickness and when "flow coated" for ultimate scratch resistance our Lexan hatches and side screens will withstand a shotgun from 20 meters (try that with a glass screen)!
Flow Coating – This provides a very thin coating to the surface of the material. Once applied you can't even scratch them with a wire wool pad! Again do that on your glass and you will get instant scratch marks.
We currently have various Porsche's running around the world with our Lexan products including the latest running in the Dubai Touring Car Championship.
I will get hold of some pictures to post

To sum up … The vents will actually make the hatch even stronger than anything currently on the market, a 4mm screen will be stronger than a 6mm non vented design.
Not only can we provide flow coating but we can also manufacture in OEM green, light grey, light brown, and full clear and also finish the products of with the OEM black screen mask so when fitted you simply could not tell the difference between glass or polycarbonate and the weight saving is less than 50%
We are also going to be producing vented rear quarters following the same design.
Best regards,
Mark

11-03-2008, 08:52 PM
Banned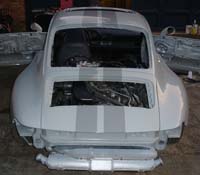 Join Date: Apr 2005
Location: Cheshire, England & Trosa, Sweden
Posts: 1,838
Likes: 0
Received 0 Likes on 0 Posts

---
Also just to clarify with our Vented rear hatch you can still run 2 metal brace straps if need be but we will cross that bridge if we come to it


11-03-2008, 09:29 PM
Addict
Rennlist Member
Join Date: Jun 2005
Location: Phoenix, AZ
Posts: 230
Likes: 0
Received 0 Likes on 0 Posts

---
Mark,
I am so glad to see that you are looking at the #2 968 RS rear wing. I have an original OEM RS Rear Spoiler on mine but the fit and finish is awful. Plus, you need to take the tabs off of the OEM rear Spoiler to make the OEM RS version bolt on the back. I have been trying to recreate the double wing from the first picture you posted without much luck. I had looked into a Carbon Fiber version of the center section to replace the current one but decided to wait. So, I will be first in line to order one of those baby's.
Here are some of the pictures from mine -

11-06-2008, 06:23 AM
Addict
Rennlist Member
Join Date: Apr 2003
Location: Las Vegas NV
Posts: 2,831
Likes: 0
Received 0 Likes on 0 Posts

---
I can't wait for these wings to come out. Hope I can afford it. I should've bought a 968. I'm slowly converting my 951 into one. I now want the rear 968 bumper.

11-06-2008, 06:39 AM
Addict
Rennlist Member

---
Mark, I have the VZ one from Holland. It needed to be finished once it got here, (much like the c/f hood) but one day I hope to have it back in my possession (from the slackarse whose been finishing them!!) and can take some photos. I'm sure you are aware of this particular model/brand and I assume yours will be an improvement. I'd also be interested in the lexan hatch once you've perfected it. All looking good.
---
Last edited by 333pg333; 02-19-2009 at

07:07 AM

.

11-06-2008, 09:45 AM

---
Awesome stuff a 968 turbo build is in my not too distant future. That lexan hatch could be cool for the street if the vents could be closed off. Not sure how well lexan would keep the heat in either tho. I know most 951's I see the hatch glass is seperating, and the tint and seal are dry rotting. A brand new hatch from Porsche dont come cheap whatsoever.