964 C2 3.8 Build Thread

03-10-2017, 03:14 AM
GT3 player par excellence
Lifetime Rennlist
Member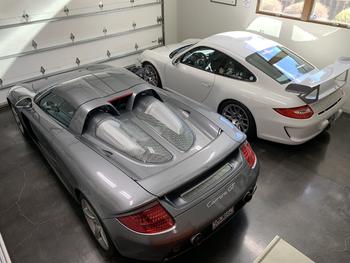 ---
Originally Posted by
eddieb4
Spyerx,
Holy cow! You've done an amazing job on your ride. Luckily I've got Tim Olsen from Olsen Motorsports doing up the suspension and braking on mine and he is a master and a great guy to boot!
I'll ask him to check out your thread ... I think he probably has already.
Thanks for the input and I will be reaching out to you in the coming weeks / months if you don't mind. Actually interested in your wheel studs but link doesn't work anymore. Is that company still in business?
Thx
tell tim, i said hi
he's a good guy and knows his stuff

03-10-2017, 05:29 AM

03-10-2017, 07:55 AM

---
Bore-in = Engine case needs to be machined (borred) to fit the cylinders. Sealing by O-rings which requires further machining of the case for the O-ring grooves. Sealing between the flanges is not possible because there is just not enough surface area on the flange for proper seal after machining.
The original case has cylinder openings for the 3.6 cylinders. The 3.8 cylinders are bigger in diameter so you can either have same outer diameter (=slip in) with thinner cylinder walls or original thicker cylinder walls which require enlargening the case openings (=bore in).
All the racing engines had the thicker cylinder walls. I think any of the top end engine builders will advice to go with the thicker cylinder walls. It will cost more because of the machining work needed but it is the right way to do it.
Both slip in and bore in cylinders are available for the engines.
I went with the Mahle "bore in" / Motorsport cylinders in my "RSR" build. Here are some photos:
https://m3supercar.1g.fi/kuvat/993RSR/Winter16/
---
Last edited by Juha G; 03-10-2017 at

10:29 AM

.

03-10-2017, 09:05 AM

---
That car will be a beast.
Just picked up a 3.8 conversion with many of the same mods. Very fast and fun car. With the 5 speed active trans, still getting used to taking turn 7 at Sebring in 1st gear! Good luck with the build.


03-10-2017, 11:27 AM

---
Awesome post! Thank you for the detailed info.
Pics please!
What about keeping it a 3.6 and improving everything else? It seems like there are bigger gains keeping it 3.6 (if you don't need new pistons/cylinders?), and changing the cam and adding an improved engine management system (Motec)....
Like this:
Rothsport Racing: These engines have stock pistons and heads but with a custom camshaft designed for very broad torque. They make 325 hp and feature Motec and Rothsport EFI.

03-10-2017, 12:50 PM

---
The base head gaskets we're leaking like a sieve so the pistons and jugs needed to be replaced anyway. In order to add gaskets they needed to be changed even if they didn't leak. The cams are being custom ground to optimize horsepower and torque.

That looks like a beautiful setup. I'm hoping that the figures will be close to what you stated but probably will be more like 280 to the wheels.

03-10-2017, 01:01 PM

---
Originally Posted by
eddieb4
Spyerx,
Holy cow! You've done an amazing job on your ride. Luckily I've got Tim Olsen from Olsen Motorsports doing up the suspension and braking on mine and he is a master and a great guy to boot!
I'll ask him to check out your thread ... I think he probably has already.
Thanks for the input and I will be reaching out to you in the coming weeks / months if you don't mind. Actually interested in your wheel studs but link doesn't work anymore. Is that company still in business?
Thx
Oh yeah MSI is still in business. Super cool guys there, they supply all the nascar, and lots of the pirelli cup etc not running center locks.
http://www.msiracingproducts.com
I just called them and ordered. They have a new website looks like the link I had in my thread broke.
Will watch your engine build. This is the next step in mine once I finish the safety/etc. Debating trans build. That's easy enough to do last though, as I like the gearing, but may want a longer 2nd and then fix spacing of 2-3-4, keep 5th as a cruise gear. On track 2nd is just a little short. But trans is very use / motor dependent.
I'm really not wanting to paint my car. Its in pretty good shape. As if I paint it, I won't want to drive it. Sunroof stays. It is a street car!!!

03-11-2017, 10:33 AM

---
Cannot wait to get this car back from paint and get started on it!

You can follow along also with picture updates here at facebook.com/olsenmotorsports

https://www.facebook.com/OlsenMotorsports/
-T.O.