Is this 1994 964 C2 Coupe worth the price $75000?

04-01-2016, 01:40 PM

Is this 1994 964 C2 Coupe worth the price $75000?
---
Found this 39,589miles 1994 Porsche 911 2 Coupe 964 on eBay. Would like to learn experts' opinions about the price.
http://www.ebay.com/itm/322058744193?_trksid=p2055119.m1438.l2649&ssPageName=STRK%3AMEBIDX%3AIT
One of the photo makes me worry. Does that dark color on chassis state a leak?

04-01-2016, 02:33 PM
User
Join Date: Dec 2014
Posts: 430

---
It's only worth what someone will pay for it. They won't pay 75k if nobody asks 75k. A new Range Rover isn't worth 100k either but people line up and buy them everyday. Might as well spend it on something that will appreciate instead of depreciating soon as you get it home.

04-01-2016, 02:38 PM

---
I'm fairly certain what looks like a discoloration to the case is actually the factory cosmoline, which is a yellow waxy protectent that Porsche uses on engines and suspension components to protect them from road salt and other damage such as oxidation. Looks like it was slightly removed from the left side of the case and near the transmission drain plug. You can see the transmission definitely still has it. It's sometimes brushed off by an unknowing mechanic.

It looks like a nice car, but I'm not sure why the front seats are two tone and the shift **** needs to be thrown away. But overall very nice.

04-01-2016, 02:59 PM

---


04-01-2016, 06:22 PM

---
If I were interested is that car, I would use the pic as reference and those dark spots better be there when I show up to look. Dark spot near diff too? If you arrive to look at and that under carriage is spotless vs. the pic that would concern me...

My approach;

Set time for full visual inspection including access from underside, test drive. Red flags can kill the mood and session is over sooner than later.

If still interested, PPI needs to happen by honest shop. Results and offer/counter offers happen or not. Site unseen or feeling rushed to make offer or deposits, pass....

RL has great reading on leaks and general cost of sorting out specific issues.

04-01-2016, 10:26 PM

---
Do you want a low miles / top price 964?

If the answer is yes, ask yourself why.

Next. Ask yourself why you would care about an oil leak. 98% of the cars on rennlist drip. And the majority of those are great cars and driven often. So don't be a new car buyer when buying an old car. Only a few places where they leak should be cause for any concern.

04-02-2016, 02:54 AM

---
Originally Posted by pu911rsr
I think for the extra $$ I'd buy an RSA.

Phil
Is a RSA really worth the extra $? I thought RSA is just a light weight C2 with bigger break and a big wing. Nothing else is different. Am I right? The cheapest RSA on the market with 50K miles is about $100k.

04-02-2016, 03:27 AM
GT3 player par excellence
Lifetime Rennlist
Member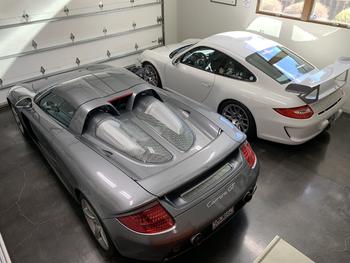 04-02-2016, 04:00 AM

---
The question you should ask is not whether this, or any, 964 is worth 75k. You should aks yourself what other car would you rather buy for 75k. If your answer is nothing, the the 964 is worth the asking price.

Here in Europe a car with that kind of mileage goes for between 70 and 80k euro.

04-02-2016, 09:17 AM
Addict
Rennlist Member
Join Date: Nov 2011
Location: DFW
Posts: 516

---
Looks like it has been running the engine under tray which can explained the cosmoline still in the areas it remains.
Wheels look to original 16", for the asking I would expect Cup I's.
Looks to be a nice car from a known dealer who tends to have some of the better cars.
Is it too expensive??? that's for you to decide. '94 C2 narrow body is unicorn, but same car as a '93.