964 C4 light refurb

07-01-2016, 03:14 PM
Addict
Rennlist Member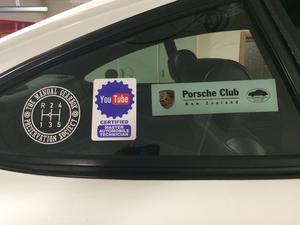 ---
Discovered an interesting fact yesterday. Until now I never knew that the body shell has stamping marks.

The rear parcel shelf, near the ashtray and both doors should have matching numbers if its all original.

07-01-2016, 06:24 PM

---

07-04-2016, 04:41 PM
Addict
Rennlist Member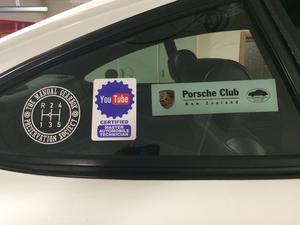 ---
More parts arrived at home the day I left for Sydney. The family wasn't that devoted to getting nice pics for me so these are teasers. It's all ex Design 911. The carpet is OE Sliverknit which is supposedly made up to look totally original e.g. Some parts have jute backing. I'm surprised it has pieces for the door pockets. Like most project cars there will be double ups and mis orders to sort out when it's finished. The front seats are leather perforated faces with vinyl sides and backs. The rear seats are another two weeks away which fits in with my work schedule so no hardship. The Gear **** is Function First with black Delrin. It will be the only non original interior part.

07-04-2016, 05:26 PM
Addict
Rennlist Member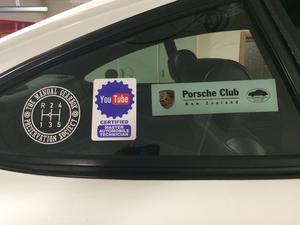 ---
Door membranes. OE. On closer inspection I have ordered two lefts

these are self adhesive and expensive. I will now order two for the right door so I have a pair to sell later.
---
Last edited by John McM; 07-05-2016 at

06:53 PM

.

07-15-2016, 07:27 AM
Addict
Rennlist Member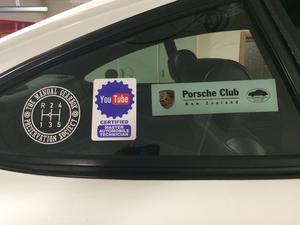 ---
Back in Country and checking out my orders.

The carpet is all there. I got a roll of heavy card 1.5m wide and traced out all of the pieces in case I want to make parts for my other car. It would take a 7m run of Sliverknit (10.5m2) to carpet a coupe. However it would be hard to do the jute backed items. Overall I think the Lakewell kit here is nicely done.

First up is doing the smaller carpeted parts.

07-15-2016, 07:54 AM
Addict
Rennlist Member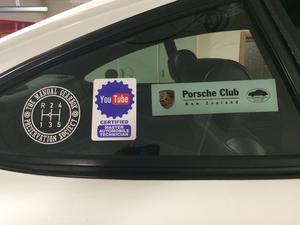 ---
A quicker win was installing the Function First gear ****. The fit is temporary until I have the console refitted. Then I will trim the gaiter further so it rides lower

07-16-2016, 06:09 AM
Addict
Rennlist Member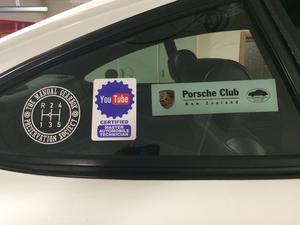 ---
Halfway through Dynaliner installation. Small carpet panels fitted to removable panels. Wiring installed though the firewall for a future Y shaped exhaust bypass. USB power source to be fitted to a console cup. Carpets test fitted. I hope to have the tunnel carpet sorted tomorrow. I have some messy work to do on the rear window so won't install the other carpet until that is finished.

07-17-2016, 03:46 AM
Addict
Rennlist Member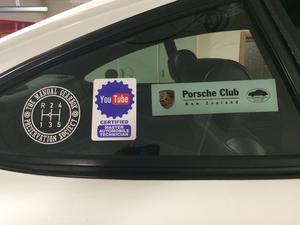 ---
Fail on the goal of getting the tunnel carpeted. The lining work took too long then I found then I found out a pedal board screw was corroded so I will have to grind it out. I need to remove that to put the carpet in. Lastly I did another carpet test fit to keep myself motivated. Very happy so far.

07-18-2016, 08:30 AM
Addict
Rennlist Member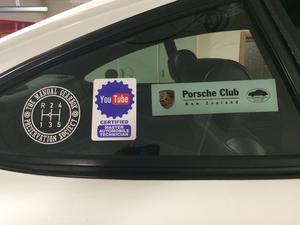 ---
Not a lot done today. I just removed old tint film from every window except the windscreen. I used a clothes steamer to heat the film and a goo remover for any adhesive left on the Windows. If the film hadn't been so badly worn on the rear window I probably would have left it.

07-20-2016, 06:57 AM
Addict
Rennlist Member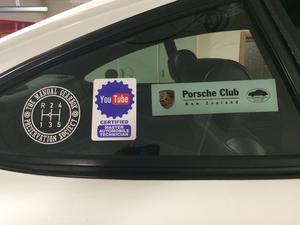 ---
I think I have made a lot of progress in the time since I started the interior. Maybe one more full day's work. The Centre tunnel is harder than I thought. The front end had constricted room and the rear has some big curves which bunch the carpet. I'll take my time.
---
Last edited by John McM; 07-20-2016 at

07:28 AM

.

07-20-2016, 05:12 PM
Addict
Rennlist Member
Join Date: Jun 2011
Location: West Coast
Posts: 840
Likes: 0
Received 0 Likes on 0 Posts

---
Looking really good ...I spent time removing seats cataloging electronics, lubricating seat drives, etc. Removed center tunnel for cleaning 15 yrs of soda (oh shoot, not again) spills and at 5' 9" tall, following day felt like I went through dryer spin cycle ...

07-20-2016, 07:39 PM
Addict
Rennlist Member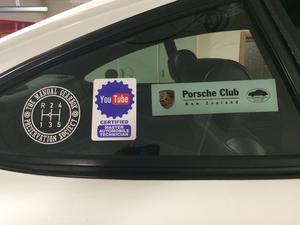 ---