Rear reflector/tailight tint: testimonial

12-17-2008, 10:28 PM
Addict
Rennlist Member
Join Date: Feb 2006
Location: Nassau, Bahamas and Duluth, Ga.
Posts: 4,091
Likes: 0

Rear reflector/tailight tint: testimonial
---
Gus was good enough to send me a beta tint kit. I'm lazy by nature and like to drive my car so even though I have all the paint and materials to do the paint job (sitting in my garage for about 6 mos.), I can't not drive my car for a week. Plus, not only am I lazy but I'm also the least mechanically inclined person I know .

Enter Gus and his tint kit.

Very complete kit with all the materials one would need. The directions at 3 pages are complete overkill as Gus would readily admit, but cover the waterfront

It took me about 1.5 hrs to fuss over the edges and I still managed to leave a few bubbles which I later popped, but the result is most satisfactory- but its highly subjective. The way I look at it, before the reflector unit was a 20 ft beauty; inside that distance the lights were pink and cracked. Now its a 3 ft beauty which is good enough for me. Besides, I rarely drive behind myself.

I think for guys like me this is a great alternative to painting- which although I've not done, I believe to be the ultimate fix. As a result I've asked for and will pay for a second kit for my other car.

As always, YMMV.

Photos L to R are 2 before, 1 during and 1 virtually completed.

12-17-2008, 10:47 PM
Agent Orange
Rennlist Member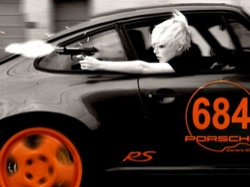 Join Date: Jun 2006
Posts: 15,751
Likes: 0

---
Looks very nice! I've seen the results on another Rennlister's car and the tail lights and reflector look great!
Gus, please let us know when the kit nears the final stage of development


12-18-2008, 12:28 AM
Addict
Rennlist Member
Join Date: Feb 2006
Location: Nassau, Bahamas and Duluth, Ga.
Posts: 4,091
Likes: 0

---
Its definitely a quantum improvement. If you get up really close in bright sunlight you can see my mistakes but otherwise you'd really never notice. Someone more skilled could really make it look OEM.

12-18-2008, 10:40 AM
Addict
Rennlist Member
Join Date: Feb 2006
Location: Nassau, Bahamas and Duluth, Ga.
Posts: 4,091
Likes: 0

---
PM Gus I guess.

BTW no affiliation etc. aside from Gus being my brother-in-law, we grew up together and I own 51% of his company (actually we've only met once for about 5 minutes- very nice and enterprising fellow)

12-18-2008, 12:32 PM
Addict
Rennlist Member
Join Date: Jul 2003
Location: Peachtree City, Ga
Posts: 1,755
Likes: 0

---
David / Lonnie - Thks for feed back and posted comments - I found this and thought that it would be a viable solution to our (964) pink taillight issue. I sent 4 test kits out - only got feed back from David and Lonnie - so slowed up a little - 1. Because it is now winter and the vinyl needs to be warm to do a good install 2. Was hoping for more feed back so I could correct any flaws or trouble areas in the kit. Lonnie and David gave great feed back - All vinyl is hand cut due to template design - Will more than glad to put kits together for anyone that wants one - Complete kit would run $ 50 - replacement vinyl is $10 for each side light and $20 for the center section. I will try to cut the verbal abuse down in new instructions. If interested PM me. Think Davids pictures say it best - It is an easy install if you take your time and work the vinyl. I have no long term est results as I put on my car early fall - about 4 months ago - Still look great -

12-18-2008, 12:58 PM
User
Join Date: Jan 2007
Location: Canada/Switzerland/USA
Posts: 38
Likes: 0
Received 0 Likes on 0 Posts

---
And now my turn to chime in... I received a kit for Gus and almost immediately after, I had to jet off to Germany, now I am back and there is like 2 feet of snow on the ground and with windchill it is -32F. I am not planning to spend anytime in my garage. So I do thank Gus for putting it together and I WILL do it as soon as it warms up a tad.

12-18-2008, 05:01 PM
Addict
Rennlist Member
Join Date: Dec 2006
Location: S.E. VA
Posts: 5,131
Likes: 0

---

(So other than that, Mrs. Lincoln -- how was the play?)
I empathize Scottie.
Doing anything in a snow-outside-cold garage is the pits.
Ilk,
This film is made mucho pliable under hair dryer-level of heat.
If you've ever seen clear bra film, or windshield protectant film, or head light protectant film applied... then you've seen how this stuff goes on:
Spray both film adhesive-side and lens surfaces with Gus-packaged whetting agent,
'Float' & position the film on the whetted lens surface,
Squeegee out that whetting agent,
Warm & tack down the edges with a little hair dryer heat.
Done. [Gus advises opening a beer, here.]
I like what I got, and its outcome. It was
Most
satisfying.

12-18-2008, 06:27 PM
Addict
Rennlist Member
Join Date: Jul 2003
Location: Peachtree City, Ga
Posts: 1,755
Likes: 0

---
It is fairly easy to remove - you can get some removal fluid that will help - It is just a vinyl film with an adhesive backing. It certainly isn't going to pull the taillight out. We pull vinyl off of old jobs all the time - If you want I can send you a small piece to check out .