951 vs 968 brake cooling deflector

06-17-2009, 10:55 PM

---
That's what I've used for nearly a decade (though I primarily use Pagid Blacks).
But, with the modern times, I've been trying out more modern pad compounds... I think I'd benefit from enhanced cooling.

06-20-2009, 09:02 AM

---
I think elegantly engineered is the right term for these parts. Agreed 100% stock 951 set up provides good cooling and ducted tunnels are tried and tested solutions....BUT, upside down under a Turbo inspecting or installing the 968 diverters you can't help but be impressed.

The bottom one feeds perfectly from the cut out tunnels in the 951 bat wing and pours the directed air directly on to the outside face of the rotor. The upper scoop takes the air that spills up from the diverter and pours it directly into the hat area of the rotor (where the wheel bearings live).

The total air flow to the brakes is probably not all that different from other setups, but this system puts the air exactly where it needs to be....and it's total disposable. Compared to the cost of race rubber, Pagids, clutches, the 968 diverters are some of the cleverest money you can spend on these cars if you run them hard.

06-20-2009, 03:37 PM

---
WOW im so stoked u guys posted this! I was wondering what the lower deflector was- i found it laying in a box of 968 parts left over from my projects. Anyone care to post a pic of their home made backet for the lower deflector? im still running my 86 controll arms.

06-22-2009, 09:33 AM

06-22-2009, 03:18 PM

---
Very simple brackets..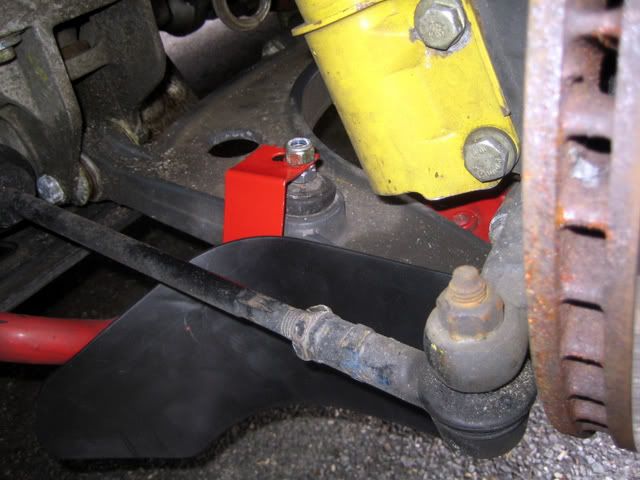 06-23-2009, 12:37 AM

---
I've had this setup on the track car for about two years and brake temps have decreased about 200 degrees on average depending on how aggressive I get. Significantly helps pads last longer from getting to hot. I had one rip off on an off track excursion once. I drilled two 1/8 inch holes, one above and one below the control arm and ran a zip tie around the control arm. On my most recent jump on the gators I bent one back but the zip tie kept it on. It basically pulled the brass thread out of the plastic. You can easily repair by pushing it back in and putting a larger washer to keep it from slipping out. Highly recommended upgrade.

06-23-2009, 01:58 AM
User
Join Date: Jan 2004
Posts: 152

---
Hey Doc!
Sorry to hijack this thread but do you have ball joint rebuild kit for charlie arms? My ***** (joints) are bad and I haven't found anyone selling them.
Also, how are the fabricated brackets for the deflectors like? Are the deflectors standard 968 items or 951 Cup ones?
Thanks!
Sprint.

06-27-2009, 10:14 PM

---
I got my driver side control arm off today and notice a tab on the front of it. Nothing was in place there and the hole isn't threaded. Could this possibly be the mounting point for the 968 brake scoops? It's the hole right in front of the sway bar hole.

06-27-2009, 11:15 PM

---
... I'm so doing this! I consider brake cooling pinnacle when it comes to all around performance. I hate thinking about overheated rotors, glossed over pads, and wheel bearings that get too hot due to brakes heating up under stress.

06-27-2009, 11:30 PM