Nose panel or vented nose panel

07-07-2005, 12:49 PM

Nose panel or vented nose panel
---
Besides the Lindsey unit and the AIR unit, is there anyone else selling a vented nose panel. Also, is there anyone looking to sell a stock nose panel in good condition (no dents etc.)

Thanks

Cliff

07-07-2005, 01:33 PM

---
gt-racing makes one as well.

07-07-2005, 01:45 PM

---
Speed Force Racing offers a service where you send in your nose panel and they will cut the vents into it, that way you don't have to mess with repainting and you get a piece that fits perfectly

07-07-2005, 02:27 PM
User
Join Date: Sep 2001
Location: Natick MA
Posts: 1,164

---
You could always try the cut some templates out of poster paper, trace them, grab a dremel and go at it. I did that and then drilled about 1.5 inch holes in the support so the air could get in there. then just put some chicken wire behind it.

Gotta love the college budget..

07-07-2005, 03:15 PM
Addict
Rennlist Member
Join Date: Oct 2004
Location: Turtle Cove, Maine
Posts: 613

---
The Lindsey is the only one I'm aware of that accomodates a larger intercooler, if you think you will ever go that route. The PO of my car installed an OG Racing panel, which is a quality piece IMHO.

07-07-2005, 05:20 PM

---
I have one that that is in very good condition
White was going to go that route but decided I have other fish to fry :-(
Regards
Ed
PM me if you are interested

07-07-2005, 07:38 PM

07-07-2005, 07:55 PM

---
Here's what I know about this tpic. You can get these from LR IF your're going with their ST5 IC, (edit...I don't mean only if you buy one, I mean you don't need it, unless you're cramming that thing in your car.)but they are pretty ugly, and are reputed to fit poorly, (stay tuned for more on this) You can buy a version from : GTRacing, AIR, Performance, and probably a few more that I'm missing. All are fiberglass, and fit like...see above. YMMV. Lastly there's SFR. They don't provide one, they provide a service to cut your stock piece. For an additional charge, they will add ducting for it as well. Obviously fitment is a non issue this way, AND it's about 100.00 cheaper. They say they can turn it around fairly quickly. There rep suggest that they will.
Lastly, you can search NZ951, and do it the way he did. He cut 931 style vents into his. He also provided a measured template for the mod. Good luck! Mine will be going oout too SFR.

07-08-2005, 08:05 AM

---
here's our unfinished "Gruppe951 nosepanel" mold: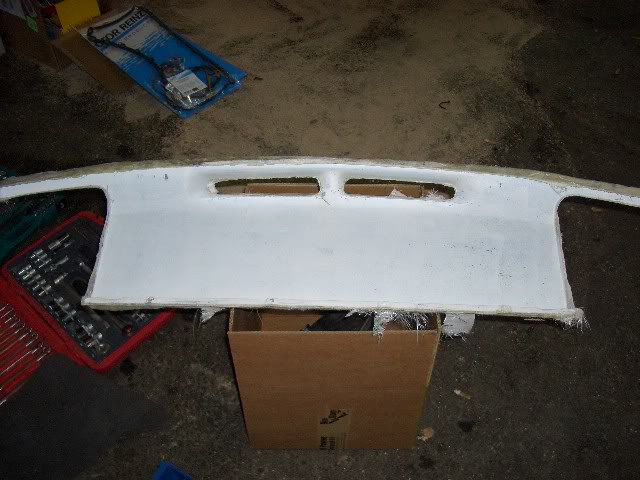 07-08-2005, 09:18 AM

---
Those Finnish are INSANE with their customs parts...

Here is my nose... if you are interested in this style I can offer some help.

07-08-2005, 11:48 AM

---
NZ951, that looks good! What's involved in making it happen?

07-08-2005, 12:18 PM

---
I've had 3 nose panels on my car. Stock, which was a pain to get on and off. I tend to take the nose off if I'm working on the engine alot, as to not dent/crack/scratch it. I'm not a paint ****, and I dont care if the panel gaps are not 100% but if I can prevent it from happening I will.
I then picked up the AIR/Performance Products panel when I converted the whole front end to fiberglass. Easy to pull off and put on the car, just enough lip to fit under the sheetmetal so you didnt have to worry about it flying off. The fitment wasnt bad, but the gaps were not 100% factory perfect. As you can see from the photo, from 10 ft it looked great though.
Now I've got the Lindsey Stage V header panel. Best of them all in my opinion, it looks great (though again, fiberglass so the gaps are not 100% when you are on top of the car), gets rid of those pesky headlight locations (I'm doing a custom mount down where the fog/driving lights were), and is incredibly beefy, in terms of mounting.

07-08-2005, 12:24 PM

---
Mike - your car is the only one Ive ever seen with lindseys header panel that looked good. Maybe its black, maybe its the cleaner look w/o headlights, maybe I just like your car. Not sure but It works.

07-08-2005, 05:20 PM

---
Originally Posted by docwyte
NZ951, that looks good! What's involved in making it happen?
Look for my post on the vent positions I did if you want to mimik what I did, get some vents from your local Porsche dealer (part nuber in the thread I will bump it for you if you cant find it), then decide if you have the panel skill to cut and roll the tabs and space out to fit the vents, else, call panel and paint guy...

07-08-2005, 05:29 PM

---
then decide if you have the panel skill to cut and roll the tabs and space out to fit the vents, else, call panel and paint guy...
Thats where the price goes thru the roof ....
At least here

Andy you have the best looking nose out there ...
Regards
Ed

Posting Rules
You may not post new threads
You may not post replies
You may not post attachments
You may not edit your posts
---
HTML code is Off
---