85 - Occasional No Start Now Permanent

05-08-2017, 12:51 PM
User
Join Date: Jun 2006
Location: Hollister, CA
Posts: 1,644
Likes: 0
Received 0 Likes on 0 Posts

85 - Occasional No Start Now Permanent
---
Seems like a bunch of these issues going around with S3's at the moment.

I had posted a thread earlier about an occasional no start condition when the car was cold/wet that has now become permanent with the car completely dry. Car exhibited no other drivability issues even immediately after a no-start episode. Starts are normally what I would characterize as moderately hard, taking several turns of the engine to fire, but occasionally it would fire immediately, surprising me when it did so.

Car ran great to and from Sharks in the Park on Saturday, then no start on Sunday. I'm getting no spark and no fuel, tach doesn't move while cranking and car doesn't start with ether added. Literally all relevant components under the hood other than ignition amps replaced 1 yr/12k miles ago via Roger and fuel pump and filter were replaced in November. I did manage to nick the insulation on the CPS wire (not down to the braid) while pulling the engine and instead of replacing it then just wrapped it with fusible silicone tape so I guess that's a good place to start along with new relays and battery ground strap and they are on their way. I also struggled a bit over getting the braided sheeting of the harness crimped to the CPS connector when I re-did the plug last year so that's another area that I may need to dig into.

Anything else to look at while I wait for parts to arrive?

05-08-2017, 10:08 PM
Addict
Rennlist Member
Join Date: May 2005
Location: Chilton Wisconsin
Posts: 972
Likes: 0
Received 0 Likes on 0 Posts

---
The axiom is relay, relay, relay. In my case my '85 was a no start when I bought it but by jumping the three critical relays it fired up, strangely enough replacing the jumper wires one at a time with the same relays it continued to start. However, all relays have now been replaced with jumper wires and extra relays in the glove box just in case.

05-11-2017, 06:43 PM
User
Join Date: Jun 2006
Location: Hollister, CA
Posts: 1,644
Likes: 0
Received 0 Likes on 0 Posts

---
Update:

Replaced Ignition, EZF and LH relays along with CPS and battery ground strap. Now have verified spark and dancing tach when cranking but no fuel pump.

I did notice a couple of pins in the LH connector were kind of open from when we used the multimeter on it at Sharktoberfest (yes I'm that guy that didn't know to make proper leads for the job) but I think I closed them up ok with no change. Where to go from here?

05-11-2017, 07:02 PM

---
Just a shot in the dark. If you have been replacing relays and still have a no start with the fuel pump bridge in place, check that a type "53" relay has not be fitted to the kickdown relay position by mistake (position XV) this will cause a no start situation. Automatics should only have the correct kickdown relay.

05-11-2017, 07:09 PM
User
Join Date: Jun 2006
Location: Hollister, CA
Posts: 1,644
Likes: 0
Received 0 Likes on 0 Posts

---
OK I'm an idiot, I didn't replace the fuel pump relay though I had swapped it out with the horn relay as part of my earlier troubleshooting. Once I popped the new relay in she fired right up. Not sure if it means anything but I first started with the new CPS and after cranking for 10 seconds or so the original ground strap was warm so I'd guess I had multiple marginal relays and a worn ground strap all contributing to the issue.

05-11-2017, 08:28 PM
Petie3rd
Rennlist Member
This Post Sponsored by:
Dow Corning« & DeoxIT«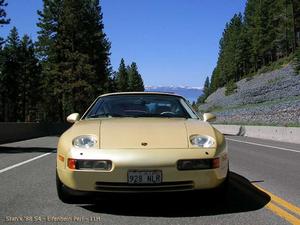 ---
remember that the relays also survive best at 12 volts or higher. with old ground straps and discharged battery,
the relay wont get enough juice to make positive contact.
Deoxit 100 on the contact points will usually restore connectivity