Looking for fuel sender retaining nut

01-02-2017, 11:49 AM
Addict
Rennlist Member

Rennlist
Site Sponsor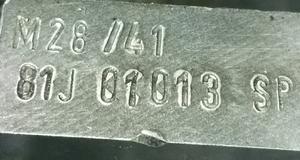 Join Date: Jan 2003
Location: Double Oak, TX
Posts: 15,542

---
Part is currently not available
__________________
Does it have the "Do It Yourself" manual transmission, or the superior "Fully Equipped by Porsche" Automatic Transmission?
George Layton March 2014
928 Owners are ".....a secret sect of quietly assured Porsche pragmatists who in near anonymity appreciate the prodigious, easy going prowess of the 928."

01-02-2017, 03:42 PM

---
Another candidate 3D printed part if truly NLA or NCA. Let me know if there is any interest. Mine is currently out of the car and can easily work on replication. I have a MY '84 so not sure if they ever changed this part.

01-02-2017, 05:40 PM

---
John,
I have a NOS one in my spares bin if you can't get another elsewhere.
Remember to drop the new one in hot water for a few minutes before putting it on the tank. Makes it much easier.

Myles