FS: NIB DOT-Legal Hella H4s

06-10-2013, 05:32 PM

FS: NIB DOT-Legal Hella H4s
---
Had an ordering mixup for some Hella H4s, which means these brand new-in-box DOT-Legal H4s are available for immediate shipment.
Price:
$108
plus shipping
To purchase:
http://garage.ideola.com/used-Body.h...34631989826498

06-10-2013, 05:37 PM

06-10-2013, 05:50 PM

---
These are the standard 7" H4 circular enclosures, so yes, I would think these will work for pretty much any of the Porsches that use 7" bulbs.

06-17-2013, 11:58 AM

---

06-17-2013, 11:38 PM
Petie3rd
Rennlist Member
This Post Sponsored by:
Dow Corning« & DeoxIT«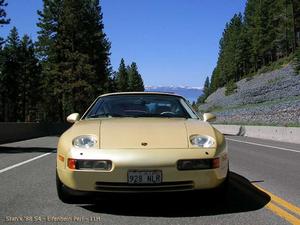 Join Date: May 2004
Location: Philly PA
Posts: 20,395

---
these lights would swap in for the 7" sealed beams

06-20-2013, 01:41 AM

---
How much brighter is it compare to the stock beam?
Is it plug and play?
I have a stock 84 us

06-20-2013, 08:20 AM

---
I have a Bosch set in my '85 and the difference between the sealed beams and the "7 H4 is HUGE!!! Excellent upgrade. The only thing I'm not sure if any H4 is DOT approved or not. Don't remember seeing any DOT marking on the lenses.

06-20-2013, 10:35 AM

---
From the pic, they look to have the Adjustment dimples on the front, the ones I picked up from Roger do not, so that and focus could be the difference in the DOT lenses.
I like having the option of being able to change the type of bulb that the H4/H5 gives you. Wish these came up a few week earlier.

Dave

06-20-2013, 10:47 AM
Petie3rd
Rennlist Member
This Post Sponsored by:
Dow Corning« & DeoxIT«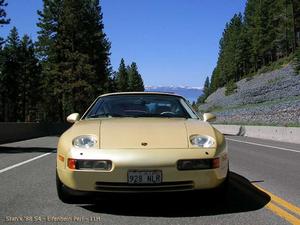 Join Date: May 2004
Location: Philly PA
Posts: 20,395

---
NOTE the BIG lights on the 928 are 8 inch diameter,
these lights are smaller diameter and will not make as much light as the 8 inch units will,
due to less reflector area.
That said they are an improvement over the sealed beam units found in most of the US early cars

06-20-2013, 11:35 AM
Addict
Rennlist Member
Join Date: Nov 2008
Location: Grapevine, TX
Posts: 883

---
It appears as though these are DOT approved. IIRC there are technically DOT reflectors with 9003 replaceable bulbs. The 9003 uses the same format as H4 however 9003 is DOT approved for cars and H4 was not. Many bulbs are qualified to both 9003 and H4 as the specs overlap. The H4 reflectors were not DOT legal for cars, however, you can get H4 DOT motorcycle headlights. The primary advantage of the Hella Vision plus is that it gives you the ability to run uprated bulbs while still running US DOT approved reflectors. From what I've read the choice for pattern would be Euro H4 8", Euro H4 7", Motorcycle DOT H4 the then the US auto DOT Hella. The Motorcycle lights are readily available, and at very reasonable prices, so it seems to me that the deciding factor will be how important one finds the DOT approval. If you want DOT approved car headlights these are the ones to get.

06-20-2013, 02:12 PM

---
So these are motorcycle lenses but are the same diameter as the "7 European automotive H7s but they have different lense pattern than the automotive ones?

06-20-2013, 02:43 PM
Addict
Rennlist Member
Join Date: Nov 2008
Location: Grapevine, TX
Posts: 883

---
These are automotive 7" round DOT approved healights which come with installed 55/60 HB2 (9003) Dot approved bulbs. Edit: (these are not technicaly H4 as the initial post suggests). This is as good as it gets for automotive DOT approved 7" headlights. These headlights will accept H4 bulbs (not DOT approved) which are available in hight power output.

The only H4 reflectors with DOT approval are for motorcycle. they are available in th 7" round configuration so some people install them in cars/trucks, as they have a better beam pattern, and though they do have DOT on the lense it also displays "MOTOTCYCLE" on the lens, so technically not DOT applicable to cars.

06-20-2013, 03:51 PM

---
I went to his site and it says DOT legal....
Is it worth the swap if it only be just a little brighter for $108.00 plus shipping?
Do i lose the chrome rings on the headlamps?

06-20-2013, 05:16 PM
Addict
Rennlist Member
Join Date: Nov 2008
Location: Grapevine, TX
Posts: 883

---
No these will NOT lose the chrome rings. these are direct fit replacements for your existing headlights.
Do you care about DOT approval?
If yes: then these are as good as it gets.
If no: there are better cheaper optioins.
$44.95 H4 Euro 7"
pair from busdepot, for example. what I'm running in the Range Rover.

06-20-2013, 05:43 PM

---
These are DOT approved, they do take H4 bulbs, and that is the big advantage over sealed beams is that the bulbs are replaceable by a range of modern light elements, while being loaded into a DOT approved fixture. FWIW, the DOT approval has nothing to do with the bulb; it is the dispersion pattern of the fixture.

As for the difference between e-code and DOT-legal, these are the differences between E-codes and the Vision Plus DOT-legal versions:
1. Lighting pattern
The US DOT mandates a dispersed pattern that puts a percentage of the light output up and to both sides of the road so that overhead or roadside signs which may not have other lighting or reflective characteristics are illuminated by the headlamps.

The European standard allows all the light to go on the road because European law mandates that overhead or roadside signs have independent lighting or be printed on highly reflective backgrounds.

2. Aiming lugs
DOT also required that the lamp have the three aiming lugs on the face of the lens. This requirement was dropped in the 2000 DOT Standard when visual aiming was approved. The Vision Plus lamps still have the Aiming Lugs, E-code lamps do not.

3. DOT-labeled
The lamp must have DOT molded into the face to confirm that it meets DOT. E-code lamps have E1 molded into the lens.

4. Bulb brightness
DOT limits the lamp output to no more than 60 watts on high beam and 55 watts on low beam. The Vision Plus comes with a 60/55w H4/HB2 bulb in it in order to meet the DOT standard. The E-code lamps are available with a variety of bulbs in various wattages and color temperatures. It is generally a bad idea to use different bulbs in the Vision Plus enclosures because of the aforementioned light dispersion pattern, which could cause brighter bulbs to blind oncoming traffic.

Hope this helps!
Thread
Thread Starter
Forum
Replies
Last Post
924/931/944/951/968 Forum
924/931/944/951/968 Forum
924/931/944/951/968 Forum
924/931/944/951/968 Forum

Posting Rules
You may not post new threads
You may not post replies
You may not post attachments
You may not edit your posts
---
HTML code is Off
---