Part number FPR.

12-07-2011, 05:33 PM

Part number FPR.
---
I am going to be upgrading albiet slowly, and am not sure which part number to go to on my early 86? 928 110 198 02? That's what I saw for the 87 model FPR.

Is that the correct one?
Jc

12-07-2011, 06:36 PM
Addict
Rennlist Member

Rennlist
Site Sponsor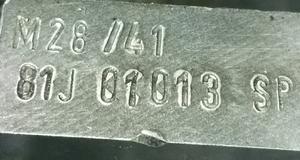 Join Date: Jan 2003
Location: Double Oak, TX
Posts: 15,546

---
As said by Zeus you need 928 110 198 01 however if you plan to uprade to PorKen's chip set you will need 928 110 198 02 - slippery slope 8>)
__________________
Does it have the "Do It Yourself" manual transmission, or the superior "Fully Equipped by Porsche" Automatic Transmission?
George Layton March 2014
928 Owners are ".....a secret sect of quietly assured Porsche pragmatists who in near anonymity appreciate the prodigious, easy going prowess of the 928."