TBF fix

05-20-2011, 07:23 AM

---
Some excellent suggestions make here, however, it requires to be "eye balled" step as you strip down the engine to determine the damage in a logistical manner.

1. As Stan has said release the forward flexplate clamp and measure the migration.
2. Bill said then measure the end play "bump clearance" of the crankshaft, as this will give you the end play measurement to see whether it exceed the specification limit. If it does then you have probably worn the aft thrust bearing thrust face.
3. Expose the the crank shaft bearing to view the thrust bearing thrust face and see the extent of the damage and to see if there are wear marks on the webs of the crankcase from the crank throw.
4. This inspection should let you know whether you need to remove the crankshaft to expose the thrust bearing pocket to see whether the bearing has rotated in the pocket and whether the crankcase web in way of the bearing pocket has cracked.
5. At this juncture, if not before you, will know whether you need to strip down the engine completely.
6. The crankcase can be checked for alignment with a "jig borer" in a tool makers shop to determine whether the thrust bearing pocket and web need machining and whether you need to have an oversize bearing made and fitted.
7. If the short block is cracked in way of the TB pocket, this can possibly be repaired by a "metal lock" tradesman. "Metalock" is a trade name, so do a google on the web to find a representative to see whether they would accept reparing it. Usually they "dye check" the area to identify the extent of cracking to see whether it is a viable repair.
8. If it is repairable, then after the metal lock repair again fit in "jig borer" to have the pocket machined true to the crankshaft axis (lined bored) and the faces of the pocket web machined where the crank throw has touched the web.
9. A new thrust bearing can be manufactured to meet the dimensions required to satisfy Porsche's specifications for end play and bearing clearance.
10. If the bearing has not rotated and the crankshaft bearing surface has not been scored or thermally cracked the crankshaft may either required to be ground or polished and you may get away with just fitting a new thrust bearing.
11. When a new bearing is fitted after repair the alignment of the thrust beaing need to be checked to ensure that the thrust face is in fact at right angles to the centre line of the axis of the crankshaft.
If is no in perfect alignment then the actual thrust bearing surface will not be sufficient of prevent boundary lubrication and the bearing could fail again when and if the end loading from the the flexplate breaks down the oil film.
12. If there is some wear on the bearing pocket web then it is possible to maching and fit a collar spacer recessed slightly into the bearing pocket web held in place by countersunk set screws.

You can see by the above it is a stage by stage process of strip down and appraisal and a stage by stage build up and appraisal including blueing the various surfaces for full contact, bearing clearances and end play.

Hilton has made note that there has been a couple repairs done.

I have done repairs of this nature on much larger internal cumbustion engines it just a matter that if man can design and make an engine then man can repair it in service by numerous methods with the repair materials available today.

Hope this helps.

Tails 1990 928S4 Auto

05-20-2011, 10:23 PM
New User
Join Date: May 2011
Posts: 4

---
AHHH WOW!!!!!
gotta say that took the enthusiasm out of that idea.
found a motor with only 68,000 miles out of a 5 speed so it wouldn't have had any tbf potential for $3,000 and since I only paid 7 for the car which otherwise is mint, I think maybe just throwing in a newer motor might be the way to go.I'll just piece out the other engine on E-bay.

05-20-2011, 10:49 PM
Petie3rd
Rennlist Member
This Post Sponsored by:
Dow Corning« & DeoxIT«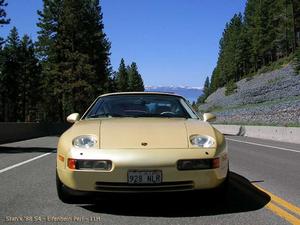 Join Date: May 2004
Location: Philly PA
Posts: 22,560

---
note the lifters and any other parts that run with oil will be contaminated in the TBF motor with metallic particles so lifters are toast
---
Last edited by Mrmerlin; 05-21-2011 at

02:31 AM

.