First start after 15 years parked - Intake Restored

04-03-2017, 04:52 PM

---
Look what I found inside my manual gearbox!!!!!!!!
Unfortunately I don't have pics of inside differential, but a lot of disgusting mud... I've spent about 2 hours cleaning this mess and 6 quarts of oil to flush all this old oil.
I'm planning to change the oil 2 or 3 times more very soon!

05-05-2017, 06:24 PM

First start after 15 years parked - Head Lights Working
---
I'm very happy today!
After more them 40 hours working on the Head Lights, finally I got it fully working for the first time since 1993!!!!
I read all posts from Allan at Rennlist and Pelican forums. It was not possible without understanding how it works.
Thanks Allan!
---
Last edited by jmartins; 05-05-2017 at

07:10 PM

.

05-06-2017, 01:53 AM

---
Jose ... You are an absolute inspiration to anyone out there restoring a 928 !! I have seen few people with such difficulties overcome them with the dedication, persistence and skill that you have shown. Congratulations on the brilliant results you've achieved in everything you've done so far.

How did you go with the gearbox? There was so much 'mud' in there I was wondering how the bearings, and every other component inside, survived that treacle.

11-16-2017, 03:23 PM

---
Thank you very much Dave for the words. It's hard to work on a very rare car in the country. I never see another 928 to compare, smell and hear. I have to search and study a lot, even for small tasks.
But... here some pictures of front and rear bumpers. After rear bumper installation I realize that there is a missing foglight molding
Even my wife is helping us to fix the rear bumper


11-16-2017, 06:00 PM

---
Looking good! Keep it up!. This thread was super helpful in getting my '84 running that had sat for 10 years previously. Hilton's post #14 worked perfect in my situation. I look forward to seeing your continued progress!

11-16-2017, 07:50 PM
Petie3rd
Rennlist Member
This Post Sponsored by:
Dow Corning® & DeoxIT®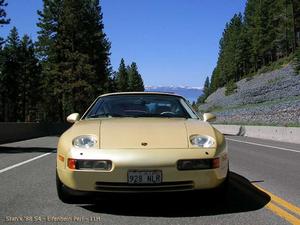 Join Date: May 2004
Location: Philly PA
Posts: 22,325

---
quick before you bolt on the rear PU ,
order the trim grommet for the Euro fog lamp ,
it goes around the lens and prevents chipping of the paint
It gets riveted onto the inside standoffs.

Looking good on the restoration

12-02-2018, 11:54 PM

---
Well a lot of work down here in Brazil...
Sorry for no news for so long time!
The car is almost done... After 8 and half years of hard working!
The engine is now working very smooth, a little noise at gearbox and some minor interior details, but it's ready for Brasilian Historical and Collector's License Plate (called Placa Preta).
I'm very proud of this challenge!
Here some pictures.

12-03-2018, 09:30 AM
Addict
Rennlist Member
Join Date: Jan 2017
Posts: 1,144

---
what a great thread and great story!

many congratulations to you and your determination, and hard work. it surely is paying off, and your car is gorgeous.
wishing you many continued years of fun and enjoyment. now go for a long hard drive!!!

01-07-2019, 10:06 PM

---
At Interlagos Speedway! What a great day!
After this picture one return water hose loose, clutch slave cylinder down, viscous fan with problems... but run this car at same place as F1 cars, and world's famous pilots used to run for more them 60 years, worth every second of hard working on this car!
Thank you guys for the effort, words of encouragement, help and patience!
---
Last edited by jmartins; 01-07-2019 at

11:31 PM

.