Shifter alignment

01-28-2011, 01:22 AM
Super User
Join Date: Jun 2006
Location: ɹəpun uʍop 'ʎəupʎs
Posts: 6,102
Likes: 0
Received 0 Likes on 0 Posts

---
Vilhuer explained above.. just to reiterate as it seems the message is getting lost

You can not adjust which plane the gear lever is sprung to sit in when in neutral.
For early 5-speeds (78-85), if in neutral and you're not touching the stick, the stick is sprung to sit in the 4-5 plane.
From 86-95, if the spring isn't broken, the stick is sprung to centre in the 2-3 gate when you're not touching it.
What you can adjust is where the stick is in relation to the selector shaft on the gearbox, and its fore/aft tilt, and the WSM (WorkShop Manual) explains the correct positioning of the lever. However, if you try to adjust it too far, you may get interference with the edge of the shifter hole that affects gear selection.

01-28-2011, 06:19 AM
User
Join Date: Apr 2010
Location: Northern Ireland
Posts: 125
Likes: 0
Received 0 Likes on 0 Posts

---
I had the same issue ... ended up taking the gearbox out to investigate !!
Naff all to do with adjustment / set up / or poor bushings ............ in my case it's in the box.
As my life can depend upon sure downward gearchanges , I got round the problem by fitting an external spring onto the gearlever itself ... just to pull it into the plane I wanted.
Problem solved.

What i suspect - note SUSPECT , is that my box has been rebuilt at some stage , and the leaf spring (unlike coil spring in the earlier box) has been changed to the later type ..... so I have a box with a mix of bits in it . I did above over rebuilding the box , I think some of the springs are no longer available !!

01-28-2011, 09:13 AM
Petie3rd
Rennlist Member
This Post Sponsored by:
Dow Corning« & DeoxIT«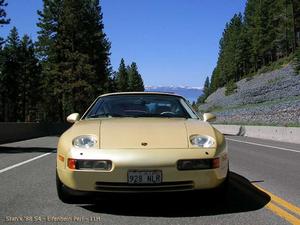 Join Date: May 2004
Location: Philly PA
Posts: 22,679
Likes: 0
Received 0 Likes on 0 Posts

---
OOPs I just noted the year of the car he is working , the early setup is different than setting the shifter to center sorry.

07-05-2017, 02:18 PM
User
Join Date: Jun 2017
Location: Oakland county, michigan 48329
Posts: 9
Likes: 0
Received 0 Likes on 0 Posts

R 2 and 4 only
---
Recently bought and 82 5 speed with a trashed linkage. Replaced all the bushings and have adjusted the rear coupler twice now but I can only get reverse 2nd and 4th. Shift lever appears to go into 1st 3rd and 5th though the throw is noticably shorter that r 2 and 4. 3rd sometimes grinds a tad but won't engage. The lever isn't quite butting against the rear linkage bar yet which is odd because it looks as if it should still have room to drop into gear unless something else is binding. My opinion is that either I didn't properly adjust the new ball cup or I have a huge problem with the transmission. Has anyone else had this issue and if so what was your fix? Thanks!