Correct placement of air dam

10-07-2010, 03:30 AM
Addict
Rennlist Member
Join Date: Sep 2010
Location: Fresno, CA (summer in Calgary)
Posts: 1,376

Correct placement of air dam
---
OK, concerning the big black air dam (or whatever you call it) under the front bumper, it has some black flaps that somehow contact the lower louvers of the front bumper from the rear. Can someone post pics showing the correct placement of these flaps? It seems like some of mine are folding downward under the bumper, and some are folding upward over the bumper slat.

Plus, how hard can you bottom this big thing into the roadway before the bumper breaks? I've noticed already that the attack angle of my 928 has less clearance than my 944, I am scraping up a storm going over dips and stuff in my neighborhood that I could take in the 944 without contact.

Much appreciate the replies,

Sean

10-07-2010, 01:58 PM

---
Sounds like time for a new spoiler. Doesn't sound promising for your center slats. Hope not. Your pic is probably beneficial here. There is about dozen small bolts removable from the bottom. I just removed one from off parts car, and requires care. Wheel well covers were off.

10-07-2010, 04:40 PM

---
Originally Posted by
safulop
Plus, how hard can you bottom this big thing into the roadway before the bumper breaks? I've noticed already that the attack angle of my 928 has less clearance than my 944, I am scraping up a storm going over dips and stuff in my neighborhood that I could take in the 944 without contact.
I wouldn't be so much worried about breaking the bumper as breaking more sensitive stuff such as alternator, compressor or the oil pan. Seems to me you need to get the drive height to stock measurements and/or replace the springs/shocks.

10-07-2010, 06:19 PM
Addict
Rennlist Member
Join Date: Sep 2010
Location: Fresno, CA (summer in Calgary)
Posts: 1,376

---
BTW I was talking about a 1987 S4, forgot to mention.

The airdam/spoiler under the bumper is not broken as far as I can see, it is just an issue with how it sits up against the rear of the bumper.
The pics don't show an airdam or a bumper, so I'm not sure why they were posted.

anyway, I'm getting a bodyshop to play with stuff soon, so I will try to figure it out. Two or three spots where it is supposed to be bolted, it is not bolted, so that may also be causing the scraping. Not sure about the ride height as yet.

Thanks,

Sean

10-07-2010, 10:57 PM
Petie3rd
Rennlist Member
This Post Sponsored by:
Dow Corning« & DeoxIT«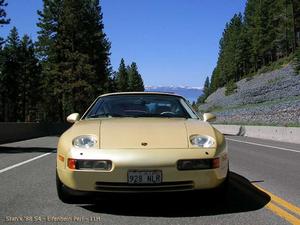 Join Date: May 2004
Location: Philly PA
Posts: 22,455

---
first of all slow down over bumps.

if the car isnt at the correct ride height you can easily snap off an AC bracket or alternator mount.

next jack up the front end and see whats loose,
the pictures that were posted look like from a OB style car so they dont apply to your issue,

the flaps should stay open if not there is a **** on the flap motor remove the rubber boot and turn them open,
then remove the flap fuse before you turn the key on.

Go to ACE hardware and buy some new screws and washers to refit the lower spoiler, The spoilers are expensive so you want to make sure its attached properly,

if not then just remove it and secure the lower panels and the front of the front belly pan