WTB: small plastic cover in headliner, 928.555.355.02

07-08-2010, 06:14 AM

WTB: small plastic cover in headliner, 928.555.355.02
---
Want to buy one small plastic cover that goes over the bolts for the roof hatch, the PO seems to have lost one of them.(in addition to severly warp the headliner at the rear)

Part number 928.555.355.02
---
Last edited by Go-carter; 07-08-2010 at

06:52 AM

.

07-08-2010, 08:36 AM

---

07-08-2010, 08:40 AM

---
Nice, thanks! Just got the headliner out, so I'll have a look at it tonight to see how I can fix it. It's severly warped both in the front and the back, but perhaps it's possible to make the board wet, and "bend"/force it back to it's original shape? Going to try, atleast.

07-08-2010, 09:16 AM
Petie3rd
Rennlist Member
This Post Sponsored by:
Dow Corning« & DeoxIT«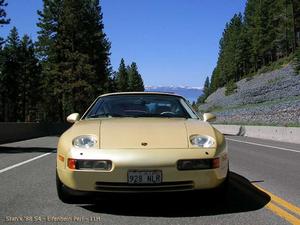 Join Date: May 2004
Location: Philly PA
Posts: 22,560

---
if the roof liner is warped then the chances are pretty good that the hatch seal is leaking.
To fix the hatch seal first remove the rear sun visors then the top hatch trim panel about 5 clips hold it in place.
Remove the seal starting at the hatch lock scrub the seal with simple green and a scrub brush rinse off.
let it sit in the sun for a few hours to reform.
Clean the metal ridge on the car remove all of the dirt from the top edge.
get some Hondabond and with a plastic tube attached ( injection tube is like the one that comes with a tube of RTV)
to the tip of the Hondabond, inject a bead of sealant into the seal you have to work quickly so the Bond wont be too setup prior to installing it .
Note how the seal has to fit over the wire harness to the hatch press it firmly into place,
smear some Dowcorning 111 on the outer edges of the seal to keep the rubber soft.
Refit the the trim and visors

07-08-2010, 10:26 AM

---

07-08-2010, 10:33 AM
Addict
Rennlist Member

Rennlist
Site Sponsor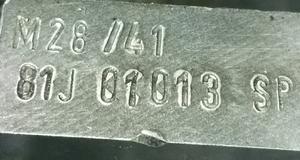 Join Date: Jan 2003
Location: Double Oak, TX
Posts: 15,604

---
We stock them and they are $2.50 each.
You may need the location clips as well
__________________
Does it have the "Do It Yourself" manual transmission, or the superior "Fully Equipped by Porsche" Automatic Transmission?
George Layton March 2014
928 Owners are ".....a secret sect of quietly assured Porsche pragmatists who in near anonymity appreciate the prodigious, easy going prowess of the 928."