How to: Oil Pump removal, Rehab & Install with pics

10-28-2013, 11:25 PM

---
Do you think that it is possible for this
[email protected]
#k-up when replacing seals to not cause the gear to seize? But, instead to result in low oil pressure along with some not-so-nice iron levels in an oil analysis?
Or, can you think of any way to screw-up an oil pump seal replacement that would result in no leaks, but too-low hot oil pressure?

10-29-2013, 07:52 AM

---
Doing the seal is easy and cheap. Though if not leaking you are probably fine to leave it alone.

I took apart my highest miles one for the first time at 170k and it looked almost like new inside. Even the o-ring was in decent functioning shape, although a bit hardened after 25 yrs. Based on this, going forward I intend to leave these pumps alone unless they are leaking.

If you proceed with seal change, to get the nut off, you can also take the old timing belt and fasten it to hold the gear.

10-29-2013, 08:33 AM

---
Don't bother unless it is leaking or you have removed the pump. And even then I would hesitate.
The only reason I changed mine is that it came in the seal kit when I took apart my engine. If not for that I wouldn't have done it even with the 230,00km the engine had on it (no sign of oil pump leak.)

10-29-2013, 06:53 PM

---
I rebuilt mine which had about 159k. It wasn't leaking but since I got the seals anyways I just changed them. The inside had dried oil here and there that I cleaned up but overall it was in good shape.

Not leaking, leave it alone. Unless you already have the parts then I'd say may as well. Again, using this thread it's a very easy rebuild. Just make sure the internals are oriented properly (you can see the dotted side), it's all good from there. Get assembly lube and STP, you don't want to install dry.

03-05-2014, 09:52 PM

---
So, I did my TB/WP job not too long ago, but didn't change the seals at that time. I am beginning to regret that decision.
If I wanted to go back and right my wrong, what would be the minimum that I would have to remove to be able to get to the oil pump and remove it?
Also, when I had the car up on the lift at Sharks in St Charles, it looked like there was room to get it from underneath the car. Has anyone ever tried that approach?
Thanks,

03-06-2014, 12:23 AM

---
To get to the oil pump you need to remove the rear timing belt cover and in order to remove the rear timing belt cover you have to basically remove everything associated with a timing belt change in addition to the crank gear, lower pulley assembly and the oil pump gear. You can't get to it any other way unfortunately.

Is it leaking?

03-06-2014, 06:54 PM

---
Yeah, it is leaking a bit. Nothing that's going to side line me, just annoying.
I'll probably put it off until I have another reason to be working in that area, unless the leak gets worse.
Thanks guys.

03-06-2014, 09:22 PM
Petie3rd
Rennlist Member
This Post Sponsored by:
Dow Corning« & DeoxIT«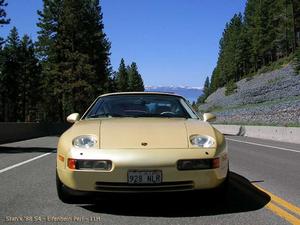 Join Date: May 2004
Location: Philly PA
Posts: 22,660

---
NOTE if you pull the pump use DC111 for the O ring and STP to coat the gears of the pump this will make it possible for the pump to have pressure at startup.

Make sure both gears have the dots facing the block.

04-10-2014, 11:17 PM
Chronic Tool Dropper
Lifetime Rennlist
Member
Join Date: Oct 2001
Location: Bend, Oregon
Posts: 17,835

---
Searched here and in WSM's, looking for the correct tightening torque for the nut that retains the oil pump drive gear on the pump shaft. Not in WSM's or tech-specs books. Anybody know?

04-10-2014, 11:21 PM

04-11-2014, 08:14 AM

01-08-2017, 08:18 AM

---
Quickie here. I replaced the gear and reseal all 3 pump bolts and central oil pump gear shaft. However, I noticed in this writeup that there is no thin washer between the thick washer and oil pump shaft nut as shown on WSM and parts manual.

Do I really need one? And if I do, its a M10 thin washer right?

Follow by Blue Loctite and 30 lb-ft torque.

thanks for any and all help,
Hoi