Cooling flap shroud R&R/Plastic repair question

12-31-2016, 02:40 PM
Petie3rd
Rennlist Member
This Post Sponsored by:
Dow Corning« & DeoxIT«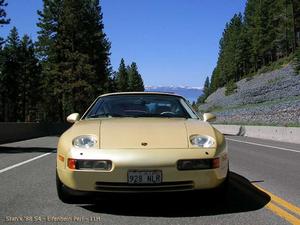 Join Date: May 2004
Location: Philly PA
Posts: 22,663

---
you may be better served to just leave the whole assembly off the car.
most would never know they were ever installed

It may have worked great when it was new that was 30 years ago,
now with old computers controlling things ,
its not uncommon for the flap system to auto close while your doing 80 on a hot day,
it will then take about 2 mins for the engine to overheat.

The common fix is to open the flaps and then pull the fuse.

The idea with these flaps was to let the engine heat up faster,
this is a good thing for cars operated in cold climates,
so that other system come online and function at the desired temps.

After a few years of trying this system out,
it was deleted from the assembly line

12-31-2016, 04:51 PM
Addict
Rennlist Member
Join Date: Aug 2014
Location: Adirondack Mountains, New York (For NYC residents: "near Canada")
Posts: 1,973

---
I dimly recall reading that the flaps had an aerodynamic function, that they closed (partly?) at high speed to reduce lift. Anyway, I needed the duct part, and the duct/vane combination was only moderately more expensive. I'm sure to regret this decision as I try to wrestle it into position.

01-01-2017, 04:41 PM

---
Here is a question for all of you that have removed and or disabled your cooling flap assembly.

Any concerns about removing the relay and the fuse?

- Relay: "Cooling Air Flap System" - Relay Location: XVIII
- Fuse: "Cooling Air Flap Adjustment" - Fuse Location 23 (7.5amp). [EDIT] I see many of you have pulled the fuse without issue.

Does the rest of the cooling system use these? I like the idea of removing these items and not having current flowing through wires that can short, blow, ground, etc.

01-01-2017, 06:13 PM

---
I noticed that the air flap motor started running so I pulled the fuse my 87. But later I noticed the XVIII relay clicking, so I removed that also.
I did find later that I had a problem with the intake temp sensor, that may or may not have started the flap motor running.
I have replaced the intake temp sensor, and have left out the flap motor fuse and relay.
I've had no issues for a number of months now.