After 12 yrs - Hood light finally done right!

04-02-2008, 10:10 PM

After 12 yrs - Hood light finally done right!
---
Perfectionists Rejoice! After 12 years of hearing "$%&@#" every time someone tried to get the hood light to work right and being told it was more $$ than it was worth to get it fixed, I finally got it fixed w/the right part today!
Apparently, this 85 uses a special (read very, very, very friggin rare) position activated mecury switch, and special socket for the underhood light assembly. NLA is a total understatement. We had to go to midnight auto parts for this one after FINALLY figuring out what was really needed. (thx to some rennlist posts from Alan & Dr Bob - you guys rock!)
It had been (properly once, then changed several times) wired directly into the parking lights, but the socket assy wasn't the right one so it just burned out bulbs from being on all the time the lights were on. since it was a switch that was needed, running a wire from the hood switch wasn't an option w/out rewiring and creating a frankenstein.
given the rest of the car is already a bit modified, I felt the need to go w/something OEM under the hood other than just the hood pad to balance things out and so I could tell wifey I didn't have to modify EVERYTHING I touched.
I'm so happy now, it's all I notice when I open the hood!!! stroker? bla bla bla -but look at this light!! it's sooo cooool!! it goes off when the hood is only 1/2 way down!! no silly pin switches or special mods needed for this baby! whoo hoo! and it's OEM!! I even had a 930 owner hypnotized in amazement when showing it off today!!
the holy grail-light at rest:
and "in action":


04-02-2008, 10:15 PM

---
My hood light doesn't work either.

If I fix it, 2 possibilities will result:
1. car will explode and burn to the ground
2. the world will explode and burn up the car

I can't win either way, so I'll leave the sob broken.

04-02-2008, 10:29 PM

---
that's what I thought all the way home.. I was waiting for the air raid siren and a mushroom cloud someplace. so far, so good!!

IIRC, the 87 just uses the hood switch - like most cars built in the last 100 years do. I'm still amazed it works.. can't wait for the wifey and kid to get back so I can show them before anything happens, ha!

gotta admit - it is kinda eerie the way it just comes on after the hood is open about a foot or so... If anyone tries to put me in the loony bin for playing w/it in the garage tonight, please tell them they'd have to own a shark to understand!! hahaha

04-03-2008, 12:30 AM
Addict
Rennlist Member
Join Date: Nov 2006
Location: AZ
Posts: 2,950

---
I pulled the plug on mine several years ago because I'd always have the hood up between drives and didn't want to accidentally discharge the battery (it does not automatically shut off IIRC). I think I'll go to the garage and plug it back in to see if it still works.

04-03-2008, 12:30 AM

---

04-03-2008, 03:27 AM
Petie3rd
Rennlist Member
This Post Sponsored by:
Dow Corning« & DeoxIT«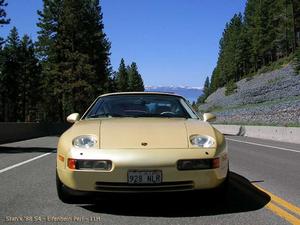 Join Date: May 2004
Location: Philly PA
Posts: 22,608

---
I think I wrote up a proceedure to fix the light under the hood .
If the light housing is taken apart you will find a mercury bulb inside and if the ends are cleaned then your light will work again.This assumes that the wire is connected properly to its connection under the cowl cover, and the bulb is good
I believe that the hood switch controls the light operation on cars mfg after 1990.

04-03-2008, 03:31 AM

---
mine never worked either, funny, i had no idea this was such an issue.

I bought a bulb but then shortly thereafter i took the pod apart and had my interior lighting issue so i imagined the hood light was on the same circuit somehow. Still ive never seen the fricking thing illuminated!

And wow is it a ugly *** assembly! I guess in 91 it changed though, but its like $100 or something if you wanted to retrofit it.

Here is a pic of one from a BMW that i bought long ago but never installed. Maybe i can throw it onto the 928 someplace. Its a pretty nice looking lamp.

04-03-2008, 01:36 PM

---


2. found a WORKING used light assy, and installed it.

just figuring out what was needed was a task.. not all MY use that silly thing.
then finding a used one (new no longer avail, of course) was the next challenge.

I did find a used unit that didn't work. that was "fun" for a while till I gave up on it. but I was encouraged by finding they really existed and were not some kind of myth.

course, I'm sure the EPA would like all of the mercury switches on earth to just disappear, kinda like asbestos - so if you've got one that works, it is worth it's weight in gold (even if it is butt ugly)

04-03-2008, 02:10 PM

---
I'm duly impressed. Compare to my '87, which currently has ZERO working internal lights... As soon as I fix the weather seals so it stops leaking in heavy rain, I'll hit Luan up for help replacing the valve gasket covers, and THEN I can get to the wiring...

04-03-2008, 02:31 PM

---
rainy season is almost over... that should help

there are some great writeups by dr bob and alan on the int. lights... might start w/them. also wally p did some awesome electrical maintenance stuff on here.