WTB - CIS WUR

01-25-2008, 11:56 PM

WTB - CIS WUR
---
Looking to buy a known good CIS WUR (warm up regulator) for a US car.

I can pay preferably by Paypal, but could do credit card if need be.

I'll probably pick one up from 928 Intl. if I don't get any bites tonight. I'll need it shipped to BC, Canada by Fedex, USPS Express if in the states or Canada Post if in Canada or Fedex if anywhere else. No UPS please.

Thanks!

-JR-

01-26-2008, 12:49 AM

---
look for a business that does refurbs, there must be one considering the number of 911s with CIS still out there. Even here in Oz we have a company that does this work on CIS all the time.
jp 83 Euro S AT 51k

01-26-2008, 01:32 PM
Addict
Rennlist Member

Rennlist
Site Sponsor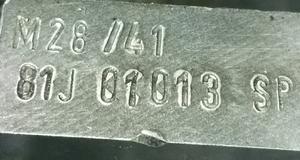 Join Date: Jan 2003
Location: Double Oak, TX
Posts: 15,704

---
I only would buy the rebuild from Mark at 928Int.
__________________
Does it have the "Do It Yourself" manual transmission, or the superior "Fully Equipped by Porsche" Automatic Transmission?
George Layton March 2014
928 Owners are ".....a secret sect of quietly assured Porsche pragmatists who in near anonymity appreciate the prodigious, easy going prowess of the 928."

01-26-2008, 01:41 PM