Can I replace my '91 AC compressor with a '88?

11-25-2007, 07:47 PM
Supercharged
Rennlist Member
Join Date: May 2002
Location: Back in Michigan - Full time!
Posts: 18,899

Can I replace my '91 AC compressor with a '88?
---
Porsche, in their infinate wisdom, changed the AC compressor for '90 and '91. The main bracket didn't change, but the compressor did. Mine is probably toast - certainly needs a rebuild. I have a line on a really cheap compressor from an '88. Just wondering if there is any reason why this wouldn't work for me. Anyone know for sure?

11-25-2007, 09:38 PM

---
I guess the big question is, how much are you talking about in terms of a price difference? It also leaves a lot of other questions. What is the condition of the rest of the system, mainly the lines? The only reason I would think that it may not work are the lines that plug into the compressor.

11-25-2007, 09:52 PM
Addict
Rennlist Member

Join Date: Jul 2002
Location: Glen Mills, PA
Posts: 509

---
No problem Andrew. You do have to use the '88 hoses.
That is what I have been running for the last 4 years. I do think that the later 10 cylinder compressors are not as reliable as the older 6 cylinder compressors.

11-25-2007, 10:46 PM
Addict
Rennlist Member

Rennlist
Site Sponsor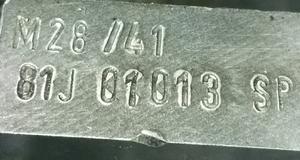 Join Date: Jan 2003
Location: Double Oak, TX
Posts: 15,659

---
Andrew,
I have a rebuilt set of 87 hoses ready to go on an exchange basis if that helps.
I will make them as cheap as possible for a great Rennlister like you and if you promise to sign the WOR calenders for the Cowboys v Forgot there name competition.
Roger
__________________
Does it have the "Do It Yourself" manual transmission, or the superior "Fully Equipped by Porsche" Automatic Transmission?
George Layton March 2014
928 Owners are ".....a secret sect of quietly assured Porsche pragmatists who in near anonymity appreciate the prodigious, easy going prowess of the 928."