Can you hear your turn signal.hazard flasher?

07-10-2019, 01:21 PM
Addict
Rennlist Member
Join Date: Jan 2017
Posts: 1,514
Likes: 0
Received 0 Likes on 0 Posts

Can you hear your turn signal.hazard flasher?
---
the turn signal/warning flasher relay location does not allow it to be heard properly, especially if you are driving, using the AC, and/or radio. located on the CE panel, buried under a wood panel, insulation, carpeting, and finally, a floor mat, the sound of the relay is barely audible. I decided to relocate the flasher under the steering column so I could clearly hear the relay
I bought a 9003 style headlight cable extension, which has the same plug configuration as the flasher relay.
it was very simple to splice in 3 feet of wire, along with some black heat shrink, to make an extension that I routed behind the center console and up towards the steering column. a few zip ties and now I can hear the flasher.

07-10-2019, 04:40 PM
Petie3rd
Rennlist Member
This Post Sponsored by:
Dow Corning« & DeoxIT«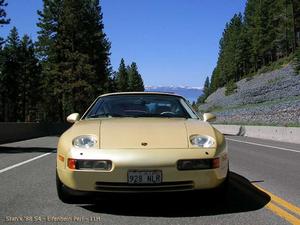 ---
quietness ........thats part of the reason they buried the CE panel under wood and insulation .

Porsche went to great lengths to insulate the cockpit , Its supposed to be quiet inside the car, especially while operating it.

In the interest of this reasoning the blinking turn signal lamp in the pod is central and top for easy viewing.

I would suggest to let your eyes be your ears here, unless you cant see?

I dont recall being able to hear the blinker in a Rolls Royce either.

07-11-2019, 08:23 PM
Chronic Tool Dropper
Lifetime Rennlist
Member

---
To answer the question --

I can easily hear my original flasher in the stock location. I SAID I CAN EASILY HEAR....

I've been pretty religious about keeping the cabin quiet. Getting gearbox mounts in a year or so ago was the latest step in the quite effort, and it helps a bit. Now I can clearly hear the fuel pumps. The external pump seems louder in the cabin than it does standing behind the running car, even with the full factory exhaust in place.


In my collection of interesting things I have a two-pole flasher "audio extender", really just a much louder clicker that fits under a factory flasher. Came in an early '70's Datsun 510 that was destined for track duty, so out it came and into the interesting-bits bin.