PARTS/CAR INTEREST?

06-12-2019, 02:07 PM
Addict
Rennlist Member
Join Date: Dec 2012
Location: NEW YORK
Posts: 561
Likes: 0
Received 0 Likes on 0 Posts

PARTS/CAR INTEREST?
---
After noticing a 928 in the lot of a body shop nearby my home for several years, I went in today to ask about it.
The owner of the shop told me he was getting ready to junk it.
My timing was perfect as I told him to hold onto it until I could take it off his hands for his asking price of $1,500.
The car is a 82 automatic and has a cracked windshield, toasted dash, but fully restored black door cards, headliner, and seats that are stored elsewhere.
The car has BBS wheels and is in rough shape with one dent in the driver quarter at the marker light.
I don't have pictures, but figured I would ask if there is interest enough that someone would want to go in on this so I can ****** it up before it goes to the crusher.
I don't really need any parts per-Se, but would like to have some spare components (if the car is to be parted).
The car could be further stripped to become a track car, however..

06-13-2019, 02:45 PM
Addict
Rennlist Member

---
At this point, the idea is that Walt and I will split the cost, I'll take this car and my '82 will go to him, save a few odds and ends that I'll keep off my car, or that Walt needs off this car. The car is a couple miles from Walt, and Walt is a couple hours from me. The car looks complete, and the owner supposedly had the seats, door cards, and headliner professionally restored and they're at his place ready to go back in.

I can't see the A/C compressor and I don't see a belt going to the A/C compressor, so that's a question. I do like A/C.

I'm not a fan of black cars (although from the passenger door it may have been blue once), but this has no rubbies, which is right up my alley, and I'm actually kind of digging the BBS wheels.

I have to figure out what color to make the center stripe...

06-14-2019, 06:03 PM
Addict
Rennlist Member
Join Date: Dec 2012
Location: NEW YORK
Posts: 561
Likes: 0
Received 0 Likes on 0 Posts

---
Here are the stats. Got some extras previously unmentioned. Another set of wheels (winter condition) with center caps is not shown. The leather re upholstery is stitched, but the vinyl needs to be left in the sun for a couple of hours and the adhesive needs to be touched up. The front valance is upside down, sorry. The whale tail is my favorite part.

06-16-2019, 06:56 PM
Addict
Rennlist Member
Join Date: Dec 2012
Location: NEW YORK
Posts: 561
Likes: 0
Received 0 Likes on 0 Posts

---
Shawn, no AC compressor, but all the other components are there.
Does anyone have an idea of the manufacturer of the front and rear valances? They are fiberglass as is the whale tail spoiler (dont know who made that, but I am told it was shipped from California.
Thanks in advance.

06-17-2019, 10:26 AM
Addict
Rennlist Member

06-18-2019, 09:12 PM
Super User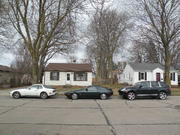 ---
Not much I can elaborate on.

There were a variety of folks that made different 'add on' stuff. From front & rear bumpers/valances to full 'wide body' kits. Some (Koenig?) offered performance upgrades too.

The only thing I know about any of them is what I've read on here when the subject pops up.

There have been pics and descriptions of many of the different kits & makers.

Looking at the pics of that one, mainly the front, my memory says "AIR". American 'something' Research.
Again, this is based purely on memory of threads I've read. I could be waaaaaay out in left field.