Central Shaft Won't Slide Back

03-01-2019, 05:45 PM
Addict
Rennlist Member

Central Shaft Won't Slide Back
---
I'm part way through the process of removing the clutch but I'm unable to get the central shaft to move back enough to let the clutch parts drop out. I have moved the collar back into the torque tube as far as I can. Is the shaft supposed to move farther back into the coupler to allow it to clear the pressure plate?

I have the shims on the pressure plate and the 6 bolts removed and the whole assembly is loose but there is no way any parts are going to drop out unless the shaft moves rearward more.

Thanks
Sean

03-01-2019, 05:53 PM
Petie3rd
Rennlist Member
This Post Sponsored by:
Dow Corning« & DeoxIT«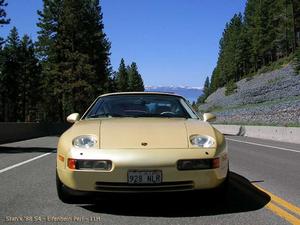 Join Date: May 2004
Location: Philly PA
Posts: 22,613

---
Just to be clear the front clamping collar has 2 bolts,
both of them must be removed before the clamping collar will slide back.

NOTE the front clamping collar should slide all the way back onto the drive shaft,
if not then the front TT bearing has migrated forward and is preventing this .
You may be able to tap the collar clamp rearwards .

The stub shaft will be close to the front tip of the driveshaft when its moved back to clear the pilot bearing.

NOTE I would suggest that you loosen the 4 bell housing bolts so they are about 3 turns from out.
Then remove the 2 bolts that hold the trans mounts to the rear cross member,
then pry the TT/transaxle back.
the bellhousing will slide back on the bell housing bolts,
and this will give you about an inch and a half of extra clearance.

03-01-2019, 06:21 PM
Addict
Rennlist Member

---
Thanks MrMerlin. Yes, I had missed the rear collar bolt, as soon as I loosened it, the collar moved back, Still a B...h getting getting the parts out but they eventually came. I did this last time about 10 years ago on my back in the driveway. This time I have a lift and can't really imagine how I did it without the lift.

Sean