Power Mirrors stopped working - GTS

01-12-2019, 10:47 PM

Power Mirrors stopped working - GTS
---
I have searched and found a ton of great info and have tried the following...
- Fuse #40 is good for mirrors
- memory seats and all functions work (except when each memory is selected the mirrors won't move)
- Removed and cleaned switch in door card and all seemed good
- verified power and ground to switch before and after cleaning and was present
- reverse lights work
The issue is they worked roughly a week ago and then all of a sudden stopped. I did have the panels off near the fuse block and on the passenger side of the radio when I was working on a few other items but unsure if that affected anything. It seems odd that both all of a sudden stopped working like it something simple. I was thinking it had to be the fuse but reverse lights work...
So, is there any relay for the mirrors that wouldn't effect the other items that are working? When doing the research I found a lot of people talking about the main switch under the seat but it seemed to be related to the power seats and memory functions which are all fine on my car.
Any help is appreciated while I diagnose this issue. Here is a quick shot today what the work ensued.
Thanks,
Bryan

01-13-2019, 09:57 AM
Petie3rd
Rennlist Member
This Post Sponsored by:
Dow Corning« & DeoxIT«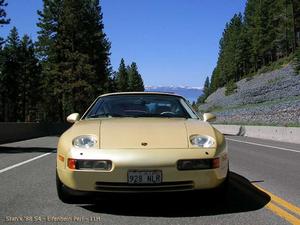 Join Date: May 2004
Location: Philly PA
Posts: 22,568

---
only clue i see is your door edge lamps are not on,
My bet is a fuse is blown and it could tie into the mirrors.
NOTE check the clock and ashtray lamps for possible shorting since thats where you were working

SO Check every fuse with your multi meter set on continuity ,
you can test every fuse while it is in place at the rear of each fuse are two little openings to put the leads.

01-13-2019, 11:17 AM

---
Dr. Bob, I will check those again... I have the panels off again to see if something came loose. Is there any picture showing location of wiring and how it runs through that area?

Mrmerlin, yes, battery is disconnected in the photo, otherwise all lights work great! I will check all fuses.

Any relays associated with mirrors?

Thanks,
Bryan

01-15-2019, 12:24 AM

---
In the door there are two switches, one for the toggle and one for the switch to change from right to left mirror.

I have power and ground to the toggle... is there ever power to any of the 1, 2, 3, 4, 5 or 6 wires, I would think so... but they were all dead when battery was on and power was going to toggle. Thanks again for any help!