Water bridge bolts torque spec

12-16-2018, 01:22 AM

Water bridge bolts torque spec
---
Sorry in advance for the newbie question, but I need help understanding the torque spec on the four bolts securing the water bridge to the heads.
Here is a clip from the 1988 technical specifications manual, I don't understand the stage 1, stage 2, and the +2 specification.. I am assuming that I tighten all four to the fist specification (10NM) and then all four to the second stage 20NM. But what the hell is the +2? Also, should I be replacing these bolts each time a replace? I can't find any details in the WSM,

12-16-2018, 01:55 AM
Petie3rd
Rennlist Member
This Post Sponsored by:
Dow Corning® & DeoxIT®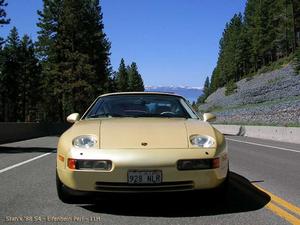 Join Date: May 2004
Location: Philly PA
Posts: 22,614

---
The idea here is to gradually tighten the WB in an even way I don't know what the Plus 2 means
use anti seize on the new bolts
always replace the bolts

12-16-2018, 02:24 AM

---
Thanks for the tip on replacing the bolts. Where do you usually source your replacement bolts? Belmetic?

I'd be interested to know what the "+2" is in reference to if someone knows. I would think two full turns or 2x90-degree turns?

12-16-2018, 03:51 AM

---
I doubt it would be that much. My guess is it means plus two flats.

12-16-2018, 05:14 AM

---
It's a range: 20 to 22 nm.

Belmetric does not have replacements. Porsche does.

Grade 8.8 Alan head bolts are difficult to come by. Mostly you find stainless or grade 10 or 12.

I use new Porsche Alan bolts or replated (and good-condition) original bolts.

12-16-2018, 02:03 PM

---
This is my understanding of the issues:
- run-of-the-mill grade 10 and 12 fasteners are typically untreated - no plating. So, corrosion potential needs to be considered.
- the black oxide coating most-commonly used on grade 10 and 12 fasteners is - IMO - weak and subject to tool damage.
- plating hardened fasteners (i.e. grade 10 and 12) risks hydrogen embrittlement unless specific post-treatment baking is done. And then it can still be an issue. And thus, why most grade 10 and 12 fasteners are un-plated and oxide dipped instead.
- grade 8, 10, 12 all have different elongation under load and different expansion with heat. The waterbridge sits astride a huge assembly of aluminum pieces that expand quite a bit during operation. The factory's two-stage torque procedure leads me to believe that some engineer actually spent some time on this. So, I'm not going to change fastener grade without doing the math. That goes for any bolt to the block or heads that sees non-trivial variable force due to pressure or expansion (e.g. head bolts, girdle nuts, oil pump bolts, etc.)