Frenzy 22 Swap Table Offers and Requests

08-30-2018, 06:43 PM

Frenzy 22 Swap Table Offers and Requests
---
I thought I might as well get the ball rolling on this:


Stuff I would like to get out my garage if anybody is interested:

I will be bringing VW interior lights like I always do.

Washer Fluid Reservoir (the big one)

Black Leather Console

Stuff I might want to buy or trade for:

Souped up electric cooler scooter.





09-05-2018, 02:14 PM
Addict
Rennlist Member
Join Date: Mar 2003
Location: Washington DC
Posts: 575

---
Stuff I need (that would be nice if someone else brought to sell)
Spare tire and hold downs.
Spare tire well cover (the plastic one mine's cracked)
OEM speakers (need a front midrange, tweeter cover, and rear rear midrange)
Maybe a spare amplifier for 85.5 (why not)
Wiper blade covers
Um.... Blue foot carpets?
Straps for 85.5 airbox cover, I broke one.

09-05-2018, 02:15 PM
Addict
Rennlist Member
Join Date: Mar 2003
Location: Washington DC
Posts: 575

09-07-2018, 11:46 AM

---
I have the following I can bring if anyone's interested:
- 7" H4's with chrome trim rings.
- Front Spindles from a '79 (was going to use them for an S4 brake conversion).
From my 85 S2:
- Rear calipers with almost new pads.
- AC condenser.
- Radiator.

09-07-2018, 06:16 PM
Addict
Rennlist Member

Rennlist
Site Sponsor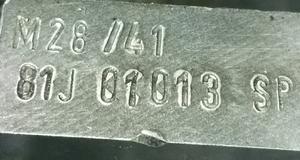 Join Date: Jan 2003
Location: Double Oak, TX
Posts: 15,706

---
I can bring a tame & awesome 928 mechanic - goes by the name of Sean - loves expensive cigars and good red wine.
House and garage trained.
__________________
Does it have the "Do It Yourself" manual transmission, or the superior "Fully Equipped by Porsche" Automatic Transmission?
George Layton March 2014
928 Owners are ".....a secret sect of quietly assured Porsche pragmatists who in near anonymity appreciate the prodigious, easy going prowess of the 928."

09-08-2018, 11:00 AM

---
Does the mechanic that you're bringing (or any other 928 mechanic) feel like replacing the clutch on my S4? Four post lift, compressor, tools, etc. I'm 30 minutes from the hotel. I plan to do it myself, but if someone is coming who has done one before and is willing to do it on mine while I help, that would be very nice. Obviously, I'd pay for the work.