Dragging Brakes

07-26-2018, 10:42 PM

SOLVED: Dragging Brakes
---
Hi All

I am hoping to solicit some ideas here for a brake problem I have. I pulled one of my GTs out after a rather lengthy period of sitting in a bone dry garage. Fluid has been changed pretty regularly (every 2 - 3 years) in the past. After a very short time, the brakes started dragging.

I dismounted the front wheels and found that the brakes were locked. So, I pryed them open, cleaned the pads and sliding surfaces and put them back together. Went for a drive, which started fine, but then again the dragging became more and more pronounced. Thinking that putting the car away "wet" and bad seals in the calipers led to corroded pistons, I tried to free them a couple times by dismounting the wheels and loosening the calipers. Unfortunately, nothing changed.

So, knowing that the front rotors were slightly out of spec and the pads also pretty shot, I decided to replace the front rotors, pads and calipers. After this the car exhibited the same symptoms except at least, if the car sits, the brakes will magically release after a while. I don't think they released previously before I changed the calipers.

I did not yet bleed the master cylinder but the brakes feel fine after replacing the front calipers and bleeding both sides of all 4 calipers. I can drive a very long time without the brakes dragging as long as I do not push too hard on the brakes. As soon as I press on the brakes too hard, they will start sticking and I will have to park the car and wait for the brakes to unlock. No clue how much time it actually takes them to unlock. 4 hours has done it every time up to now.

I don't really think the master cylinder is leaking or is bad, because the system has never needed filling between bleeding. I am thinking to pull the line of the booster and see if the brakes still gradually start locking in use. But, the vacuum line to the bosster is really stuck in there and I haven't managed to pull it out... How much force can I use on it???

Anyway, thanks for any input here or thoughts.
---
Last edited by Red Flash; 12-30-2018 at

12:14 PM

. Reason: Changed title because solved

07-27-2018, 12:01 AM
Addict
Rennlist Member
Join Date: May 2012
Location: Thousand Oaks California
Posts: 3,151

---
I would replace your master cylinder. If it is original, its seals have most likely perished and it can no longer flow brake fluid correctly.

It's either that or the pedal wasn't adjusted correctly. But if that hasn't been touched it shouldn't be an issue.

07-27-2018, 12:33 AM
Petie3rd
Rennlist Member
This Post Sponsored by:
Dow Corning® & DeoxIT®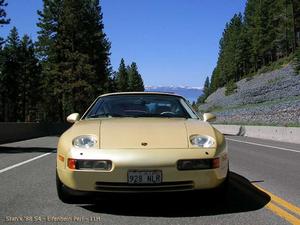 Join Date: May 2004
Location: Philly PA
Posts: 22,459

---
what kind of brake lines do you have?
If they are old and different fluids have been used its a good chance they have swollen inside and are closing .

I would suggest to Swap in 4 new Stainless flex lines and install a new master cylinder as has been suggested.

Use DC 111 on the tank grommets to prevent the MC inlets from corroding ,
Use ATE fluid from now on.
Also consider replacing the bias valve at the ABS unit.

To remove the tank from the MC and the hose from the booster,
spray some PB blaster into the fitting junction ,
move it around some,
then pull the parts free.

07-27-2018, 11:17 AM

---
I'm facing the same issue on my '84. At first I thought the calipers were frozen and not retracting, but I've played with them enough to know they are not frozen. On my '84 if I push down the pedal firmly it frees everything up for a while, but gradually while driving around within a day or two it you can fell the brake pedal get more and more firm until it has no travel and the front brakes are dragging significantly. I can then press it down firmly and free everything up...and repeat.
By deduction, I'm figuring that it's the master cylinder (because I just can't think of anything else - hydraulic brakes are a pretty basic system). But admittedly, I understand how a master cylinder works and its hard to envision a failure mode where brake fluid would be forced to the front distribution valve and not be able to freely flow back into the reservoir. However, when I posted this issue a couple weeks ago several people chimed in that it was likely the master cylinder.
I'm planning to replace my master cylinder next month and see if that solves the problem. Please keep this thread updated with your findings.
EDIT...I found this thread while researching. Apparently there are some internal check valves on the master cylinder.
https://rennlist.com/forums/928-foru...build-kit.html
I could see how a check valve could prevent fluid from returning to the reservoir and result in the brakes dragging, so maybe that is what is failing. I'll keep you updated with my results.

07-27-2018, 11:26 AM

---
Front brakes locking, I've seen the brake balance/bias valve do that, the one connected to the ABS pump.
That would be my first choice to replace,

edit: I see Stan also pointed it out.
---
Last edited by davek9; 07-27-2018 at

11:54 AM

.

07-27-2018, 01:04 PM
Chronic Tool Dropper
Lifetime Rennlist
Member
Join Date: Oct 2001
Location: Bend, Oregon
Posts: 17,485

---
Known causes:

-- Master Cylinder and possible deterioration/swelling of the rear cup. The cup covers the port to the tank, so as fluid heats and expands there's no place for it to go excpt push the caliper pistons.

-- Deteriorating brake hoses. Old hoses start to flake inside, with a "flap" of lining turning into a sort of check valve. The SS hose recommendation points to a Teflon lining inside a hose with the stainless outer braid exposed. Modern hoses include the braid but it's usually inside a protective rubber abrasion layer.

-- Corroded caliper bores causing the pistons to stick.

Diagnosing the first two causes involves relieving some fluid pressure at a bleed screw. If you have two wheels dragging, and bleeding one of the two releases both, the problem is likely the master cylinder. If only one drags, and releasing a little fluid via the bleeder relaxes the caliper, all new hoses are in your immediate future.

At this point in our cars' service lifetimes, if the original hoses haven't been replaced with new, they should be as PM. Master cylinders will last forever --IF-- they have lived their whole lives with clean dry fluid inside. Stan's recommendation on using DC111 on the reservoir grommets applies to both new and old master cylinders. The fluid is hygroscopic, and promotes corrosion around the grommets if any at all seeps through. The DC111 lubricates the grommets for easier installation, and helps keep the rubber soft and pliable so the seal is maintained. The grommets are available new as replacement parts from our favorite vendors. They are common to other ATE-braked cars so are not at all difficult to find or expensive in the Big Picture.

07-29-2018, 02:16 PM

---
Hi all, thanks for the valuable info here in the responses.

I should have also stated that before doing any work:
1.) I released the front brakes by the bleeder valve and this did not unlock the calipers in front
2.) I also pulled the fuse in the ABS to see if shutting the ABS off would stop the locking

I also should have stated that I replaced the front brake lines with some quite new Porsche lines that I had.

I am starting to think I had two problems here that appeared at the same time. The fact that the front calipers did not release when I bled them earlier meant that they were certainly in some way part of the problems here. I guess I'll do another round of removing each wheel and checking the caliper for free rotation and pulling ABS fuse and trying to see, if that stops the locking to occur. Probably a bias valve and or master cylinder with CD111 grommet protection and rear brake lines then are in my future...

@ Chris : I am not sure we have the same failure mode, as my brakes don't free up when I push down on them. I tried this as well prior to posting anything.

Thanks again for the valuable feedback!

07-29-2018, 11:02 PM
Petie3rd
Rennlist Member
This Post Sponsored by:
Dow Corning® & DeoxIT®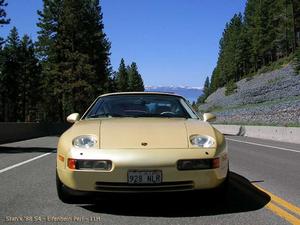 Join Date: May 2004
Location: Philly PA
Posts: 22,459

---
Has the brake fluid ever been mixed with another brand?
Some types of fluid can cause the rubber seals to swell in the calipers and the MC if different mixes of fluid have been tried.
I suggest to use ATE brake fluid

07-29-2018, 11:13 PM

---
Brand, or type?
First ive heard of any DOT3/4/5.1 brand mixing causing any issues on any car forum.
Anything mixed with straight 5, most certainly.

07-30-2018, 06:37 PM
Chronic Tool Dropper
Lifetime Rennlist
Member
Join Date: Oct 2001
Location: Bend, Oregon
Posts: 17,485

---
vintage British cars with Girling brakes are poster children for fluid-caused rubber swelling and failure. Not so much in the last 30 years. Stan's advice about good fluid still applies. ATE is great, Castrol LMA is great. I've been using a Valvoline synthetic the last few flushes in all the cars with good results. Good fluid isn't expensive but poor fluid can become so. Off brands from the dollar store never show up on my radar.

07-30-2018, 09:16 PM
Petie3rd
Rennlist Member
This Post Sponsored by:
Dow Corning® & DeoxIT®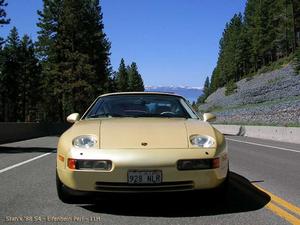 Join Date: May 2004
Location: Philly PA
Posts: 22,459

---
we had a few 928s show up with stuck brakes seems the owner had gotten some type of DOT 4 Syn fluid and topped the system with it,
after the car sat for a few months the brakes began sticking after it was driven, this happened over a 6 month period,
That said the brake system is important I would suggest to always use ATE fluid, it is available.
NOTE ATE makes the brake system specs why not use their fluid its less than 20.00 for a liter

12-18-2018, 02:44 AM

---
After spending all of my free time working on my 91, I am back on the 90's brake topic. 6 months go by quickly... Thanks all for the tips. I have always used ATE brake fluid and concur with all opinions on this topic above.

As I reminder, I had a situation where the brakes would drag more and more as I used them, and then I would have to pry the clapiers open. Replacing the front calipers and the front lines reduced this to a minimal drag after some brake usage that actually will go away after the car cools down. Big improvement, but not the final solution.

I started the 90 back up today and decided to go for a short drive and actually tried to use the ABS a few times. Slammed on the brakes numerous times to get the ABS activated and the ABS in fact works fine. My goal was to get the ABS system to cycle any fluid through it and unstick anything that might be sticking in the ABS components.. Unfortunately. I still could feel a slight drag.

I have a new master cylinder, new rear brake lines and some more ATE fluid. Trying to decide, if it is worth doing the rear lines first, or if I should just do the master cylinder and lines rear lines at the same time. thoughts?

12-18-2018, 01:46 PM

---
Had this problem with my rear brakes on the 1980.
The fix was rebuild on the rear calipers.
Scum on the piston and bore, had to use very fine sandpaper to get the last of it off, lube, new seals and bleeders, new hoses while they were off.
Problem solved.

12-20-2018, 06:20 PM

---
Please keep this thread updated.In a similar situation. I followed the advice on this thread by first flushing the system, then replacing all four lines. Still having an issue. I'll most likely install the new master cylinder next week and see if that works. I'll post an update if that solves the problem.

12-20-2018, 06:38 PM

---
TLDR - but unless I've missed it, no one has mentioned corrosion under the calipers stainless plates

This is a massive issue with the Brembos, so even if your car isn't suffering from this now, it is virtually guaranteed that it will be soon (unless you live in CA or FL)