Engine Removal- Disconnecting Driveshaft

01-12-2018, 12:36 PM
Addict
Rennlist Member
Join Date: Dec 2017
Location: Walton-on-Thames
Posts: 110

Engine Removal- Disconnecting Driveshaft
---
Hello
Im in the process of (very slowly) removing the engine of my 1985 S2. Im following the WSM however the version I have doesnt seem to cover my specific model, instead one section covers a very early manual 16v and another section covers later automatic 32V engine. Does a WSM exist that specifically covers an S/S2 Automatic?
So far Ive been referring to both sections and the 32V specifies undoing the driveshaft clamp pinch bolt (which I have done) as well as undoing the outer flexplate bolts. these seemed to to be seized and I could not remove them with a hand wrench despite soaking them in oil but have refrained from using an impact wrench as I am afraid I might shear the bolts. Are they high tensile? Another alternative I have thought of is instead removing the inner bolts that attach the driveshaft bracket to the flexplate, as they don't look as corroded. Are there any downsides to doing this?
Thanks
Sam
---
Last edited by SRaouf; 01-12-2018 at

12:37 PM

. Reason: typo

01-12-2018, 12:51 PM
Petie3rd
Rennlist Member
This Post Sponsored by:
Dow Corning« & DeoxIT«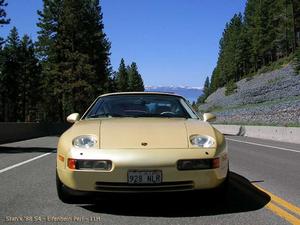 Join Date: May 2004
Location: Philly PA
Posts: 21,923

---
mark the flexplate to the flywheel before you remove it..
Use an impact gun to get the bolts out from the outer edge of the flex plate.
the bolts have ribbed washers so they will have a higher breakaway force
---
Last edited by Mrmerlin; 01-12-2018 at

02:04 PM

.

01-13-2018, 09:35 AM
Addict
Rennlist Member
Join Date: Dec 2017
Location: Walton-on-Thames
Posts: 110

---
Yes thats the plan! Super clamp and Super bearings as the entire car has to come apart anyway. surprised it even started considering it hadnt moved since 2003. No knocking sounds when I ran the engine so slight cause for optimism.