Headlight delete

01-10-2018, 05:50 PM

Headlight delete
---
Has anyone either deleted their headlight completely and/or just use the bumper lights instead, with perhaps a housing or bulb upgrade? The reason I ask, the custom built widebody I have came with either 944 or 911 slant nose pop ups and the motors/mechanisms are very problematic and the illumination is horrible. I've tried several different lens/bulb combinations and have found nothing that gives me anything much better. On top of that, the motors to raise the lights work whenever the hell they feel like. I'd like to either replace them with fixed lights possibly, or just pull all power to them and just run with the bumper lights if they can provide good enough lighting. I'd like to get to something resembling modern lighting performance. Even the cheapest of new cars has far superior headlights compared to what I currently have.
One issue, as you can see in the pics, is that the slant nose fenders might cut off any fixed light solution due to the fact that the buckets aren't flush with the front bumper, so I'm not sure I can mount anything inside that would be high enough to allow the light clear the front of the fender/bumper.
If anyone just runs with their bumper lights, did you do any upgrade on the housings or bulbs?
Any suggestions as to what to do with this?

01-11-2018, 12:09 PM

---
The bumper light are too low IMO to get light way out in front when driving at speed.
If that were my car, I'd keep the custom popups you have and look at fitting a better light system in that housing.
Edit: I'm currently running LED H4' bulbs w/ H4 lenses and like them

Dave

01-11-2018, 12:47 PM

---
That looks cool, do they work good, look to be different lamps from what Brett has?

Brett, you could try replacing those projectors w/ a single square lens, like one from a 2000 Jeep Cherokee they are a single Hi/Low H4.
You would have to make up the mounting bracket, it all depends on what will fit in your custom housing.

01-11-2018, 03:19 PM

---
It's a custom, hand built widebody 1985 model with a supercharged stroker drive train and interior from a 1990 S4, which already has custom headlights. It's very, very far from stock, so changing the headlights would do literally nothing to the resale value, in my opinion. I'm more concerned about seeing and being seen. :-)

01-11-2018, 10:44 PM

---
Cibie and Hella both make rectangular H-4 dual beam lights. I think they made 2 sizes, one about 4.5" x 7" and the other about 5.5" x 8". Maybe one of those would fit in the light bucket...As for the nose lights, I agree with davek9 completely..I use mine in town, because the 8" H-4s are overkill in town, but out on the road, at about 35 mph you start to outrun them. Cool looking mod. It almost looks like you could squeeze a third round light in between the other 2.

01-12-2018, 04:54 PM

---
I did this on my car. More to get the headlight out of the way of the intercooler heat exchangers in the fenders then for aesthetics, so it's not pretty, but it works.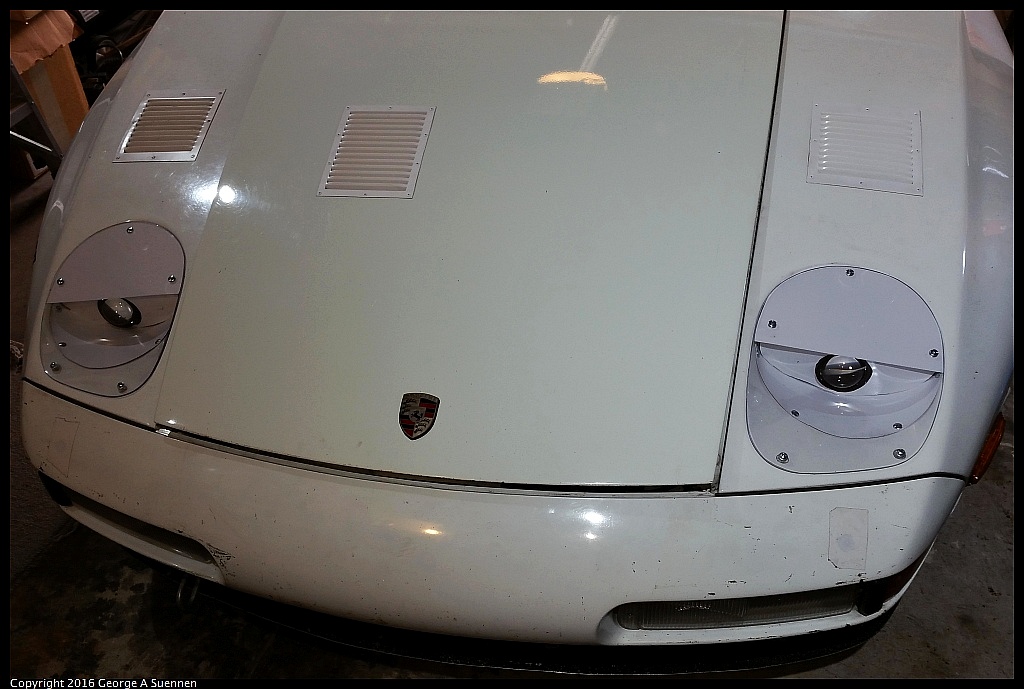 I had first tried installing HID lights in the driving light position, but this wasn't a good solution. It wasn't high enough to get a good projection down the road. So I did the headlight replacement.
Here's a write up:
http://928.jorj7.com/HID-Lights
I'm sure someone with more fabrication skills can make a better looking version.
__________________
George
90 S4 Grand Prix White (Murf #5 - 210 mph top speed)
94 GTS 5-Speed Midnight Blue
06 Cayenne S Havanna/Sand Beige (PASM)
http://928.jorj7.com

01-12-2018, 08:21 PM

---
Years ago there was a drop in part that was molded on the bottom to fit into the recessed area and the headlight bucket removed. The top was very nicely shaped and the back half and the edge around the front could be painted to match the car or black. The lighting lens was curved nicely and had a nice looking projector assembly inside. I wish I could remember where it was. It was a nice alternative that required no drilling and eliminated all of the popup hardware.

01-15-2018, 12:34 PM