Mahle or Mann or is there a Synthetic Oil Filter yet?

01-11-2018, 02:20 PM

---
Because my understanding is that a cellulose based filter typically filters to this spec

10 Ám Efficiency 0%
30 Ám Efficiency 68%

Whereas the Dualglass based filter I use in my other car has this spec

10 Ám Efficiency 73%
30 Ám Efficiency 100%

01-11-2018, 05:02 PM

---

01-11-2018, 05:19 PM

---
My assumption is that oil filter technology has moved on in 30 years, just as tyre technology has

I like using modern AD08R tyres on my cars, and I'd like to use modern oil filtration too if possible

01-11-2018, 06:38 PM

---
I agree. IMO, the oiling system on the 928 has far-more-than-sufficient oil pressure and flow capacity. Even if a modern filter is a bit more restrictive I think a 928 with a healthy oiling system can handle it. With warm oil I doubt there will be any observable difference in oil flow or pressure.
My only concern would be the thick 10w-XX and 15w-XX oil we like to run when the engine is stone cold at wintry temperatures. Modern cars (presumably designed for modern filters) like to run with 0w-XX or 5w-XX oils.
It would be interesting to see what's inside Porsche's "Red Filter."
All that written, I'll wait for data.

01-11-2018, 06:54 PM

---
Originally Posted by
Imo000
Ok but if your other car is designed to use that spec than that doesn't mean it will do well in the 928. The lubrication system on the 928, or any car, is designed to work using certain parameters set by the factory, the 928 engine is not known to have filtration issues so I would stick with a stock spec.
I wouldnt so easily argue that better filtering, is not a good thing.
I would ask the op where the current filtering is the cause of engine failure.
thats why it likely doesnt exist in such a low production package, and likely never will.

01-11-2018, 08:25 PM

01-11-2018, 11:56 PM

01-12-2018, 11:21 AM

---

01-12-2018, 11:57 AM
Addict
Rennlist Member
Join Date: May 2008
Location: 2706 Skyline Drive, Grand Junction CO 81506
Posts: 4,536

---

01-12-2018, 04:52 PM

---
Yup. that's it.

I'm not old enough to actually remember it, but it's one of those "you wouldn't believe the idiotic stuff people fall for" products.

They are still out there, just different ones.

Barnum was right.

01-12-2018, 07:11 PM

---
Ford first offered an OPTIONAL oil filter in 1940 and sold v-8 flatheads until 1953 with no filters !!! So for about 50 years Henry did not see the need for one. The toilet paper filter literally was better than nothing.

01-12-2018, 07:26 PM

---
Yeah, but not by much.
Toilet paper dissolves when it gets wet. It has to to allow septic/sewer systems to function.
So how long before the roll in the filter canister dissolves into a big blob, plugs the system and then the bypass valve opens up to allow (unfiltered) oil to pass through?
Or the oil dissolves a "path" through the roll that is unfiltered?
And I can't imagine that all those little pieces of mostly dissolved TP going through the motor is terribly good for it.

01-12-2018, 07:33 PM
Addict
Rennlist Member

Rennlist
Site Sponsor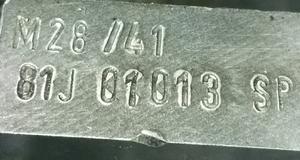 Join Date: Jan 2003
Location: Double Oak, TX
Posts: 15,330

---
I will only sell Mann as they are OEM to Porsche.
Mahle are not OEM and considered aftermarket in my book. Not saying that is a bad thing but most of my customers want OEM where possible.
I am not arguing which is better but if it is good enough for Porsche it is right for my customers so I sell OEM Mann.
We sell the OEM Mann for $8.95 and it comes with the drain plug sealing ring.
I also sell plenty of the Red Porsche oil filters which are made by Purolater for $12 and they also come with the sealing ring.
__________________
Does it have the "Do It Yourself" manual transmission, or the superior "Fully Equipped by Porsche" Automatic Transmission?
George Layton March 2014
928 Owners are ".....a secret sect of quietly assured Porsche pragmatists who in near anonymity appreciate the prodigious, easy going prowess of the 928."