91 928 white smoke when starting

12-31-2017, 03:26 PM
User
Join Date: Nov 2017
Location: Northern New Jersey
Posts: 14
Likes: 0
Received 0 Likes on 0 Posts

91 928 white smoke when starting
---
When I start my 91 928 it smokes (white smoke) quite a bit. as it warms up it smokes MUCH less to almost nothing. I just noticed today that my coolent is low and Im thinking that may have something to do with it. Otherwise, the car runs great. Any ideas on what to check?

12-31-2017, 03:57 PM
Addict
Rennlist Member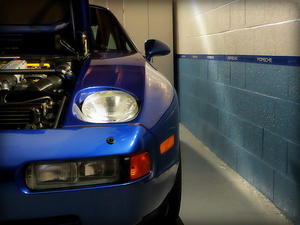 ---
It might only be condensation or a head gasket going bad.

If the coolant level always go down and there's no visible sign of a leak, it might indicate a bad head gasket.

If it still smokes when warm, even a bit, it's not normal.
Edit: Of course, if you're in a warm climate.

Good luck.
---
Last edited by Bertrand Daoust; 12-31-2017 at

04:14 PM

.

12-31-2017, 04:06 PM
Addict
Rennlist Member
Join Date: May 2010
Location: Northern Virginia
Posts: 2,026
Likes: 0
Received 0 Likes on 0 Posts

---
Agree with Bertrand. If you are almost anywhere in the USA, it is so cold that all vehicles will "smoke" at start up. It's likely condensation and should subside as the exhaust system warms up. It is so cold the condensation cloud may persist after warm up (depends on how dry the air is...If you see your breath...you should see at least some from your car, too).

12-31-2017, 04:21 PM
Super User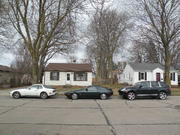 ---
Is it smoke or steam (does it dissipate quickly once out into the air)?
Does it have a smell?
Does it have a residue (put a piece of cardboard or something right behind the exhaust pipe and see what collects)?

Where are you (cold or warm climate)?

How long had it been since you checked the coolant?
It really shouldn't go down at all, but the reality is that most cars leak a little bit.

12-31-2017, 06:04 PM
Addict
Rennlist Member

---
It is more than likely a blown head gasket.
An easy check is to pull the spark plugs, and the bad cylinder will have a completely clean plug.

12-31-2017, 06:19 PM
Petie3rd
Rennlist Member
This Post Sponsored by:
Dow Corning« & DeoxIT«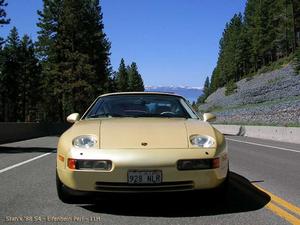 ---
without answering the how low is the coolant question and do you see any leaks?
and does the white smoke smell sweet pulling the plugs as suggested will give instant answers.
NOTE a plug thats burning coolant could have small bits rust on it or could be totally clean with small rust deposits.

Easiest test is to smell the smoke notice if it smells sweet.
If it does pull the spark plugs.
If not, then refill the coolant and road test and park it till cool,
see if you lose more coolant.

Common coolant leaks are from the heater control valve/short hose,
the water bridge coolant hose connections, the radiator inlet tank flange at the top,
look for crusty white deposits along the crimped area

12-31-2017, 06:30 PM
Addict
Rennlist Member

---
And remember that - like everything else - coolant shrinks when it gets cold. It is 'normal' to see a decrease in reservoir level when temperatures drop significantly.

There may be nothing going on other than cold weather. Fill the reservoir to the seam with your preferred coolant mix and monitor the level through several heat cycles. If you see level drops then:
- rent a coolant system pressure tester, use it, and look for leaks.
- pull the plugs and look for 'clean' plugs (plugs are usually pretty black.)

Last but not least, head gasket issues are A LOT less common than liquid or vapor coolant leaks due to old hard hoses, leaky reservoir caps, and leaky water bridge gaskets. If your '91 hasn't had the main water bridge o-ring replaced it will be leaking a tablespoon - or more - with every heat cycle.
---
Last edited by worf928; 12-31-2017 at

06:32 PM

. Reason: might not be a GT

01-01-2018, 04:10 PM
User
Join Date: Nov 2017
Location: Northern New Jersey
Posts: 14
Likes: 0
Received 0 Likes on 0 Posts

---
thanks. its deffinatly not leaking coolant and I haven't lost a lot of coolent. I will say that its VERY cold here in New Jersey so maybe its that. Thanks again

01-02-2018, 03:24 PM
Official Bay Area Patriot
Fuse 24 Assassin
Rennlist Member

---
You can easily tell internal coolant leakage by the sound of your engine when you do a cold start? Having a 944 that had an internal headgasket failure, the car started on 3 cylinders for about 3-5 seconds until the coolant burned off and was pushed out through the exhaust.

Have someone start your car while you listen for sputters or a missing cylinder under the hood.

It is likely the smoke you see is just water built up in the cats since that is also a byproduct of catalyzing exhaust.

01-02-2018, 04:16 PM
Addict
Rennlist Member
Join Date: Aug 2017
Location: Annandale, New Jersey
Posts: 321
Likes: 0