Here it is...real time capsule

12-31-2017, 12:49 PM
Addict
Rennlist Member
Join Date: Oct 2016
Location: Ooltewah TN
Posts: 118
Likes: 0
Received 0 Likes on 0 Posts

Here it is...real time capsule
---
Many pictures, money shot first

After spending a couple of hours with the car this morning, I'm really amazed at the condition, ODO is stuck at 76 K and I can't imagine the true mileage is much more than this. All tools and original jack present, original net and cargo shade present, spare cover in good shape, original spare present. What was cool was what was in the spare well (pictures included), rubber boots in a vinyl bag for when its raining, plastic gloves so your hands don't get dirty among other things. Rear wing and wiper look almost new. Seats had some high quality sheepskin covers on them and the seats feel and look almost new underneath. Dash is flawless. Paint is original and looks great, it needs a buff but not as marred as some I've seen, I'd venture to say it was always hand washed, no real swirls present. I'm warming up to the chrome wheels and they are also perfect, no flaws present at all. Engine bay is as I received it, a little dirty but honest, hood liner is perfect. All seals and trim look new. I've done nothing to it but wipe it down with some Adams quick detail spray. Cosmetically its about all one could hope for. I have no real service records yet, the shop where it was serviced doesn't ope up until Tuesday, I will call them and see what they have. The elderly lady who traded it may have some paperwork. The folks I bought it from are going to check, she's still a bit upset as her husband passed just 5 weeks ago. I know for sure the radiator is new, the timing belt was done and the tires are brand new...all done last month. Things to do going forward will depend on what kind of documentation I receive. Only things that jump out at me initially are electrical gremlins that may all be related...radio won't come on, mirrors don't work, interior lights don't come on and the automatic trunk release doesn't work. All seat electrics work, windows, roof, rear wiper all work. HVAC system works as it should. Lights pop up and work as they should. Sorry for the long post, Pictures follow:

12-31-2017, 01:43 PM
Super User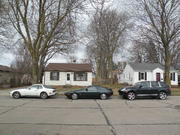 ---
Wow! That's a nice one.
The interior shows that it was kept inside most of it's life. Those seat covers are both rare (if they are Genuine Porsche) and in really good shape. They also did their job of keeping the seats really nice.

The gloves are pretty rare, I've never seen the booties before. Are they "Genuine Porsche"?

The rest of the 'goodies' are really cool. Is the compressor for the spare tire still there?

Jake is right in that the interior lights and hatch release are tied together. Basically, the lights have to be on for the hatch release to function (you can't open the hatch unless the doors are open for safety).
There is supposed to be a fuse/relay diagram on the front of the CE panel cover (plywood panel in the passenger footwell under the carpet). Given the completeness of the rest of the car, I'd bet it's there. If not, you can find it on here.
There are some typical issues with the interior lights (insulation on wires rubs through or just ages and deteriorates and shorts out).
Or it could be that the CE panel needs a good cleaning.
Or the grounds need a good going over.

12-31-2017, 02:07 PM
Addict
Rennlist Member

Join Date: Jun 2002
Location: Fort Worth, TX
Posts: 510
Likes: 0
Received 0 Likes on 0 Posts

---
Looks perfect!
Check the condition of all rubber hoses in fuel injection system and for the presence of "E" clips on the headlight lifting mechanism.
Enjoy it.

12-31-2017, 03:00 PM
Addict
Rennlist Member

---
Sweet!! Well done!
You need the jump-post cover (first pic), 928-612-871-02, about $5 from your favorite parts supplier-- keeps the water off the 14-pin connector.
Interior lights, tailgate release, radio are fuse 24 for an '88.
Booties were not original (at least not in Calif

), there should be an air compressor somewhere... usually in the spare tire well (with the jack behind the toolkit, inboard of the pass-side tail light).
Have fun!


12-31-2017, 03:10 PM

---
Wow very nice. Looks identical in condition and completeness to my 87 that I snagged way back on 2013 for 14k cdn, so you did very very well.

When I got my 87 the original owner and second owner (neighbors) only ended up being ok with selling the car because of my plans to re-fresher her and enjoy the car as much as they did. Since then I have kept in contact, periodically sending them updates and pictures of the cars travels. Overtime I think this has eased their pain some and actually has made them feel happy about the sale.

Congrats.

12-31-2017, 03:51 PM
Addict
Rennlist Member
Join Date: May 2010
Location: Northern Virginia
Posts: 2,026
Likes: 0
Received 0 Likes on 0 Posts