Flex Plate Spline Measurement 3.1mm within spec?

11-16-2017, 09:02 PM
Petie3rd
Rennlist Member
This Post Sponsored by:
Dow Corning« & DeoxIT«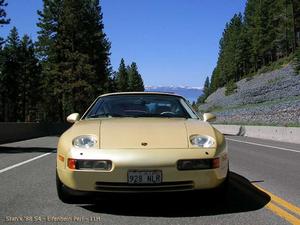 Join Date: May 2004
Location: Philly PA
Posts: 22,570

---

11-16-2017, 10:05 PM

---
The spline measurement is only an indication of how much pressure there is on the flex plate and ultimately on the crank bearing.
3.1 mm is not much and quite normal. So the flex plate should be straight or very close.
You need to check the crank endplay to make sure everything's fine.
Follow Mrmerlin's thread recommendation.
A very good one on the subject.
This is what the splines look like on my car (no pressure).
The white paint is an easy way to see if anything has moved.
The after market part in front of the stock clamp is a PKlamp. It helps to prevent any mouvement. Very happy with it so fare. Not very expensive and easy to install.

11-17-2017, 10:49 AM
Addict
Rennlist Member
Join Date: May 2008
Location: 2706 Skyline Drive, Grand Junction CO 81506
Posts: 4,542

---
Where exactly and how are you measuring 3.1mm? What is that a measurement of? If your flex plate is actually straight there is likely no movement on the splines.

11-17-2017, 12:22 PM
Shameful Thread Killer
Rennlist Member

Join Date: Aug 2004
Location: Rep of Texas, N NM, Rockies, SoCal
Posts: 19,441

---
Fuggeddabbout the spline measurement at the flex plate. The ONLY method to determine damage to the thrust bearing is the crank end play(or end float) check. It is done with a dial indicator, and described very well on other threads. Search is your friend: TBF, thrust play check, crankshaft float, dial indicator, etc.