Will they fit? Aggresive wheels

03-23-2013, 02:01 PM

Will they fit? Aggresive wheels
---
I am looking at a set of old school Simmons wheels for my 84 944. they were on a Porsche 930.

The specs are: Fr. 16" x 9" 23 offset
Rr. 16" x 11" 10 offset

I'd like to use 245/45/16 rears and 225/50/16 fronts. Yes I understand they aren't optimal tire sizes, but that's what is available.

I'm going to run 15" x 7" CC's on the track with 225/50/15 so the Simmons would be my street wheels.

My question is, will the wheels fit? I have done the math and it looks like they will work, but I want to know if anybody has tried this aggressive of a setup. I do have front coilovers, so I have some extra room there. The rear is VERY stiff so not much movement, which helps as well.

Thoughts?

03-24-2013, 10:23 PM

---
I don't think 11" wheel fit on the back of the 944. Some have done, but it's really tight.

Personally I would not run those wheels if those are the only tires you can find. The 245s should go on the 9" wheels. Check tire manufacturer for suggested wheel width per tire.

Take care!

03-24-2013, 10:36 PM

---
I came to my senses and I agree, I'm not comfortable running 245's on those wheels. It's too bad because the rims are CRAZY light. I'm almost thinking they are magnesium due to how light they were. Maybe 12 lbs a wheel for the 16 x 11's.
the 16 x 9 fronts were featherlight.
Sometimes I really hate my early offset car.


03-24-2013, 10:39 PM

---
DO IT!!!!

I'm working on test fitting a set of 17x11 rear Forgelines on my 86 951 with a super low offset (haven't calculated what it is yet). Planning on putting a 245 tire on there. It will be stretched but I think it's all I will be able to fit with the offset given.
I'll post a pic shortly of the test-fit with no tire. Its pretty insane.

03-24-2013, 11:01 PM
Today I got
My Custom Title
Rennlist Member

03-24-2013, 11:55 PM

---

03-25-2013, 03:20 AM

---
test fitment pics on mine as promised...
17x11 Forgeline RS (offset TBD), on an 86 951, no spacers, fenders are already rolled.
Obviously, the tires will need to have some stretch in order to fit.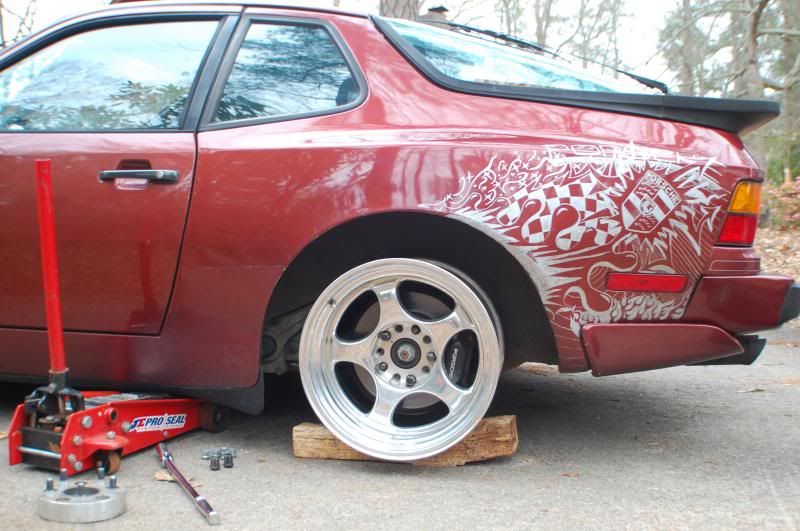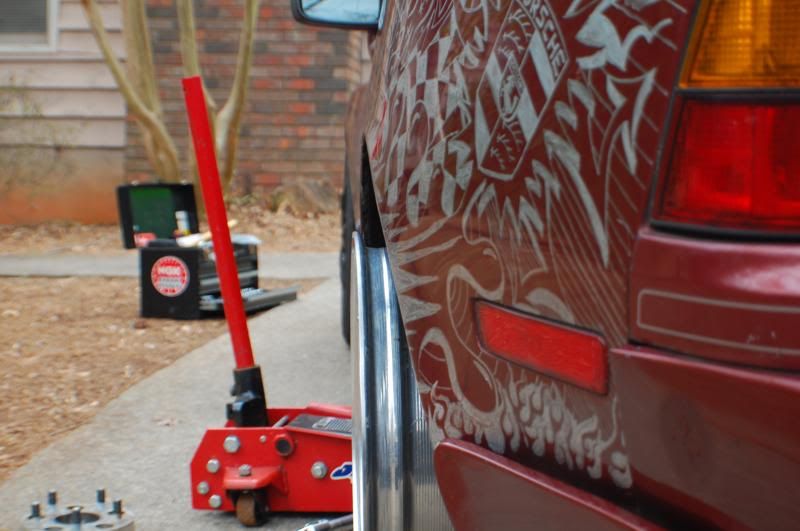 ---
Last edited by drift a 944; 03-25-2013 at

06:28 PM

.

03-25-2013, 06:30 AM

---

03-25-2013, 07:52 AM

---
drift a 944, thanks for that look. I know the wheels will look amazing but I am concerned with the tire stretch. Any chance your going to do it in the next couple of days?

I don't want to be popping beads.