Fire Extinguisher Options

08-17-2012, 07:48 PM

08-17-2012, 09:35 PM

---
I took a standard $20 dry chem from home depot (First Alert) and ordered a metal bracket for it instead of the plastic one that comes with it. (First Alert part # FEBRA2-6 for the bracket)
A bit of aluminum strap riveted to the bracket let me hang it from the 6mm bolt on the side of the console. The aluminum just slips up between the carpet and the side of the console. I put a couple of short self-tapping screws at the bottom of the bracket which really just go into the carpet to keep it level.

With the way this is oriented with the clamp, I can reach over from the drivers seat with my right hand, grab the extinguisher and release the latch with my thumb; all in one quick, smooth motion.

08-18-2012, 05:46 PM

---
I have a dry chem as well, it is white and marketed as a "recreational" variant for auto and motorhome use. I have it mounted crosswise between my seats off the harness bar on the 4 point roll bar, accessible, but out of the way.

I'll do a pic if anyone wants one.

Jeff

08-18-2012, 06:15 PM

---
I wouldn't mind hearing more about the extinguisher itself. Was it a lot cheaper than the h3r? I don't regret buying a halguard for my Porsche but I wouldn't mind a cheaper option for my ford bronco dd.
Here is my mount btw:

08-18-2012, 06:53 PM

---
Here it is. Made by "First Alert", got it at the local Ace Hardware - $17.00 and change. I'll spring for Halon at some point, but this was cheap. Better than nothing, I say.
Came with a cheap plastic bracket and strap, I replaced the strap with a nylon one until I source a better bracket.
Jeff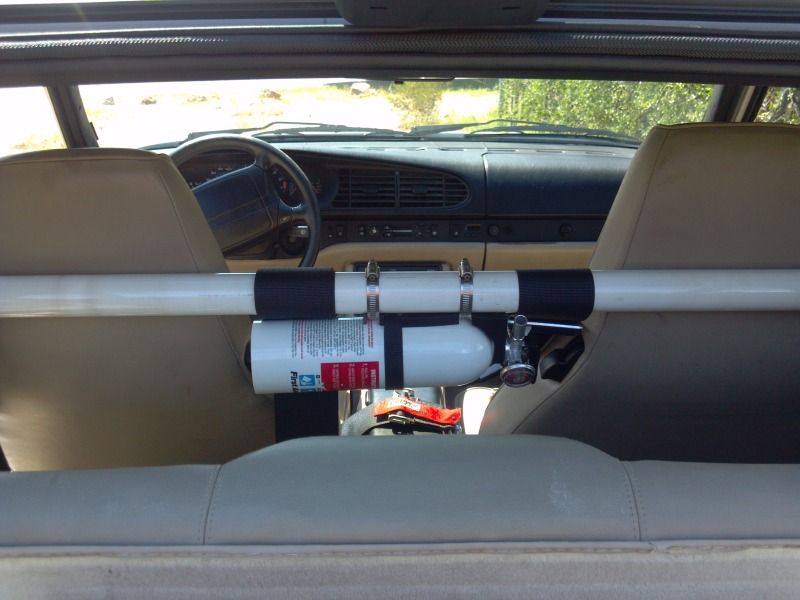 08-19-2012, 12:13 AM

---
How will this one do so more than any other shown on this thread? They all, including this one, have a retention strap and a solid mounting.

It does not move in it's mount. The retention strap is not just sitting there, it is buckled. It's not there to get at quickly as much as just being there and reachable from either seat.

I may move it to the passenger side of the tunnel like jpk did, haven't decided yet. It is also behind the 4 point harnesses. I also may just move it toward the passenger side partly behind that seat.

Jeff

08-19-2012, 12:31 AM

---
it is the cheap plastic bracket that would concern me. mine has two steel straps that are bolted to a significant aluminum plate. its hard to tell from the picture, but it looks like the bracket may break with enough force.
---
Last edited by thirdgenbird; 08-19-2012 at

01:21 AM

.