BMW reference sensor part number-need parts

01-06-2011, 03:53 AM
User

BMW reference sensor part number-need parts
---
My car idled for about 20 seconds the other day then died. Cranks now but won't start. I haven't sourced the problem yet. Thats the plan for this weekend. As I was poking around under the hood I saw that the R/S sensors are stupid dirty and look original and the wires are crumbling.

Even if they are not the problem right now, may as well replace them anyways. I was reading that theres a BMW part that is the same (or very similar) to the Porsche ones. I found this part number while doing a search:
12 14 1 710 668

Just want to make sure that this is the correct part#. Second question, if I use that BMW part do I have to make any modifications or does it just plug and play? Or should I just buy the ones that are built for the car that are aftermarket? Does anybody have any experience with these ones? If I'm better off buying OEM ones I can do that too. Whichever ones work best, doesn't really matter to me but if I can get away with using the less expensive ones then I'd rather do that.

I'll have to check the harness from the engine compartment to the DME too, might replace that also.

01-06-2011, 09:36 AM
Proprietoristicly Refined
Rennlist Member
Join Date: Oct 2001
Location: ~Carefree Highway~
Posts: 1,815
Likes: 0
Received 0 Likes on 0 Posts

---

01-06-2011, 09:43 AM
Super User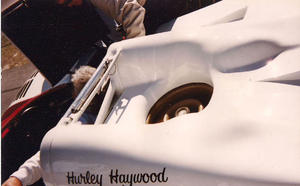 Join Date: Nov 2004
Location: Blue Ridge Mountains NC.
Posts: 3,991
Likes: 0
Received 0 Likes on 0 Posts

---

01-06-2011, 11:52 AM

01-07-2011, 09:59 AM

---
Or, if you have that aluminum tape, like you use on HVAC, you can layer the tape until you reach the desired thickness and then you don't have to worry about it falling off. Also easy to peal off. The aluminum tape is great because it does not 'squish' much so you can get a rather accurate setup.

Tom