Flares Just For Giggles

07-09-2019, 07:23 PM
Addict
Rennlist Member
Join Date: Dec 2009
Location: Virginia Beach, VA 23464
Posts: 3,308
Likes: 0

Flares Just For Giggles
---
Just for fun I forgot I had these flares in my shed... they were originally going on my 69 Torino but actually look like they would work on a 944 lol. I had these for sale but no one went for them but at like 4" rears and 3" front that would be one fat rim lol.

07-09-2019, 08:59 PM
Addict
Rennlist Member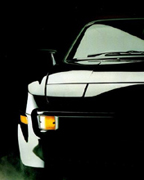 Join Date: Jun 2007
Location: Palm Beach, Florida
Posts: 5,446
Likes: 0

---
I always liked the look of these which are a little smaller than yours but still a universal type. Probably good for early offset wheels on a late offset car.

07-09-2019, 10:24 PM
Addict
Rennlist Member
Join Date: Dec 2009
Location: Virginia Beach, VA 23464
Posts: 3,308
Likes: 0

---
Ya those look good, not too much flare just enough to be functional and tasteful. Planning on getting the GT2 flares but figure I'd see what these look like as they have just been in storage for 4yrs.

07-10-2019, 11:44 PM
User
Join Date: Apr 2014
Location: northern michigan
Posts: 489
Likes: 0
Received 0 Likes on 0 Posts

---
I would be interested in some flares whose purpose would be to protect my fender rims so I can do badass 3rd gear spins down dirt roads and not ruin my car..

Maybe I should just duct tape them up and really give people something to ask questions about... Hmmmm....