Identify these RUF wheels

04-26-2011, 01:42 PM

Identify these RUF wheels
---
I'm usually over in the 944 Turbo forum and have this posted over there, but we figure you 911 guys will know best, so to here's the cross-thread:

Okay, first off...for all I know, you might be able to slap RUF center caps on some wheels and paint/chrome everything to match, so I ask if these are genuine RUF wheels to begin with (Or I guess I mean "genuine" in the sense that they are from a wheel company that RUF sourced)? Second, they are on an '86 951 I've got sitting around and there are no spacers for these wheels, they fit pretty much perfectly, so therefore the wheels must be early offset. And third, the wheels are 17" tall, front tires are 215's, rears are 245's, so I'm going to guess 7" and 9" wide wheels. I have never seen wheels like these, much less as a supposed set of RUF wheels, anyone know anything about these rims?

We figure they are Speedlines if they are authentic, but also I have no idea of the approximate year and model Porsche they would've been mounted on (Obviously did not come stock on my 944 Turbo), so that is what interests me most and if these are a rare set of wheels.

04-26-2011, 04:55 PM

---
Conclusion so far is that they are off an RUF 930 Yellowbird and chromed at some point. Does the chrome hurt the value of these wheels? Regardless, I still think they look cool and will hold onto them if I can fit wide enough tires on them for my 2.8 car.

04-26-2011, 04:57 PM

---
Same as mine, they look like the early Ruf Speedlines, as fitted to the CTR. If they are the early ones they will be heavy (which i'm happy with as they'll handle the pot holes better) and they will probably be Denloc. This will become apparent when you remove the tyre, as it will have DENLOC ONLY painted around the center of the wheel and there will be a recess for the Denloc bead around the inner lip. This was because Dunlop Denloc tyres were the only ones available at the time that would handle over 200mph. You can fit normal tyres with no issue.
The only bit that looks odd to me is the cutout where the tyre valve is, mine doesn't have that....... So they may be copies??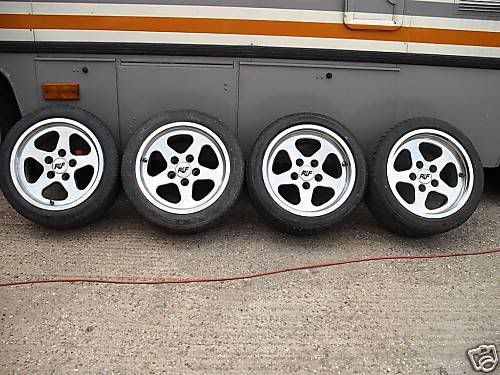 This shows the difference between Denloc and normal