Porsche: How to Detail Your Car
This article provides professional detailing information for the everyday do-it-yourselfer.
This article applies to the Porsche 928 (1979-1995), 993 (1993-1998), and 997 (2005-2012).
When detailing your Porsche, you want to use quality products that work. We'll offer great suggestions on which products are designed to produce long-lasting results, as well as explain how to carry out each step for professional-level results. Let's get started!
Materials Needed (some optional)
Bucket and water
Microfiber cloths, cotton towels and sponges
Detailing brush

Meguiar's #1, 2, 7, 39 and 40

Meguiar's Show Car Wax

Meguiar's Quick Detailer

Meguiar's SoftBuff Pads

Meguiar's Claybar Kit

California Water Blade

Car soap of choice

Meguiar's Heavy Duty Carpet Cleaner

Meguiar's Gold Class Leather Conditioner

Meguiar's Gold Class All Metal Restorer

Meguiar's Endurance High Gloss Tire Gel

Meguiar's Chrome Polish (optional)

Meguiar's PlastX

Meguiar's Gold Class Vinyl/Rubber Protectant

RainX windshield treatment

Car Wash Concentrate

Meguiar's Professional Wheel Cleaner

Rain-X fog wipes

Car

vacuum

Porter Cable 7424 buffer
Step 1 – Remove dirt and other deposits from your wheels
Spray a professional-grade wheel cleaner on all four wheels, starting at the bottom. We recommend Meguiar's Wheel Brightner. Sold at auto parts stores as well as online for $20 per one-gallon bottle, this professional-grade wheel cleaning product is used by the majority of detailing professionals. Allow the product to work for several minutes, and then rinse, making sure to spray down the rims well.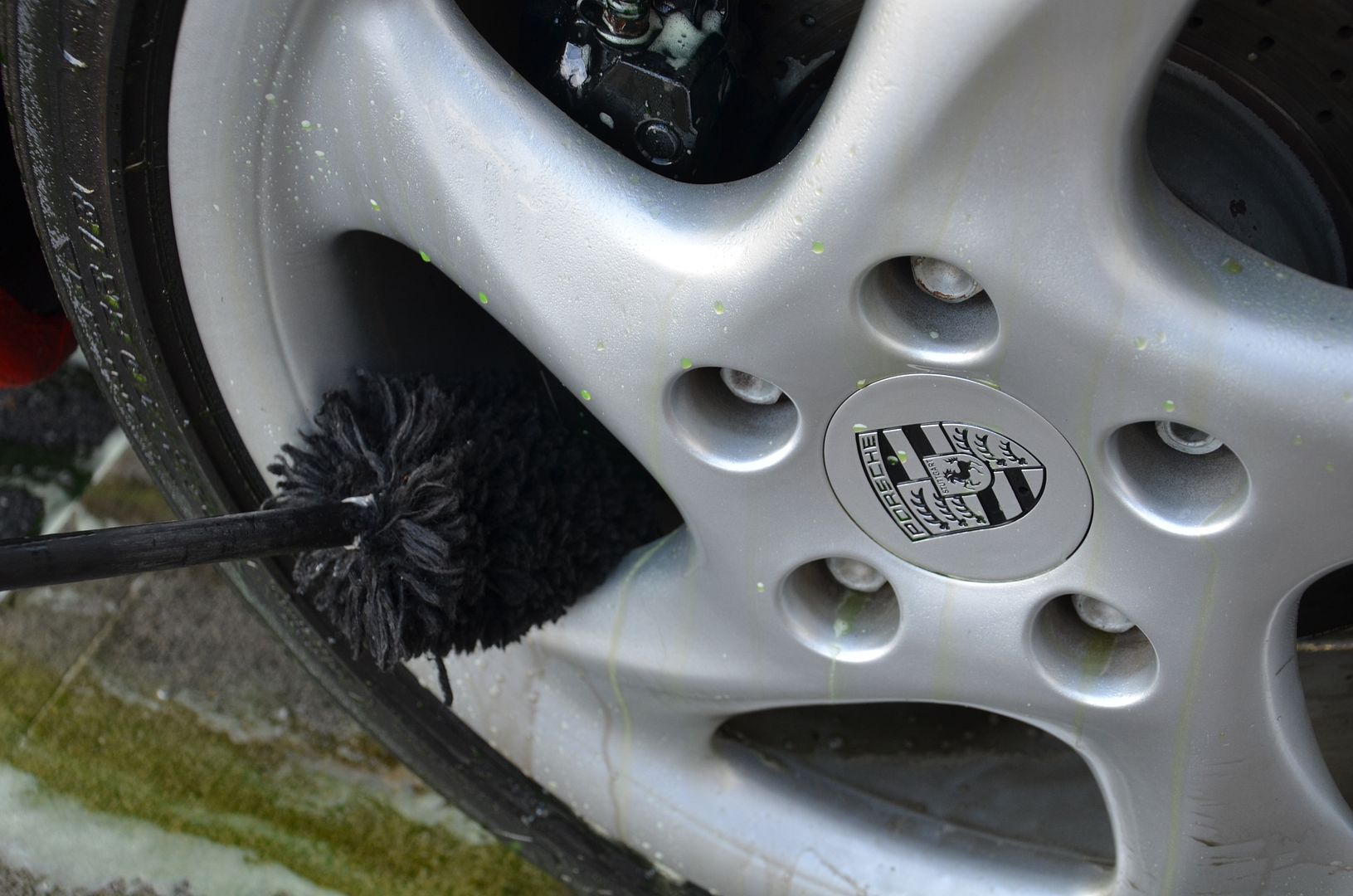 Step 2 – Polish your wheels
Polish each wheel with a professional-grade metal restorer. We recommend Meguiar's All Metal Restorer, which retails online for less than $10 per 10-oz. bottle. If your wheels are chrome, skip the metal restorer and use a chrome polish instead. Finish by wiping down each wheel with a microfiber cloth or cotton towel.
Pro Tip
Be sure to remove excess residue from each wheel before proceeding to Step 3.
Step 3 – Add shine to wheels
Using a sponge, apply a professional-grade tire protectant gel, such as Meguiar's Endurance High Gloss. This product contains premium ingredients that produce a lasting shine for weeks. For added shine and clarity, apply Meguiar's PlasX, followed by Meguiar's Gold Class Vinyl/Rubber Protectant. This premium product protects tires (as well as other interior and exterior parts), while reducing damage caused by harsh UV rays.
Step 4 – Wash dirt and other contaminants from the exterior
Wash the exterior of your car with a generous solution of water and car soap. Cleaning product strips away dirt and other contaminants from the clear coat without leaving behind scratches. Dry with the California water blade, making sure to wipe the blade regularly with a microfiber towel to reduce residue buildup.
Pro Tip
Home cleaning products like Dawn dish washing liquid should not be used to clean the paint.
Step 5 – Remove any stubborn, shine-blocking particles
We recommend using Meguiar's Clay Bar Kit. This relatively inexpensive product (approximately $25 and above) is the final step in blasting away stubborn, shine-blocking particles from your car's clear coat. Finish this step by cleaning the entire exterior of your car one more time.
Pro Tip
This step usually takes approximately an hour and a half just by itself.
Step 6 – Buff your car
Buff your car using a front to back motion. Switch to an up and down motion; however, when buffing side panels, apply Meguiar's 1 and 2 as you go. Finish with a Quick Detailer spray, and then wipe dry. Repeat up to four times as needed to achieve a professional finish.
Pro Tip
The Porter Cable 7424 Buffer is a great buffing tool for car detailing and is most often used by car detailing professionals.
Step 7 – Restore the interior
Vacuum out the interior, removing large items by hand and going over hard to reach areas with the various

nozzles on the car vacuum cleaner.

Apply a heavy-duty carpet cleaner to the front and rear carpets to remove stains and increase freshness.

Apply Meguiar's #39 and #40 to interior plastic pieces using a cotton towel to clean those areas.

Go over the interior glass with Rain-X fog wipes. These handy wipes are perfect for removing streaks from the interior glass and

do not contain harsh chemicals, making them a great choice for working inside an enclosed areas such as a vehicle.

Spruce up leather pieces with Meguiar's Gold Class leather conditioner. Apply with a clean cloth or microfiber towel.

Vacuum the carpet once more to remove any missed particles and dust that might have been kicked up during the cleaning process.
Pro Tip
Quality car vacuum cleaners are available at auto parts stores and online as well as through national retailers for as little as $50 to $75.
Step 8 – Detail the engine
Protect electrical connectors and wiring from possible damage and contamination by covering them with plastic. Degrease the engine bay with a quality engine degreaser and a detailing brush. Wet the fluid containers and hoses well for a showroom finish. Rinse with water, but don't crank up the pressure too much (a slow stream is best). Rinse and then dry with microfiber towels. If you own an air gun, now is the time to bring it out. Finish by polishing up the the plastics and hoses. We recommend a rubber/vinyl treatment like 303 Aerospace Protectant for professional level results.
Related Discussion