73 914 (great 914-6 conversion) for sale

02-18-2012, 09:58 PM

73 914 (great 914-6 conversion) for sale
---
Year: 1973
Make: Porsche
Model: 914
Cont. Porsche Models: 914-6
Mileage (numbers only please): 99999
Color: Signal Orange
VIN: 4732912581
Price (no $ sign please): $17500
Private or Dealer Listing: Private Listing
Location (Region): NorthEast
Body Style: Targa
Transmission Type: Manual - 5 speed
2 or 4 Wheel Drive?: 2 Wheel Drive
Engine Type: Carbs
Stereo System: AM Radio

Just bought this today. I would love to keep it after cleaning it up but I have no room and I bought it to flip, so flip I must.
Here is a link with some pics and data: 914-6 clone - what the heck is it worth?
That is what I knew at the time, but I found a folder in the car and here is what I know now:
73 car that was converted to a 914-6
Original Signal Orange
Stock Seats
Momo Prototipo stearing wheel
New Carpet
Correct 914-6 guauges
Fog lights
Fiberglass front bumper (never seen oen of these)
Ortiginal 914-6 donor engine (2.0 ltr) Built by Auto Assets
2.0 S pistons
T cams
40 IDA Webers (just rebuilt this week)
Watershields w K&N filters
Carrera tensioners
Patrick motorsports engine mount
914-6 factory oil tank
Heades
Sport muffler
New battery (today)
Side shift trans
6:29 short ring and pinion
Quaif limited slip
A note that says "install" weltmeister short shift, I don't know if its in the car...
Turbo tie rods
5 lug conversion
914-6 rear spindles
914-6 rear calipers
911 front suspension
911 s alloy front calipers
19mm master cylinder
Adjustable konis
Weltmeister front sway bar
Factory rear sway bar6
7x15 cookie cutters
New BFG G-force 205/50s
This car was an AC car but the front panel in the trunk was replaced perfectly with a donor patch panel.
The front side markers have been deleted along with the antennae.
There is a slight, very slight, widening of the rear fenders. Looks cool as hell.
This car show zero rust, none. It looks like there was a battery try replacement but it was done very well.
This car was an autocross moster a few years back here in WV. It is very well sorted out and ready to run.
Please ask any questions - would love to move this thing but i don't want to give it away.
This thing is in way better shape than I ever dreamed it was and has more goodies than I suspected.
$17.5k
---
Last edited by sdrake; 02-18-2012 at

11:17 PM

.


02-18-2012, 10:24 PM


12-05-2015, 02:55 PM

914-6
---
Hello, I know this post is over 3 years old, by just thought id ask if she's still for sale? thanks
-Garret
[email protected]


12-05-2015, 03:33 PM
GT3 player par excellence
Lifetime Rennlist
Member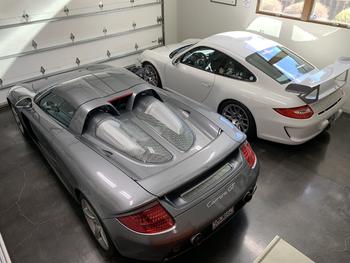 ---
lmao
have you seen 914 prices lately.
at 17000, it would have been sold sight unseen if it's 1/2 as good as described.


12-26-2015, 03:27 PM
User
Join Date: Mar 2015
Posts: 87

73
,
914
,
9146
,
alberta
,
charleston
,
conversion
,
engines
,
massachusetts
,
motorsports
,
parts
,
patrick
,
perfect
,
porsche
,
sale
,
wv