2016 Boxster Spyder CPO

01-20-2019, 02:04 PM
Addict
Rennlist Member

2016 Boxster Spyder CPO
---
Year: 2016
Make: Porsche
Model: Boxster
Mileage (numbers only please): 4600
Options (Please check ALL which apply): Airbags, Air Conditioning, Alarm System, Antilock Brakes, Cruise Control, Foglamps, Intermittent Wipers, Leather Seats, Power Brakes, Power Door Locks, Power Steering, Power Windows, Traction Control
Color: Rhodium Silver
Price (no $ sign please): $85000
Private or Dealer Listing: Private Listing
Location (Region): NorCal
Body Style: Cabriolet
Transmission Type: Manual - 6 speed
2 or 4 Wheel Drive?: 2 Wheel Drive
Engine Type: Fuel Injection
Stereo System: AM-FM Stereo

DEPOSIT RECEIVEDSpyder is for sale. I'm not driving it as much as I thought I would and well, 5 sports cars is well beyond "peak car" for me. Focusing more on the old stuff at this point.
I personally feel this is porsches best newer car. It's EXCELLENT.
Fantastic car in near perfect condition. Been in CA its entire life. I don't think its ever seen rain. Clear bra has a small mark on hood, wheels perfect last time i checked, interior perfect sans a small mark on driver bolster and a small mark on bottom of steering wheel. Just had a super nice detail done on it, paint is NICE. Right now parked in NorCal, can get it to SoCal.
Mileage is just under 4k. The car has CPO to 4/25/2022. In Service of 4/25/2016.
Guys I'm pretty FIRM on the price. So no lowballs please
Clean CA Title in hand
Please make sure you have your finances ready if you want to see the car.
What sale includes:
car
books
all keys
I have the service records
No rev ranges
Has full front clear bra (it's a nice job too). one little nick in the bra on front hood
Includes porsche car cover
2016 Boxster Spyder
S2 Rhodium Silver
79 Black / silver stitch full leather
572 Manual air conditioning
878 steering wheel and shifter in smooth leather
P07 adaptive 18 way sport seats
P27 CDR plus audio system
ZAB Ornamental crests
MSRP $91,035
Production 2/2016
PRICE: $85,000)
---
Last edited by Spyerx; 04-13-2019 at

01:30 AM

.


01-20-2019, 03:13 PM
Addict
Rennlist Member

---
Well, i took a quick browse of the Porsche CPO list and I think it's a little low. But, probably in ballpark. I have 2 dealer offers and i know what they need to make on it...
And why? Well, with a 997RS, a 964 hot rod, a G50 carrera, and a 71T project, along with my dailys storage has become a problem. Plus ability to really enjoy ALL of them.
Frankly, its this or the G50. So if someone wants to offer me 70+ on the carrera !!!! hahahaha


01-20-2019, 05:11 PM

---
Originally Posted by Jamie140
Good to know we can always count on you for the killer entertainment. :-)
Rhodium Silver is an awesome color that never seems to get the love it deserves.

01-20-2019, 07:35 PM
GT3 player par excellence
Lifetime Rennlist
Member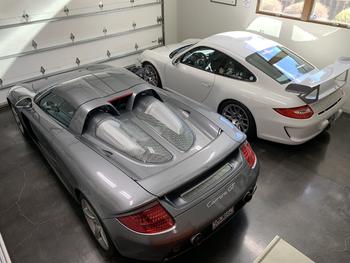 Join Date: Apr 2002
Location: san francisco
Posts: 38,783
Likes: 0

---
spyerX doesnt drive it much at all. it's parked in my warehouse in nor cal
car is really clean
I can show the car up norcal once you are cleared with spyerX


01-25-2019, 05:19 PM
Addict
Rennlist Member
Join Date: Jul 2012
Location: Scottsdale, AZ
Posts: 274
Likes: 0
Received 0 Likes on 0 Posts

---
Nice car and can't beat the value of this one. I attest to how spectacular these are - one of Porsches best new cars.

GLWS!!

02-03-2019, 01:43 AM
Addict
Rennlist Member
Join Date: Sep 2014
Location: San Francisco Bay Area
Posts: 3,847
Likes: 0

---
i gotta get to mooty's drive that thing a little before u sell it chris!!!
have always been curious whether it is just a gt4 without the roof

glws... shdn't take long!


02-03-2019, 02:29 AM
Addict
Rennlist Member