CGT for tall driver

03-17-2019, 11:15 PM
Addict
Rennlist Member
Join Date: Feb 2017
Posts: 20

CGT for tall driver
---
Hi folks, apologies if this has been addressed elsewhere, but I couldn't find anything. I'm 6'2" and my head almost grazes the roof in my new 04 CGT, and 90% of the gauges are blocked by the top of the steering wheel due to my line of sight. What solutions are there to address this, I can't be the only person over 6 foot driving one. Taking the top off isn't sufficient


03-17-2019, 11:21 PM
GT3 player par excellence
Lifetime Rennlist
Member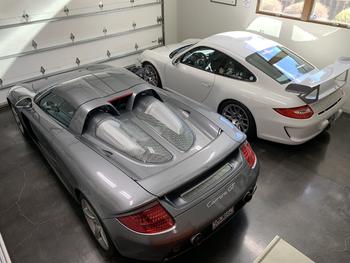 ---
iirc there was a seat lowering option when new
also you can buy extra cushions, then have upholstery shop reduce the amount of bushings in it. you can gain 1" or so just from that. and if you order another set of Sidebrackets on the seats, a fab shop will be able to cut that set and lower your seat another .5-.75"
https://www.suncoastparts.com/product/SKU980SHK.html

03-18-2019, 01:55 PM
User
Join Date: Sep 2010
Location: midwest
Posts: 1,981

---
Originally Posted by
jcoltrane
Hi folks, apologies if this has been addressed elsewhere, but I couldn't find anything. I'm 6'2" and my head almost grazes the roof in my new 04 CGT, and 90% of the gauges are blocked by the top of the steering wheel due to my line of sight. What solutions are there to address this, I can't be the only person over 6 foot driving one. Taking the top off isn't sufficient

I'm 6 2 no problems - padding being removed is a good start.

03-18-2019, 05:19 PM
spacer
---

03-20-2019, 12:54 PM
Addict
Rennlist Member
Join Date: May 2016
Posts: 78

---
The 2005 USA order guide shows an option for raising the seat, but not for lowering. So, perhaps check to see if your car has the raised seat option. It doesn't indicate how this is done, but based on other accounts it's via thinner or thicker seat padding.

382 GT Driver Seat 10mm Higher
383 GT Passenger Seat 10mm Higher

386 Bucket Seat XT Driver Side - Offers Approximately 2.4cm Additional Width Over Standard Bucket Seat
387 Bucket Seat XT Passenger Side - Offers Approximately 2.4cm Additional Width Over Standard Bucket Seat

03-22-2019, 03:55 AM

---
I'm 6'1" and have always sat on a huge butt and never had an issue. How tall is your hair?

03-24-2019, 11:46 AM
Addict
Rennlist Member
Join Date: Feb 2017
Posts: 20

---
I never really gave it much thought, but this thread has made me realize my height is in my torso. That explains a handful of cars that my taller buddies said fit them fine (R8 comes to mind), that are problems for me.
Iím still driving the CGT any chance I can get, but Iíll have to try one of these solutions. Ideally, thatíll drop it enough to strap a helmet on. Family genetics has taken care of any potential hair height issues.
Thanks all for the help and the humor


04-02-2019, 07:18 PM
User
Join Date: Mar 2007
Location: Here and Now
Posts: 360

---
Maybe not applicable but the Gen 1 NSX has an aftermarket lower seat pad with about 1/2" less cushion in it.
I'm 6'1" and that mod transformed the car for me from cramped to fits like a glove.
If there is no such pad for the CGT and the lower seat cushion is removable (from pictures it looks like it is) take it out and install a scuba divers black neoprene wet suit material pad cut to the shape of the shell.
I've done that in race cars and it works well.