Forgeline GA3R Porsche CL for 997.2 GT3RS/Turbo

09-03-2017, 01:45 PM

Forgeline GA3R Porsche CL for 997.2 GT3RS/Turbo
---
Category: Wheels & Tires
Price (no $ sign please): $2500
Private or Vendor Listing: Private Listing
Part fits (select ONLY those which apply): 911
Location (Region): West
Item Condition: Used

More than half off retail for a set of lightly used Forgeline GA3R Porsche Centerlock wheels for a 997.2 GT3RS/Turbo. Lightweight, Powder Coated Red Center, Titanium Hardware, Polished Outer. Used 3-4 times at the track. Very, very light marks from wheel changes that can be buffed out. No rash, wheels are straight and true. Original Price was $6530.
19X9 ET 47
19X12 ET 44
Price: $2500 + Shipping
From Forgeline
After over 20 years of involvement with teams of virtually every sports car racing organization in the world, we have learned what it takes to produce a lightweight racing wheel that can withstand the fierce conditions of the sport. This knowledge has been applied to our latest and greatest - the best wheel that we have ever made - the GA3R.
Our new "I-Beamed" spoke technology reduces weight and applies additional strength and rigidity within the spokes of the wheel. The hidden titanium assembly hardware delivers a smooth clean look and makes wheel cleaning faster and easier. The design of the GA3R's center allows plenty of room for caliper clearance and extreme brake fitment. And we have employed a new proprietary fast-drying super-strength sealer that is highly resistant to leaks and allows for quick and easy repairs.
The GA3R is truly designed for racing. It is engineered with a 2100 lb. street-tire load rating to ensure strength and integrity, even when subjected to the massive loads encountered on the stickiest race tires. And it is the only wheel that is actually warranted for use in racing applications!
The GA3R is produced using our traditional forging method utilizing 6061-T6 aluminum with heat-treated rim-shells. And just like any Forgeline wheel, the GA3R offers fully customizable finish options.
Extremely lightweight and significantly stronger than any other wheel that we have ever produced
3-Piece Performance Wheel

Stepped-Lip Design

I-Beamed Spoke Technology

Lightweight Titanium Fasteners

Hidden Fasteners

Generous Brake Clearance

Forged 6061-T6 Aluminum

Heat-Treated Rim Shells

2100 lb. Street-Tire Load Rating

Warranted for Racing!

Customizable Finish Options

Designed specifically for Porsche Center Lock Applications

Legendary Forgeline Quality and Customer Service

Look for it at a race track near you!


09-03-2017, 04:44 PM
GT3 player par excellence
Lifetime Rennlist
Member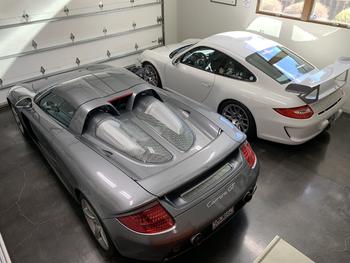 ---
forgeline are great wheels and chad is a legit seller. bought cars and tons of part from chad in past


09-04-2017, 04:58 PM


09-11-2017, 04:57 PM

---
Still available and open to offers


09-18-2017, 10:38 AM
User
Join Date: Jan 2015
Location: Okanagan Valley, British Columbia
Posts: 133

---


09-18-2017, 02:13 PM

---
Originally Posted by Jedi
Pm sent
Thanks Jedi. FYI the PM didn't come through.


09-18-2017, 06:46 PM
User
Join Date: Jan 2015
Location: Okanagan Valley, British Columbia
Posts: 133

---


10-01-2017, 01:10 PM

---
Still available, feel free to make an offer!


10-03-2017, 05:39 PM
Addict
Rennlist Member
Join Date: Aug 2017
Posts: 18

---
Will these fit a 2011 Turbo S? Any pictures on them on the car? Im looking for a super flush mount in the front/rear for a project I'm working on. Thanks


10-04-2017, 02:06 AM

---
Yes, they will fit a 2011 Turbo S. Here is another Rennlist member with the same type of wheels on their turbo. I don't have any pics on my car - they were only used a few times.


10-05-2017, 01:26 PM
User
Join Date: Jan 2015
Location: Okanagan Valley, British Columbia
Posts: 133

---
Pm sent, just wondering if your wheels are still available

Thanks


10-05-2017, 02:08 PM


10-05-2017, 03:33 PM
User
Join Date: Jan 2015
Location: Okanagan Valley, British Columbia
Posts: 133

---
Hi Chad,

I'm receiving your pm's but I don't think you are receiving mine. Do u have an email address that I could use.

Thanks
Jim


10-06-2017, 07:44 PM