Good bye 911 (after 30 year non stop), hello Panamera !

02-05-2013, 02:15 AM
Addict
Rennlist Member
Join Date: Jul 2009
Posts: 1,335
Likes: 0
Received 0 Likes on 0 Posts

Good bye 911 (after 30 years non stop), hello Panamera !
---
Hello to all of you in this topic collection !

This evening, I drove back home a 4S, air suspension with Sport Chrono Plus !
And, my old and good loyal 2002 996 C4 Cab stayed alone at the dealer.
..with all the miles that I put on her !

Interesting ride back home, very different, ..this after 30 years non stop of 911 as a daily car.
As this second, ..I feel that in a perfect world, what I think I will miss the most, is the lack of a stick shift, in the order to change gears, when I want, not waiting for a "computer", to do that when he wants, but.. beside this, having a Cayenne S since 5 years, that also is "stickshiftless", I think (at least, I hope..) I will make it !

Now, what's later in the season, when pushing a button will just open a small rectangle in the roof, ..instead of having all the roof going down and disappear in the back ?
That's a big one, I do not now, but time will tell.
One thing is already very clear to me, on the freeway, in "Comfort mode" ..it is silent and feels like a flying carpet !
It looks like a crazy miles eating machine, always angry to do so !

What should I expect and what I should know about it ?
Is it like the Cayenne S, were for example, the water pipes in the center of the V (under the manifold), are they also in plastic and will brake in about 60 to 80'000 miles, and let go the coolant in order to ruin the starter ?

Does the main transmission half shaft will also say good bye with the same kind of mileage as the "water pipes" ?

Do the coils of this V8 have a different life time than the ones of his SUV brother ?

..Plenty of questions, ..yes, you can see, I'm a newbie on this Panamera place !
Sorry for that.
But at least, right now, very happy to be here.
---
Last edited by GVA-SFO; 03-06-2013 at

08:51 PM

.

02-05-2013, 01:45 PM
Addict
Rennlist Member
Join Date: Aug 2003
Location: Vancouver, B.C., Canada
Posts: 2,838
Likes: 0

---
Panamera performs and handles much closer to 911 than Cayenne.

Enjoy it, but I am quite sure that you will be shopping for a stick shift 911 or Boxster in a few years.

02-05-2013, 08:54 PM
Addict
Rennlist Member
Join Date: Jul 2009
Posts: 1,335
Likes: 0
Received 0 Likes on 0 Posts

---
Thanks to both of you.
I do enjoy the supersmooth rides already, for sure.
@Targa Tim, ..yes, I see very well what you are saying.

(I have already a little idea)
About the Cayenne, well, we just added a "1" on the left 6th row of the odometer on ours (a 06 CS Tit. Edit. that we got brand new in Feb 07), so, about the feeling of it, I got a good vision.
And, it tow (more than 6'000 pounds) so well.
Btw, it is by (very far) the best SUV we had, this after 5 Range Rover and 2 Grand Cherokee.
To be back on Topic, what are the weakness points of the Panamera, ..if any ?
---
Last edited by GVA-SFO; 02-06-2013 at

05:59 AM

.

02-06-2013, 05:57 AM
Addict
Rennlist Member
Join Date: Jul 2009
Posts: 1,335
Likes: 0
Received 0 Likes on 0 Posts

---
Do any one of you have an idea of the lifetime (miles) of the clutches ?
(I suppose, they are 2 of them, one on each axes, right ?)

..This, without using the "Launch Control" ! (Sport Chrono Plus.)

02-06-2013, 09:53 AM
User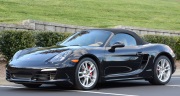 Join Date: May 2002
Location: Beautiful North Carolina
Posts: 1,987
Likes: 0
Received 0 Likes on 0 Posts

---
I bought my Panamera S in July and I love it, but I missed having a stick so last month I bought a nice little 997 for fun drives. I kept the Panamera, of course!
Congrats to the OP, I know you'll enjoy it. I don't know enough about the car to make any comments as far as longevity, problem areas, etc. but I would hope that a lot of the issues that the Cayenne had were resolved by the time they started making our cars. Or at least by the 2012 model year...

02-06-2013, 07:28 PM

---
Nice to see you took the plunge!
I'm in the same boat having an '06 C4S cab and from these posts can gather that I won't miss the 911 all that much (I hope). Similar but smoother and more features etc.
After 14 years in a row of manual tranny, the automatic will be a welcome change and the paddle shifts wil no doubt come in handy entering into corners etc. After all they say Ferrari and Lamborghini are all swithched over to automatic.
I'm with you that it remains to be see if I'll really miss a ragtop. There's something to be said for a convertible and that's the only thing holding me back from pulling the trigger on a Pan . Yup opening up the rectangle in the roof isn't the same.
I wonder if any other readers left their 911 cab for a Panny and missed or regretted doing so.....

02-07-2013, 08:32 AM
User
Join Date: Nov 2007
Location: Wellington. FL
Posts: 1,738
Likes: 0

---
I do not believe you will miss either, honestly. First off, the PDK is (to me) not an automatic...it's a "clutchless manual." Further, its the best of both worlds. Tired after a long day? drinking coffee? leave her in sport mode and just drive. On way home from work? feeling frisky? Leave it in manual mode and bang those paddle shifters when YOU want to shift. It is amazing.

As for the 'vert, I feel you there, but I also am tired of the constant feeling of being in a fishbowl when the top is down. I traded my 997S for a '11 M3 convertible. Mainly wanted the hard top aspect, but also always liked M variant cars. Wonderful car, but I quickly outgrew it. I am 46, and always felt like I was a tad ricky racer in it. Primarily, however, I just missed the feel, the quirkiness and the cache of the P-car brand. However, the 911 at this point in my life is just too small to be a DD.

Now, a 911 convertible is a beautiful machine, but I just love the way a beautiful sedan just envelopes you. Unfortunately, there are very few, cool sedans, and very very very few cool "sport sedans." So, when they intro'd the Panny GTS, I got instant wood! ha!! One test drive, and I knew that Porsche nailed the duality of the experience. Mine is on order for a May delivery date.

Anyway, the beautiful thing is that this is not permanent for you....I say drive it and enjoy it for a bit, and if after a bit you miss the convertible, you can always go back to one (or get a 3rd car if that is your thing). However, at least you are one of the lucky few that can say you had the panamera 4S great car! Enjoy, and keep us posted once you really open her up.

02-07-2013, 08:44 PM

---
Great post Cole...thanks! That helps alot. True about a convertible feeling like a fishbowl as all eyes are on you especially in a 911. (even moreso when my 2 golden retrievers were in it.) Never really thought about it that way.
Interesting note about the M3 conv't hardtop. Very nice car indeed, but you're right about the Porsche brand. Looks like they nailed it with the Panamera. Beemers just not the same, not even the M.
No doubt you're chompin at the bit for the new GTS.
Hey, if it's not too late, and it shouldn't be, you should have your dealer arrange for a European delivery. Fly to Stuttgart, drive for two weeks, and return to the factory. Your car will then be delivered to your US dealer as per your original purchase. We did it for our 911 C4S and would recommend that to everyone.

02-08-2013, 05:20 AM
Addict
Rennlist Member
Join Date: Jul 2009
Posts: 1,335
Likes: 0
Received 0 Likes on 0 Posts

---
Thanks Cole, +1, yes, this is a very good, deep and intimate post.
I did not had my first 911 at 20, I was 30 when I bought the first one, so, 30 years later, you got the picture ..about my "odometer" !
My last 911 was a 2002, (996 C4 Cab), and was over 62'000 miles (> 100'000km). Since some years, I started to observe that beside my daily use, (my car had the passenger seat pretty brand new, and the roof should have less than 3,000 miles, ..thank you California !), we did not use it for any week-end rides, the Cayenne was on duty for that. Proof : the Cayenne, that we got (new) beg 2007, ..has now more than 100'000 miles !
Now, after 3 day, and about 120 miles, I get the feeling that the Panamera will change our habit, ..except when we tow.
For me alone, as DD, I should admit that I really enjoy the rides, but it is true that the "default" mode makes it a little bit "grand-fa" mode, it looks like I have a beginning of habit to press the "Sport Plus" button, that is hopefully is quite conveniently positioned !
In Europe we can get Panamera with stickshift, but not in the USA. My feeling after these 3 days, is that I still " miss the stickshift. Thinking about a Panamera with a stick, and ..this would help a lot to "forget" about the 911 !
But, IMO, here is the big mess : I think this is all, nothing else than politics. (All) governments want a reduction on Carbon, and the only way to get a gas engine being more in the sweet spot, where the efficiency ratio is the "best", ..is to have that controlled by a computer. And as all official tests are done on "normal" position, this is how we get the 7 gears not controlled by human..
As Car producers got "punishments" if the number (carbon) is not decreasing, every marketing BS is good to make us swallow that transition, without being too sick (shift !) after the digestion !
Then, easy to observe that US market is important for the Panamera, so, how to decrease the average carbon production of a given firm ? Simple, IMO : no stickshift Panamera in the large markets.
I may become "panaroid", (..may be with the age !), ..but it is my personal understanding !

02-09-2013, 05:04 AM
Addict
Rennlist Member
Join Date: Jul 2009
Posts: 1,335
Likes: 0
Received 0 Likes on 0 Posts

---
This morning : call from the dealer : Have to bring the car for a "recall" !
After asking what's about, I got he message that my car need a "software update", and it seems that this is about the front suspension..
Do any of you that have a 2010 got this one too ?

03-06-2013, 08:28 PM
Addict
Rennlist Member
Join Date: Jul 2009
Posts: 1,335
Likes: 0
Received 0 Likes on 0 Posts

---
..A month, and more than a 1'000 miles later :
I really enjoy the quality of the rides. It is a fantastic car.

What I'm missing : The stick shift and the button to "remove the roof".

OK, I know, the second, until a "Panamera convertible" would suddenly show up, is just a comment for the dreams. This is NOT a surprise, I "knew" that ..before signing.

The first one is a much more serious miss.
Yes, I would really enjoy a Manual Panamera.
This is real too bad that they are not imported into the USA.

This Panamera is my first PDK Porsche, (our Cayenne S is "Tiptronic") and frankly, I think this should be good (or, even more : perfect) for a track car, but for a road sport car, it left the driver with nothing serious to do ..beside going to the desired direction.

Even more, when you are on the roads, driving in a pure legal condition (so what we should all do all the time), in all cases, we can all see and get prepared well in advance when we will need Power. So, in these cases, with a stick, we can, **well in advance**, be ready for that, by downshifting, i.e.: selecting the desired gear, before this need of power, and then passing or whatever action, is done with the right human control.
I get the feeling that with PDK, the best you can do on such a case, is to blindly find & click the small (WAY TOO SMALL !!) "Sport Plus" button, ..and then, wait and hope that the desired gear will put be in place by the computer.
OK, you can also use your fingers, (left or right), and back "click", (and count in head, how many clicks you need/want), to be in the desired gear. Note that if you do that too early, after few seconds, (if you are still in "auto" mode), you will be back on "granddad cruising mode", except, if after (or maybe better : before) your "count down", you should also "left sweep" the PDK lever ! (to stick to "manual".

Frankly, "this" is NO fun. Downshifting with a stick is (in my opinion) still a much more natural act for a "sporty granddad on the road".
Note, that this is why, I went for a 4S, and did never consider a Turbo, or a Turbo S.
All the tests I have done (with a Turbo, non S, and this off road on a "cone track") did showed to me that "moving" from a "cool and peaceful" driving mode into a sudden (and temporally) call for power, lead me observed that the Turbo, that need RPM to build its strong power, ..so, PDK got to downshift not 1, but, 2 or 3 ..or may be even 4 gears, and while PDK is faster than anything to downshift one gear, when you call for more than one, I feel that PDK tend to looks like being the captain of a liner, calling the engine room and asking to fill up all the possible coal into the steam machine !!
And, on the other side, I got the (very strong) feeling, that if you use a Turbo on the open roads, and drive it in such a way that you have the power available on your right toe, (i.e.: keeping a good level of RPM), then, I'm pretty sure that the chances to keep my driver license in my pocket should become quite slim !
All of that to say that some months ago I spent a full day in Monza, ..and during that day, few times, I was thinking "Whao, here, it would be great to do few laps with a Turbo S, I'm sure this would be a very good "tool" for making good times here !

Still, ..I'm missing a stick shift big time in my Panamera.

Ah, some funny comments to end this (too long) post :
Opening the (front) hood, and looking at the position of the V8, I was slow to realize, that it is located quite in the front ..of the front axe !
Well, then I was immediately thinking that if I would drive it in reverse, ..it should really look and feel ..like a 911 !
Being more serious, one thing that make me "laughing" (..or may by crying) : I have two pairs of very nice round exhaust pipes, ..but I just realized that one pipe of each pair ..is just fake !
I think this is quite ugly, how come "they" can do "that" in Stuttgart ? Is this car made for kids ??
---
Last edited by GVA-SFO; 03-06-2013 at

08:56 PM

.

03-06-2013, 09:15 PM
User
Join Date: Mar 2005
Location: Ontario - Ottawa area
Posts: 1,362
Likes: 0
Received 0 Likes on 0 Posts

---
as mentioned a few times on the thread - learn how to put it into the manual mode, hit the sport plus button and then shift when you want. on the highway & want a downshift in advance of some speed? then downshift in advance of speed, jam up the rev's & pin it when you want. want to calm it down, upshift.

why are you manually downshifting while still in auto mode? of course it will override the command in a short period. in manual mode, none of that happens.

03-07-2013, 12:12 AM

---
Originally Posted by
GVA-SFO
..A month, and more than a 1'000 miles later :

Ah, some funny comments to end this (too long) post :
Opening the (front) hood, and looking at the position of the V8, I was slow to realize, that it is located quite in the front ..of the front axe !
Well, then I was immediately thinking that if I would drive it in reverse, ..it should really look and feel ..like a 911 !

Good one indeed.But more seriously, as CPa4S said. keep it in manual and shift manually with the stick or use sport / sport plus so it holds your chosen gear longer while still being able to shift for you, if you are close to redlining your engine.

03-07-2013, 04:08 AM
Addict
Rennlist Member
Join Date: Jul 2009
Posts: 1,335
Likes: 0
Received 0 Likes on 0 Posts

---
Well, to make the strory short (..it s probably too late for that !!), if I set it in manual manual and use the "stick" to shift, I'm going to be "wrong" each time ! Btw, did you ever drove any racing cars, that have a real sequential gear box ?
Well, to gear up, you pull, (as hard and as quick as you can), ..and better to not think about a possible opposite way, or, ..you will spin out of the track faster than thinking about why.
So, this is NO Way Jose for me, (I will be for ever in a mix mode : more than very dangerous).
The other solution is to use the "PDK steering wheel" "clickers". A month and more than 1'000 miles of use after, I still think that this is the most stupid way to shift gears on a car.
OK, my solutions could be either to stop by Techart and get a paddle mod kit, ..or keep it the "granddad way ! (Auto, and pesting about it.)
By what I understand (I never tried it yet), is that the Techart Paddle kit work the same as any "normal" sport cars of today, i.e.: you shift up on the right and down on the left, period.
That, I think I can "do" it. But the stupid clickers, I think, it will be very hard for me to accept these.
May be the problem is the age, ..I feel it is harder to change habits ..because they are old too !

And still, A Panamera with a real shifter ..(for me) ..would be the perfect car !
---
Last edited by GVA-SFO; 03-07-2013 at

05:29 AM

.