Indy 200 at Mid-Ohio

08-03-2015, 11:22 AM

Indy 200 at Mid-Ohio
---
A few weeks back my dad purchased some tickets at a charity auction benefitting The Buckeye Ranch (
www.buckeyeranch.org
). My wife is due tomorrow, so my dad thought it would be nice to take me out for a day of relaxation before chaos takes over lol. All I can say is wow, what a day! Perfect weather, great racing, and overall an unforgettable experience.
My day started by waking up my wife and whole neighborhood by leaving the house in my turbo at 0645. It was a gorgeous morning for a drive, and even a rear spoiler fault on the way up couldn't dampen my spirits. Basically, the passenger side of my rear spoiler wouldn't go all the way up, so it was slightly crooked. It fixed itself for the drive home, so no big deal.
Anyone who knows the drive there will find this a familiar sight
When I arrived, I found my dad wandering around the garages and paddock area with a friend of his. His friend is a former GT3 driver for Porsche, and his son currently races in the Pirelli World Challenge in a Cayman. They were walking around shaking hands and having meetings with team owners and managers trying to secure his son a better car / team for next year. It was fascinating to get a glimpse of the business side of racing, and must be totally exhausting for the drivers to be constantly selling themselves. We got some cool tours of a couple of garages, and witnessed the work that goes into prepping these cars up close and personal.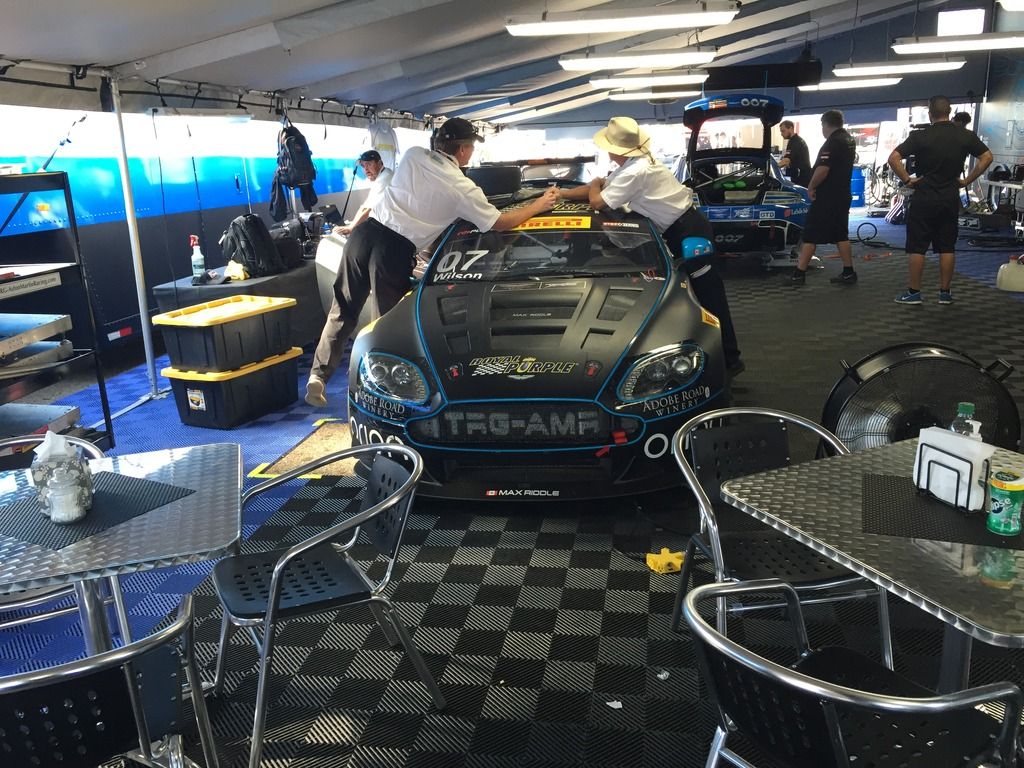 08-03-2015, 11:22 AM

---
After that we headed over to Bobby Rahal's hospitality tent that was located right inside of Turn 1. I thought it was a great vantage point for the race, and there were a few TVs and loudspeakers broadcasting the race feed when the sun became too intense.
The legend himself said a few words before the race.
After Bobby spoke, his son Graham talked to us for a bit about what it's like to race here, what the team's strategy was for the race (pit early), and how much water weight he was likely to lose from driving in the heat. He was extremely professional and very nice, he was more than happy to pose for a picture with me and sign my race ticket.
Immediately after meeting Graham, I had to begin the long hurry up and wait process for the parade lap. On our walk to the staging area I saw Mario Andretti zipping around on his scooter, which was pretty cool. Part of what our package included was the opportunity to drive one of the S2000's in the parade lap. I was introduced to my car, and given instructions on what to do. It was really pretty basic: follow the car in front of you, don't throw your driver off the car lol. We weren't quite sure which driver each car would get, which was fine with me. I would be happy regardless of who hopped into the car.
Well, fortune was smiling on me, because as I approached the pickup point, Marco Andretti hopped in! I shook his hand and told him not to be shy about critiquing my line around Mid-O, which elicited a few laughs. I kept it slow and smooth as to not toss him off the car, and chatted a little with him. It was really cool to drive around hearing various sections of the crowd cheering him, yelling his name, and some booing him. It was a great experience, and I feel like I'm in a pretty small group of people who are able to say that their first ever lap of Mid-Ohio was with Marco Andretti. (pictures coming soon. I thought about taking a little selfie with Marco on the lap, but quickly decided that would be a bad idea.)
After the parade lap was over, I thanked the organizers who donated this experience to The Buckeye Ranch (
www.buckeyeranch.org
) and started walking back to the Rahal tent. There were some nice pieces of eye candy along the way.
The race was mostly spent under the tent watching the broadcast, since I was stuck out in the sun during the wait for the parade lap. It was a great race. I was struck by how much quieter the cars were at Mid-Ohio than at the Indy Motor Speedway. All the grandstands keeping the noise in makes a huge difference.
The drive home was uneventful, which was good because by this point I was exhausted. But looking back, 10/10 will do again next year.