2.7 muffler delete

09-21-2014, 04:03 AM

2.7 muffler delete
---
Today a friend and i went to town on my 2.7's exhaust system and took the muffler off, replacing it with straight pipes. The motor and the rest of the exhaust system are completely stock except for an upgraded oil baffle. My friend only has a little experience with welding, but after seeing prices on pre-fabbed options I decided this would be worth a shot. The entire process from loosening the clamps to get the muffler off to tightening them back on to secure the straight pipes took just over 4 hours and less than $100 in materials.
This thing is massive and probably weighs a good 30lbs. The replacement is much lighter!
Testing the fitment after welding extensions on the 90 degree bends we bought.
One half of the system with the hanger installed. The halves were eventually welded together.
The freshly installed piping. There's so much room under there now!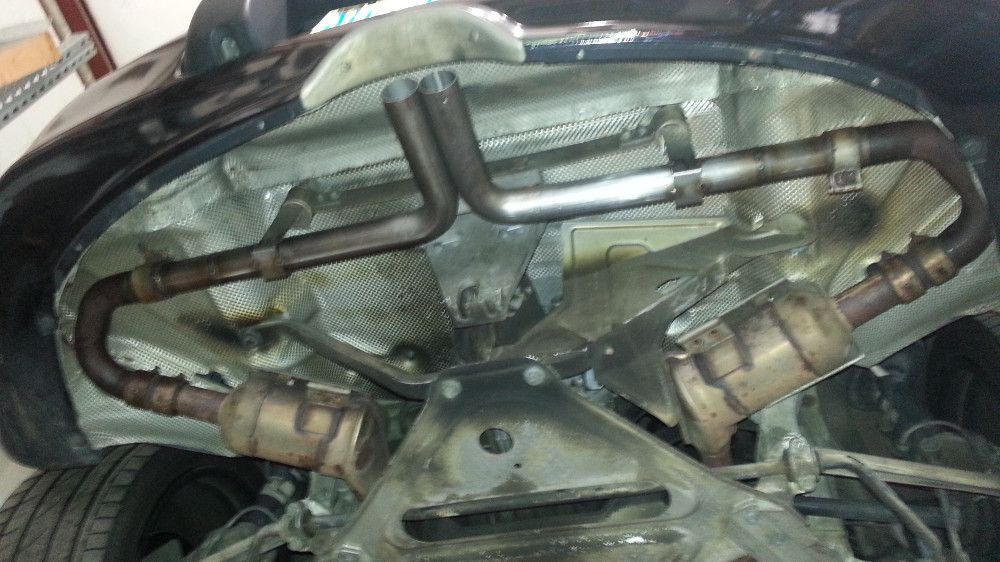 And finally, what it looks like on the ground. Keep in mind we made no attempt to make this look good- my only requirement was that it exit at the stock location and not be crooked or uneven. I do wish we'd gotten the pipes to stick out a bit further.
A few observations after romping around for a bit followed by a 2 hour drive home:
- The sound is, in my own words and the words of others, mean. Extremely aggressive, with pops and snarls when you let off the throttle.
- Volume is a little on the loud side when on the throttle, but certainly not the loudest street car you'd see on a weekly or maybe even daily basis.
- Drone at highway speeds is merely moderate. It's there, but it's not overbearing or intolerable.
- Idle volume is quite quiet, the cooling fans have the potential to make more noise.
I am absolutely satisfied with the result we got. I don't mind the car being on the loud side though. If you feel the same way and can put up with a little drone, you should seriously consider having a shop do something along these lines before dropping four figures on a pre-fabbed muffler.
I will get some video and upload it in the next couple of days.

09-22-2014, 03:33 PM

---
Well, if this bugs my neighbors, they are in for it because the car is far from the loudest thing they are going to have to deal with :P The police speeding by on dirt bikes make more noise than my car

As far as inspections go, well, I'll just have to see about that when it's time. I'm still legal by a strict interpretation of the NC code of law though.

11-05-2014, 11:48 AM

---
Just a quick update- those hangers held up fine for a while on the street, but a DE day at Daytona this weekend snapped both of them. The straight pipes are currently being supported by coathangers, my friend and I will try to do something a bit more sturdy soon


11-05-2014, 10:35 PM

01-03-2019, 06:28 PM
User
Join Date: Sep 2018
Posts: 22

---
Huh? What? I'm sorry?
Kidding. My second wife one day compelled me to get hearing aids... $4500 and 2 decades later... I've worn them maybe 10 times. They sit in my dresser drawer. Vanity rules! My third, and final, wife is tiring of having to repeat herself... so... maybe I'll just let my hair grow over my ears.


01-03-2019, 07:15 PM
User
Join Date: Jan 2018
Posts: 136

---
Be sure to mention that to the cop when you get pinched for excessive noise and speeding.

01-05-2019, 12:34 AM

---